Detailed Eutelsat Atlantic Bird 3 satellite beam coverages - GlobalTT.com services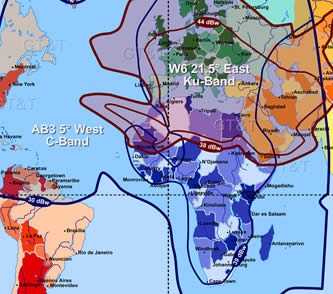 International satellite link interconnection is possible within, for example, the Atlantic Bird 3, C band beam coverage.
To GlobalTT.com satellite internet in Central America
► Page created 25 Jan 2005, amended 3 July 2008, 20 Nov 2014 Eric Johnston
Copyright Satellite Signals Limited © 2005 all rights reserved. Map image copyright GlobalTT.com © 2005 all rights reserved, used here with permission.