AnaCom Inc: C and Ku band transceivers and BUCs
AnaCom manufacture a line of VSAT Transceivers which are highly integrated outdoor units, with full-featured monitor and control (M&C), designed to give extremely reliable service in a wide range of environments. They are available in single or redundant configurations in C band and Ku band frequencies.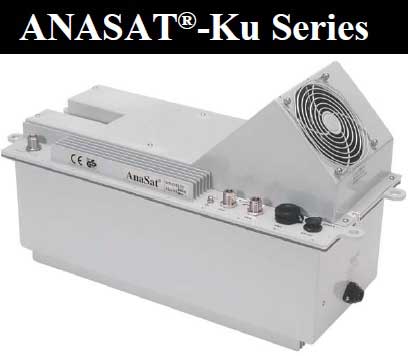 Example Ku band Transceiver
Solid state power amplifier, up & down converters, M&C, and a universal power supply are all included in one enclosure. Connect power, IF cables, and one coax cable to the LNC and the unit is on-line.
For more information go to their web site at: Anacom.com
Page created 20 March 2005, amended 13 August 2015
All pages on this satsig.net web site are Copyright Satellite Signals Limited © 2005 all rights reserved.