INTERNET FOR AFRICA from Global Broadband Solution:
Global Broadband Solution (GBS) specialises in the design and the supply of integrated solutions in the telecommunication field, especially in satellite telecommunications services. They provide turn-key and tailor-made solutions for projects of any size.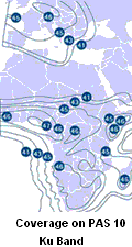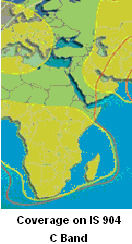 Coverage areas Ku and C band.
Global Broadband Solution (GBS), located in Africa, is introducing in Africa the most powerful VSAT technology of the moment for high speed bi-directional Internet communications via satellite: iDirect. They use BT's Teleport facility at Martlesham to host their own VSAT iDirect hub and equipments providing internet services to Africa.
Global Broadband Solution (GBS) is also working in partnership with Intelsat and Satlynx and their technical staff to install C-Band services everywhere in Africa.
They are a ViperSat partner, offering a technologically advanced infrastructure products, providing bandwidth-efficient and scalable solutions.
For strong urban concentrations, GBS is installing a Wireless Infrastructure Solution for Internet and Intranet. GBS operate with Alvarion world class products in the 3.5GHz, 5.8GHz frequency bands and have introduced the very latest technology called WiMAX.
In order to provide African customers with reliable international telecommunications at a very low cost, GBS has developed a VoIP platform providing quality international phone calls in regions where remote Internet access sites will have been setup.
For more information satellite@gb-solution.com
or visit their web site at http://www.gb-solution.com/
Coverages include Ghana, Togo, Benin, Nigeria, Gabon, Congo, Angola, RDC, Tanzania, Kenya, Uganda, Mozambique, Botswana, Zimbabwe, Somalia, Ethiopia, Madagascar, South Africa.
---
Some of the technologies and associated companies:

iDirect - manufacturer of VSAT hubs and modems.

Vipersat/Comtech -Advanced efficient hub and modem technology.

C band partner

Worldwide satellite operator.

iDirect Ku band VSAT hub hosting at Martlesham, UK.

WiMAX and wireless provide connection to end users in the surrounding area.

VoIP phone Serveurs: The GBS IP Voice Server is based on advanced technologies and uses the Internet Protocol to communicate.
---
Page created 29 Nov 2006. Last amended 7 August 2015 ECJ