The beach at El Medio Almud.
This is an isolated, unspoilt, quiet and peaceful beach in Gran Canaria.
The beach is reachable by bus along the coast road from Puerto De Mogan, Taurito, Playa de Cura, Amadores and Puerto Rico. You must indicate to the bus driver where you want to get off, as this bus stop is not often used. From Porto Mogan the bus stop is just after the first tunnel.
Once out the bus you will see a road down to the sea with a pole type traffic barrier across. A large signboard on the hillside to the north shows the reason for this being a road. A few years ago there was a proposed development of the barranco or ravine. These developments were obviously halted, but not before the road plus lighting plus palm trees was engineered. At least the road makes it an easy walk, with no traffic, down to the beach approx 800m ahead.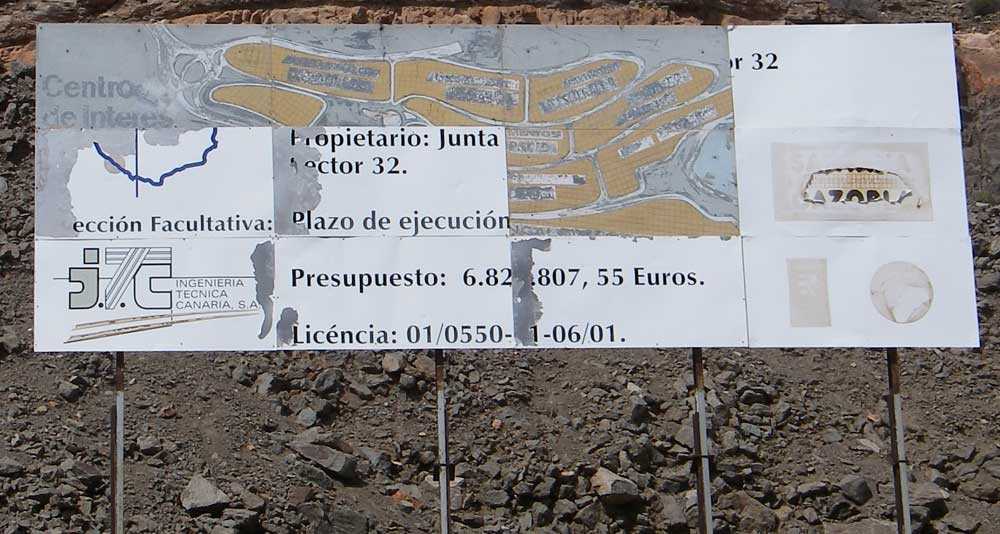 Signboard showing a map of the proposed speculative large luxury resort development, which was opposed by Turcòn-Ecologistas en Acció.
Note: There are no shops or other facilities at the beach, so it is recommended you take your own water and packed lunch with you.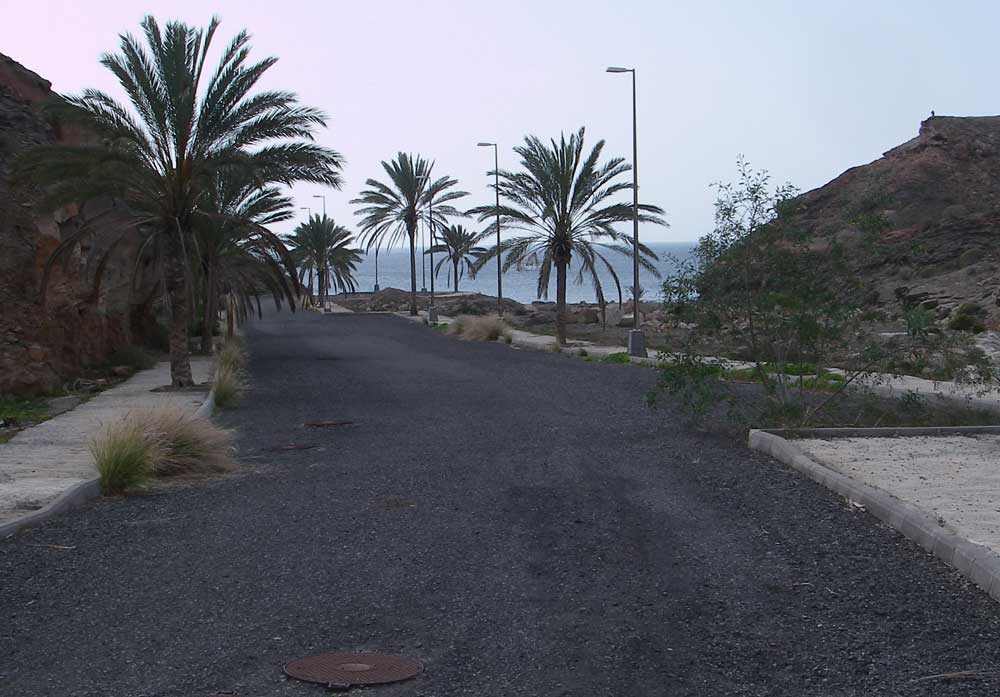 The road to the beach, with lighting and palm trees, built when developments in the valley had been planned.


The beach is sandy with stones at the water's edge.
The piles of pebbles, built up in rings, have been made by sunbathers to provide shelter. I'm not sure what the row of wooden posts is about. It may mark the boundary of the proposed development. The notice says something about "no camping" or such like.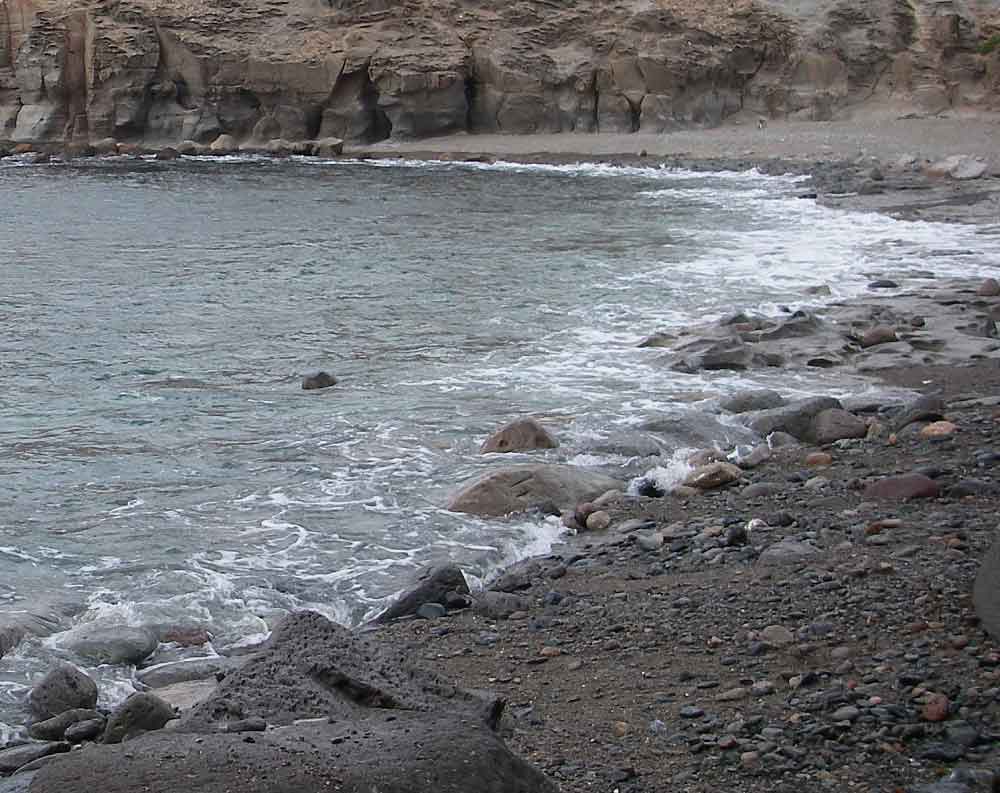 View across the bay to the west. The rocks and stones are typical all across the water's edge. It is sandy further back.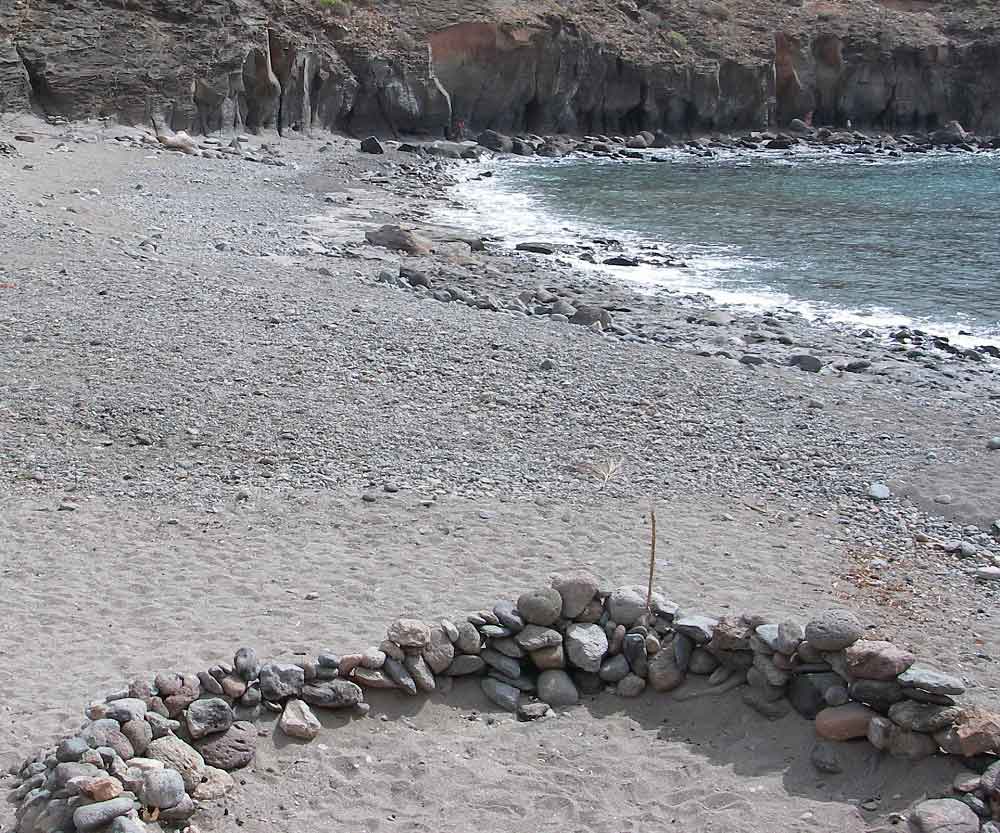 This is the sandy beach at El Medio Almud. The beach faces south and is sheltered from winds from the west, north and east.

This map starts with the loop in the road and bus stop at the top left marker. The road to the beach is about 800m. The beach is at the lower left marker. Expand the scale (+) to see more clearly or reduce the scale (-) to get an idea of the relationship and distances from with local resorts. Puerto De Mogan and Torito are to the north west. Playa de Cura, Amadores and Puerto Rico de Gran Canaria are to the south east. If you click on the yellow man and drag to a point on a blue line you can see the view as seen from a Google camera car.
Beach at Playa Los Frailes.
This beach looks promising and worth a visit on future trip. It is possible that this ravine is also due for development. The right hand pair of markers show the bus stop and beach.
---
Page created 18th March 2017, amended 14 April 2017.
ECJ © 2017 Copyright Satellite Signals Limited, All rights reserved.