RREMCON : Caribbean and Latin America
Real-Time & Remote Connectivity Services Limited (RREMCON) have GVF certified installer field personnel, with experience on stabilized, auto acquire and fixed VSAT systems.
Field Support areas include: Trinidad, Guyana, Jamaica, Barbados, Windward Islands, Leeward Islands, Suriname, Venezuela and French Guiana. (No Visa restrictions throughout the Caribbean region).
• VSATs: Fixed terminals / Stabilized terminals including Seatel, Intellian and Spacetrack / Auto-Acquire terminals.
• Disaster Recovery Units: Satellite phones / Vehicle mounted satellite terminals / Satellite Broadband for voice and data.
• Offshore and Maritime Communication Services.
Emails: support@rremcon.com / operations@rremcon.com
Tel: +1 868 495 5640
Web: www.rremcon.com
Location: San Fernando, Trinidad & Tobago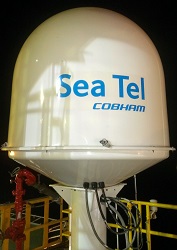 Seatel 4009 maritime mobile antenna install on semi-submersible rig.