Next Technical Systems Inc
149 Welham Road # 15, Barrie ON, L4N 8Y3, Canada Phone 705-721-0073
Their website address is http://www.nextgroup.com/
Recommendation (Jan 2007):
I live in the country about 90 kmís north of Toronto and had the Ka band satellite internet service installed on my new house just before Christmas. We donít have cable or DSL in the area, so after living there for 11 years, I finally broke down and spent the money for this service. I pay $89.99 + taxes per month for 1 Mbps down, 256 kbps up and it was just over $700 for the hardware installed. Itís pretty expensive, but being a systems analyst, I can tell you that itís well worth the money if you canít get DSL or cable high speed.
So far, itís been very stable and quite quick,,,, not 1 Mbps quick, but up to about 7-800 kbps down sometimes.
My service provider is Xplornet and it was installed by a local satellite TV installer company (Next Technical Systems Inc). The dish looks exactly like the picture you have on your website.


See here http://www.nextgroup.com/xplornet.htm for prices for Xplornet service
Star Tek
Star Tik Satellite is a Canadian company and is located in Thunder Bay, Ontario. Owners, George and Kerry Goodwin have been providing Satellite Sales and Service to Thunder Bay and the surrounding area since 1983. Direcway (Explornet formerly LinCsat). Web site: http://www.startek.on.ca/
More in Ontario to be added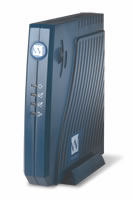 Indoor Xplornet satellite internet modem