| | | |
| --- | --- | --- |
| Home page | | |
Satellite capacity for sale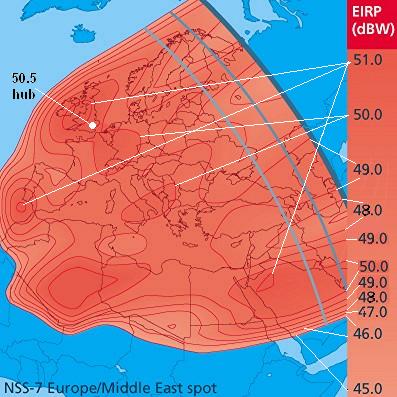 Using CDM570L modems:
IP sound, data or video broadcast: The bandwidth could be used for an IP data broadcast service to a number of remote radio station sites with feedback telemetry about equipment status etc.
The coverage map on the right will now be used. For example: 512 kbit/s download bit rate and 2.4 kbit/s uplink bit rate from each site.
CCTV monitoring: A broadcast 10 kbit/s carrier would go out to all sites to control camera angles, resolution, zoom etc. In the return direction all sites would transmit slowly all of the time and if requested from the hub a few selected sites could be commanded to transmit higher resolution at higher bit rates. So, for example, 10kbit/s outbound, plus 10 x 64 kbit/s inbounds, plus 512k inbound extra capacity available for any remote to transmit at higher speed on command.
Regular satellite internet access: Bit rates as required for business sites, internet cafes, army bases etc. Recommended starting point is 15 kbit/s outbound and 3 kbit/s inbound per site per PC at that site. VoIP needs 13kbit/s both ways.
Your VSAT terminals may be anywhere on the coverage map. One-way or two-way bit rates are available as required 2.4kbit/s - 5 Mbit/s. Dish size 89cm + 3 watt TRIA (50 dBW contour), larger dishes needed on outer contours 1.2m on 47 dBW, 1.8m on 45 dB contour for regular QPSK transmission.
Approx prices: $8500 equipment per site plus $700 per month for 100 kbit/s.
2/3 or 1/2 lower prices if you use larger dishes and 8-PSK or 16-QAM modulation.
If interested, please email my colleague Roger Boddy at enquiries@globalteleports.com
Page created 30 April 2005, amended to display on mobile devices 18 May 2015 Eric Johnston
All pages on this satsig.net web site are Copyright Satellite Signals Limited © 2005 all rights reserved.