Telstar 12 satellite coverage beam from 15 deg west longitude.
Coverage of Europe, plus North Africa and Middle East.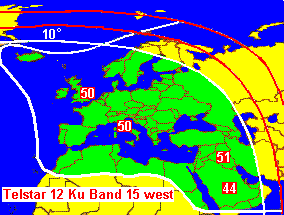 Figures are downlink transponder EIRP in dBW. Note my recommended 10 deg elevation contour limit.
Telstar 12 was originally called Orion 2, commissioned by Orion Satellite Network Systems and built by Space Systems Loral. Launched 19 Oct 1999. Mass 3814 kg. Power 10.6 kW. Geo orbit position 15 deg west. 2 line elements ID=1999-059A. 38 Ku band transponders.
More detailed coverage maps if you click on the image above.
Loral Skynet merged with Orion around the time of launch and Telesat Canada now operate the satellite.
4 Europe - America transponders are leased by Eutelsat.
► Page updated 4 August 2015