Walking in Provence - Massif des Maures
Out of La Lavendou and up past Bormes les Mimosas, with all its terracotta roof tiles and on to Collobrieres via a very wiggly road to the north for about 20km. The walk here was a elliptical walk to the north west. We climbed steadily amongst the trees on route GR90. A beagle dog with long legs, beige brown, and complete with a bell met us half way and continued with us upwards, despite my attempts to leave it behind. It stayed with us until we reached Col de Vaucanes where we came upon a very large wide open field with two prominent dolmens or menhirs (standing stones) surrounded by a fence. We were being told that the area had a strong electric field and the dog was promptly electrified and squealed loudly. It had touched the electric fence around the field. It thankfully then ran off back the way we had come. We climbed the style to enter the field, with myself being rather cautious as I was wearing my walking kilt and did not wish to be similarly electrified by the fence. Some of us then hugged the stones while others held hands connecting the stones together, with no ill effect.
Our guide led us safely away, suitably rejuvenated, and we soon found a shady spot for lunch, close to a dried up river bed where there was a strange V shaped water depth and water flow measuring device. The route back was predominantly downhill., but with a few discouraging rises at times. As we approached Collobrières our spirits rose and it was not too long before we found the town again and searched out a tiny supermarket with really cold soft drink tins which we held to out faces to cool us down before drinking the content. Supper tonight was the best so far with a buffet starter (entré in French) which included an excellent pâté and a whole salmon fish.
Great walking hike in the Provence hills, nice rural town at Collobrieres and good supper.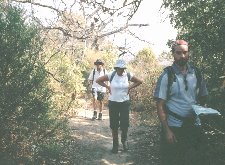 Walking up the GR90 path shortly after leaving Collobrières.
Stuart, on the right, runs similar hiking in Provence holidays.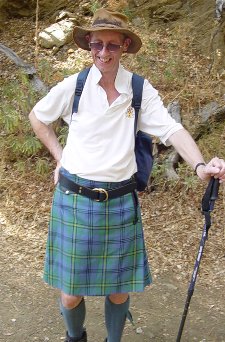 Eric hiking in Provence wearing his kilt!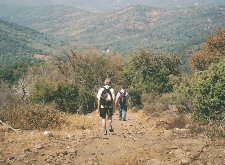 Returning hot down the valley, thinking of cold drink and ice cream. So different from our cooler Walking holiday in central France, Volcano country at Les Estables, near Puy