| | | |
| --- | --- | --- |
| Relevant links on this satsig.net web site: | | |
Ka band satellite internet service using Anik F-2
In the USA called: WILDBLUE®, in Canada called: Telesat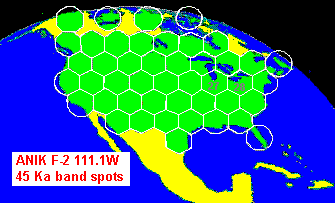 News: May 2005:
Using Telesat Anik F-2 satellite, mass 5910kg, orbit location 111 east longitude.
Beta testing of the WildBlue system has started and the first two gateways are expected soon offering service in selected areas. There are to be six hubs, three in the USA and three in Canada. Each gateway hub works with 7 or 8 downlink beams. There are 30 Ka band spot beams for the USA coverage and 15 Ka band spot beams for the Canada coverage. There are six spot beams for communication between the hubs and the satellite.
Outlink bit rate up to 1.5 Mbps per customer site. Technology: Surfbeam DOCSIS modems from ViaSat
Circular polarisation is used, so less problems installing the Ka Band VSAT dishes.
Prices hopefully from $49.95 per month due to efficient use of satellite power on the downlink using very small multiple spot beams.
One of the distribution channels is to be via the National Rural Telecommunications Cooperative (NRTC)
June 2005:
First US customer installation announced: A 26-inch satellite dish and modem were installed at David and Theresa Tuttles' home in Strasburg on 2nd June 2005. The VSAT installer was Bijou Telephone Co-op who work in the area from Eastern Denver to Linton Colorado along the I-70 corridor. Telephone: 303-822-5400 Fax: 303-822-9003 Postal Address: 138 South Main Street, Byers, CO 80103.
August 2005:
Beta test roll out is now in progress. One customer in Canada had a terminal installed by Explornet. Explornet, which has replaced Lincsat, appears to be a reseller of Telesat Canada.
The main US WildBlue service is expected to start early September 2005.
23 Aug 2005: It was announced that David Leonard is due to join the company in September, replacing Tom Moore as the current CEO. Tom Moore was one of the founders of WildBlue and will continue to help the company. I wish David Leonard well in getting this venture to succeed.
Sept 2005:
The 6 hub sites (1 manned in Denver and 5 unmanned remote hubs) are now all operational. The downlink beams to the hubs are each 492 MHz wide. More than 1000 installers have been trained. All 30 US customer spots beams active with 48 US states covered.
In Canada Telesat are selling the Ka band service via Xplornet and the NetKaster Division of Northwestel Cable Inc.
Dec 2005:
Beam 27, which covers Indiana, Illinois, Michigan and Wisconsin and beam 28, which covers Ohio, are reported as full up. Does anyone know how many terminals this amounts to ?
Jan 2006:
WildBlue has borrowed $200 million to help pay for the launch of its second satellite, due towards the end of 2006.
In the first 6 months of operation, June - Dec 2005 the number of customers increased to about 25,000
Comments and input from Satellite Signals forum members see Exede forum If you know anything about this project please help by sending in your experiences and advice to help make it a success. Contributions about how to set up your PC so that it inter-works well with the satellite TDMA system would be particularly appreciated.
All pages on this satsig.net web site are Copyright Satellite Signals Limited © 2005 all rights reserved.
► Page created 10 May 2005 Eric Johnston, last amended 9 July 2015.