Afrikanet - Oxford Consultech
This company provides satellite Internet connection wherever you are in Africa in the satellite beam footprints shown, using 74cm, 98cm, 1m, 1.2m, 1.8m or 2.4m diameter antenna dishes.
Availability is in C-Band, Ku-band satellite beams and HTS ka-band as shown in the maps on the right:
C-Band: iDirect and Comtech hubs with modem X5 or Modem CDM 570
iDirect Evolution X3 and X5 on the Intelsat IS-14 and Eutelsat E8W. C band (using the lower 4 and 6 GHz frequency bands) is less affected by rain and is ideal for service in very high rainfall locations, but does generally need a larger size satellite dish and much more substantial mounting arrangements.
COMTECH EF DATA service is available for SCPC/SCPC using Comtech CDM-570L modems and DVB-S2 / iSCPC using iDirect modems X5.
Hardware price from Euro 2990.00
Ku band: iDirect hub with Evolution DVB-S2 ACM and Newtec MDM 2200
iDirect Evolution X3 DVB-S2 ACM modems on the TELSTAR T-11N satellite.  Ku band is ideal for low or moderate rainfall areas and the lower cost, ease of transport and installation of the smaller dish make it attractive.  The high power of the Telstar satellite helps to minimise rain affects.
Hardware prices* are from Euro 425.00 for a complete system on Ku band.
Ka band, HTS - High Throughput Satellite: HUGHESNET hub with HNS HTS 2xxx Modem from 74cm dish with speed up to 25MBps and up to 100MBps
For more details, including *current prices etc., please visit their web site at http://www.afrikanet.com
WiFi HotSpot and WLan bridges are available to extend the reach of your VSAT within your business or local community, thus sharing the cost of your VSAT internet connection.
If you are in Africa and want to become a local partner in your country please contact: Afrikanet - Oxford Consultech International
United Kingdom
Oxford Culham Innovation Center
Science Center, Building D5 - Oxford OX14 3DB
Tel: 00 44 1865 408 365
Fax: 00 44 207 900 6479
France
Nord Sud TT : 58 rue haute, 91850 Bouray sur Juine
Tel: 00 33 1 82 8888 45
Fax: 00 33 1 53 01 35 61
email: sales@afrikanet.net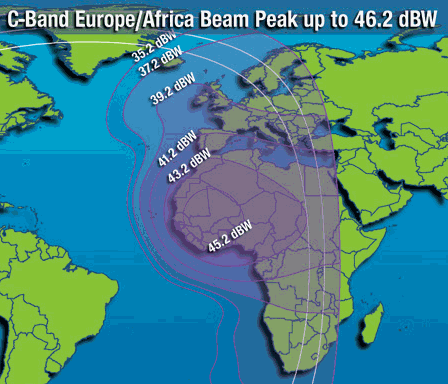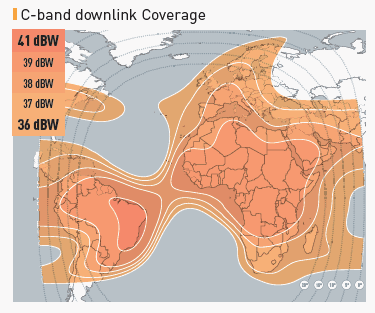 Intelsat and Eutelsat C band beam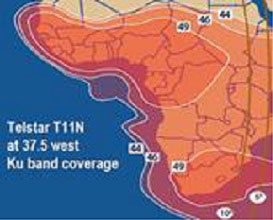 iDirect service offered on Intelsat IS-14, Eutelsat E8W for C-Band and Telstar T11N on ku-band. NewTec service offered on Eutelsat E16A and Hughes service for SOHO on ka-band on High Throughput Satellite
iDirect hubs used are at Fuchsstadt /Germany and at Arqiva in the UK and is operated by Intelsat and by Arqiva. Afrikanet are a Virtual network operator so they have control of their own traffic handling arrangements at the hub.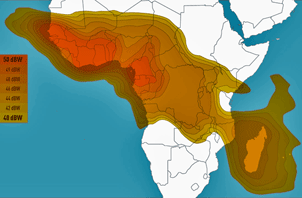 Waka Ku band coverage from EUTELSAT E16A satellite.
Africa coverage includes Senegal, Ghana, Liberia, Sierra Leone, Cote d'Ivore, Nigeria, Cameroon, Congo, CAR, DRC, Tanzania, Madagascar. Look closely at the map above to see where you are located.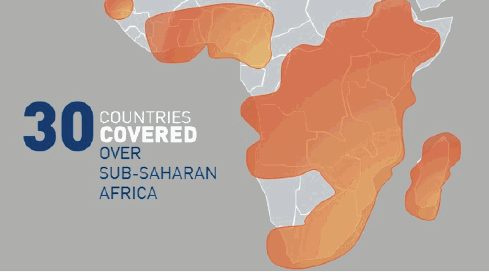 Ka-band coverage on High Speed satellite is now available in about 30 countries from Teleport partner in Italy on HughesNet HTS 2xxx modems at a very high speed.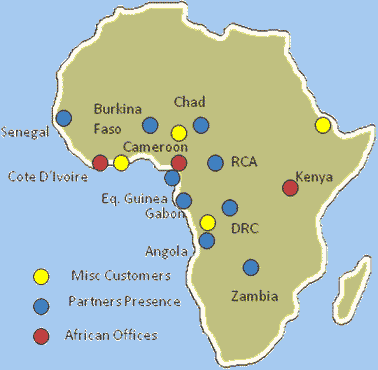 Offices and local partner locations