New Low-Cost VSAT HX NOC Satellite Hub
Note added 2022: Hughes HX is now listed as legacy service on the Bentley Walker web site: https://bentley-walker.com/hx50
Keary Cannon Joanna Lane of Hughes Network Systems has announced that Bentley Walker Ltd is first company in Europe to implement the low-cost Network Operations Centre (NOC) with built-in DVB-S2 with ACM standard.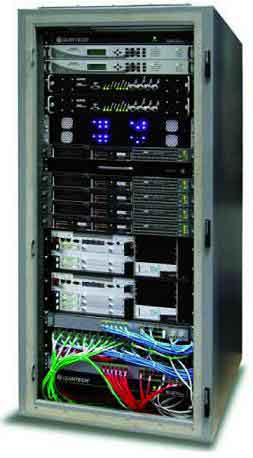 HX NOC equipment rack.
Hughes Network Systems, LLC (HUGHES), the world's leading provider of broadband satellite network solutions and services, today announced the general availability of the Hughes HX NOC for smaller operators in EMEA. The HX NOC is Hughes' new, low-cost, fully-loaded Network Operation Centre (NOC), which runs the latest satellite broadband technology, DVB S2 with Adaptive Coding and Modulation (ACM). This now enables Hughes to offer an economical way for regional operators to provide cost-effective services to their customers utilising their own NOC rather than shared network services. The first operator to purchase the Hughes HX NOC is Bentley Walker, a UK-based satellite Internet solutions company.
Anthony Walker, CEO of Bentley Walker Ltd, commented, "This is a significant investment on our part and will put us at the front of this industry in Europe and the Middle East. We are pleased to expand our business as a global NOC operator and to have selected Hughes for its world-leading combination of features, performance and cost-effective platform."
Please contact sales@bentleywalker.com for information about currently provided services and technologies..
Milton Keynes, 20th June, 2007
"We are very excited to launch the new HX NOC to the EMEA market and we are confident that our solution delivers greater functionality and better value for smaller operators than competing products," said Mike Darcy, president of Hughes Europe. "In addition to the unmatched capabilities and lower cost of the central hub, the HX System also is compatible with Hughes' family of low-cost customer remote VSAT terminals, HX50. HX100, HX150."
The Hughes HX NOC offers the full range of capabilities available to large satellite broadband operators but developed in a compact, modular design enabling scalability and rapid deployment. Operators will benefit from the system's advanced VoIP capability including an integrated gateway at the hub. Using Hughes' VoIP technology end to end ensures superior voice quality and faster call set up.
Moreover, the HX NOC supports high-speed inroutes of up to 3.2 Mbps and enhanced Quality of Service (QoS), all based on the most up-to-date satellite broadband technology-DVB S2. Hughes is the first satellite broadband provider to offer this advanced technology in entry-level products. DVB S2 is the second-generation specification for digital satellite transmission that provides more efficient bandwidth utilisation and higher availability using adaptive modulation and advanced error-coding techniques.
Bentley Walker has signed an agreement to deploy the advanced Hughes HX broadband satellite hub for the provision of data services out of the Turin Skylogic teleport to customers in the Middle East and Europe. The hub will operate over the EUTELSAT W3A satellite beginning in late June. Customers will be able to take advantage of soon-to-be-announced new services in July.
Hughes and HughesNet are trademarks of Hughes Network Systems, LLC.
Footnote added: 2 Sept 2007:
The announcement above managed to get on the first page in CNN business news. The new HX hub was installed and configured with complete success and is working very well with some 200 customers now connected. Both the uplinks and downlink are working dynamically, optimising the modulation and coding to maximise the traffic throughput. WAFA is the local sales agent for customers in Middle East.
Bentley Walker now have ordered a second HX hub, the second to be installed in Europe, to provide an HX VSAT hub service on the AM22 satellite with a beam serving Afghanistan. Operation in mid October 2007.
Page new ECJ 20 June 2007, amended 12 March 2022.