Winter Wheat in my Galleywood vegetable patch
Latest news 17th April 2020
The plants now average about 70 cm high, although there are some smaller ones that were not sown at the right time. Some, in another bed which was waterlogged at times and gets little sun, are definitely slow and weedy yellow looking.
The first green unripe seeds started to show today, as per this picture below.
There have been no flowers that I could see but this morning (17th May 2020) there are a couple of plants where thickenings in the largest shoots are swelling up and breaking open to reveal a vertical lines of 6 or 7 seeds. Going by last year, the seed head may have 3 or 4 rows of seeds..
Progress at April 2020
During this corona virus lockdown period I checked up on the wheat plants growing in my vegetable patch to make sure they were doing well.
Some plants in pots had gone a bit yellow/brown on the lower site shoots and I fixed that with some nitrogen and phosphorus fertiliser. All nice and green new higher shoots now. The ones in the vegetable patch have not needed any fertilizer, but did need weeding over winter.
Anyway back to my Galleywood vegetable patch. This picture below is a section 45 cm wide along by a fence facing east, so it gets the sun from about 11am onwards.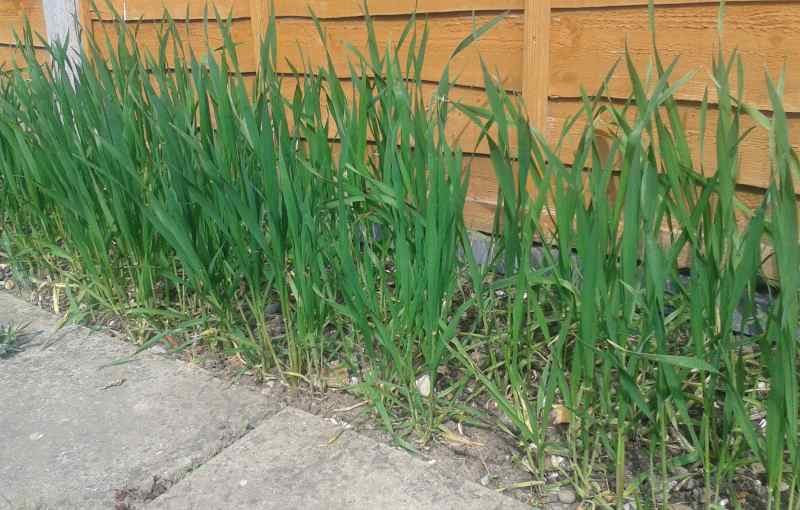 Picture of the winter wheat plants 17th April 2020
Sowing the seeds
Eddy gave me a small pot of pink seeds in Sept 2019 and I put them in about 2cm deep, three rows 15cm apart and seeds spaced about 5cm apart . Very approximate distances. Approx sowing: 133 per sq m. Note I washed my hands carefully afterwards as the pink colour is some kind of virus/insect/bug/bacteria/mould repellent for whatever might trouble the seeds. I don't know what variety the seeds are, as the label on the pot is cryptic. It could be "TnDVN", "TnDYN" or if you look at it the other way up "NADUR". The glass jar and lid label looks like this below: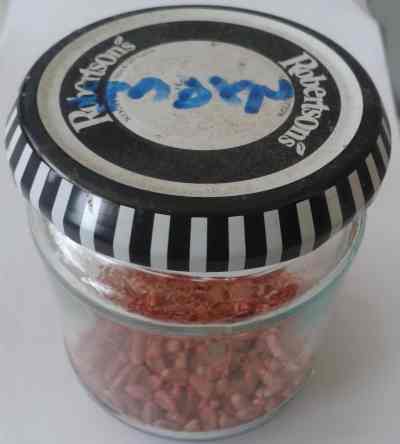 Pot of pink winter wheat seeds of unknown variety.
You have your guess as to what the blue felt tip writing means. I really would like to know exactly what I have planted.
Please email me eric@satsig.net.
Growth phase
Here is the progress, as measured today.
Plants per square m. The germination rate was near 80% and the result was: 106 plants per square m. Where there were gaps I put in extra plants grown indoors, but these did not do well at all. So next time put in plenty of seeds and do it before it gets too cold and wet. None of the seeds put in later in October came up.
I later read a DEFRA guide on optimum winter wheat population which said:
Aim for plant populations by early spring of:
62 plants/m2 for crops sown by late September
90 plants/m2 for crops sown by mid-October
140 plants/m2 for crops sown by mid-November.
Also suggested is a seed to plant rate of 25% - 50% excess, to allow for losses.
Shoots. In addition to the first shoot, side shoots, called tillers, emerge. Some site shoots are about as strong as the main shoot, but many are weaker and shorter. My total number of shoots per square m is 336. Some of the side shoots are quite small and weak. Some plants only have their main shoot. The best plant had 8 shoots total. My average was 3.17 shoots per plant. This compares poorly with the DEFRA suggestion that by mid April there should be between 5 and 16 shoots per plant, depending on densities of 320 to 40 seeds per sq m. 9 shoots per plant is normally expected at 80 seeds per sq m.
Height: Approx 45 cm.
Conclusion: Not doing well. The picture higher up of all the green leaves looks good but the number of shoots per square m is far lower then a target of 750 shoots per square m. (e.g 100 plants and 7.5 shoots per plant)
There has been no frost, so there is also a possible problem as I have heard that a frost is needed for the plants to make seeds. So, it is possible there will be no seeds but I am optimistic I will get some. I will have to wait and see.
Harvest phase (if I am lucky!)
Not yet ready - maybe Aug - Sept 2020.


The smallest wholemeal bread loaf, grown in Galleywood, Essex.
Last year (2019) I grew just one plant in a pot. It just happened to grow there by mistake. Maybe the seed came from the bird feeder which was nearby?. The plant had three shoots and three wheat seed heads. I cut them off and crushed them down gently till just the seeds were left. Then hammered the seeds until they were white powder and bran flakes. Mixed all the result with a few drops of water and speck of bicarbonate. Squeezed into 1.5cm x 1cm x 8mm cuboid and put in the oven for 10 minutes. Result a 1 cu cm wholemeal brown loaf shared with the 6 children and 3 adults. Very tasty. Hope for more this year (2020). I've added a simultaneous picture of a spoon handle to the above image of the smallest loaf, so you can get a better idea of the diminutive size.
If all goes well I hope to take the seeds (if enough) to Woodbridge Tide Mill to get them turned into flour !
All pages on this site are Copyright Satellite Signals Limited (c) 2020 all rights reserved.
Started: 17 April 2020. Last amended: 17 May 2020