Bytesystem-Africa (Group): Satellite internet access and VSAT service in Mozambique
Bytesystem-Africa (Group) is team of telecom engineers with offices around the country.
Their core business is networking via satellite (VSAT) and terrestrially via optical fibre. Internet via satellite is also one of their powerful services for rural areas, linking mining operations sites, banking, government offices and private users.
They have have agreements with several European Teleports which gives them a good advantage in market. They are the only company operating as VNO in the country, this give us a good QoS.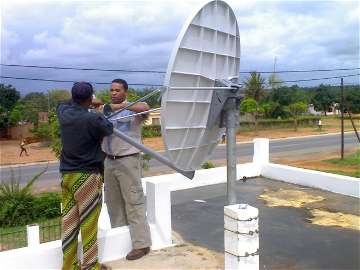 VSAT antenna installation in Mozambique
Please contact Carlos Junior, Manager Director
Bytesystem-Africa , Mozambique - Maputo
Av. Marine N'gouabi n.458

Tel: +258 21 414155 Fax: :+258 21 414155
Cell: +258 84 41 76 854 or +258 82 45 45 270
e-mail: cjunior@bytesystemafrica.com
skype: Bytesystemmoz.200
Also South Africa contact no: + 27 84 65 29 047
NEWS 5 Aug 2011: They are doing GSM services with VSAT connection.
Experience: Installations with many satellites, modems and dish sizes.
Satellites: IS 901, 902, NSS7, EUTELSAT W3A, W2A, IS10.
Modems: iDirect S2, Linkstar S2, Comtech, Paradise DataCom, SkyOne-IP, HX50
Dish sizes: from 1.2m to 5.8m on C band and Ku Band.
Bytesystem-Africa's philosophy: One request service, means trust. Our professional can setup a full services for a company.
Installations of VSAT systems.
* Cisco engineer for routing setup and security.
* Network engineer for cabling or wireless.
* MCSE for your server setup and security.
* Linux expert for Linux server setup and security.
* VoIP phone services.
Company with engineers updated on Satellite Technology with active participation in Satcoms Events, Expos etc...
News: Bytesystem-Africa Launched new Broadband Services with Telstar T11 for South Africa, Angola and Congo
Administrative: Helping International Operator to treat Licensing in Mozambique and South Africa.
Technical:
Installation of iDirect HUBS.
Cellular Backhaul
Mobile services with BGAN Terminals
Metropolitan Area network (wireless-Prof)

C band LNB connection.


Setting elevation angle.>


5


3


4


VSAT installation.


Installation of water level sensors.


8


9


10


11
Above information kindly provided by Bytesystem-Africa (Group)
Page created 15 Dec 2008, amended 26 Oct 2022.