Hany Sayed : iDIRECT and GVF Certified Engineer @ Digital Satellites
(+2) 02 338 81717 (+2) 01 023 421555
Email: info@digital-satellites.com
Skype: hanysayed50
Address: 104 King Faisal Street, El-Farouk Tower - Giza Egypt
Academic and Technical Qualifications
Academic Studies: Academy specialized studies for Trade and Business Administration & Technology, Egypt July 2008:
Very Good with honour degree & ranked as 46 (82.05 %)
Graduation Project: Problems of administration and management: Excellent.
Elective Course: Optical Communications Systems, Satellite Communications Systems.
Online Course with GVF Certificate Student ID 1197486
Wireless Comm. Courses: GSM at Cairo University in 2006.
Linux Security Course on Linux Plus.
TECHNICAL SKILLS
7 years experience in Satellite Communication, Networking and Technical Support /System Engineering function.
As a Technical and Teleport Managing Director for more than 3 Years, Team Leader for more than 2 years, and Technical Support Engineer specialists for 2 Years
Professional at TCP/IP internetworking, general routing, layer-2 protocols, multicast, and LAN architecture
Expert in RF/ Satellite communication concepts
Expert Spectrum Analyzer user in professional tests and Calibrations such as Cross Pol Isolation, Antenna Pattern, Transmission tests, BUC and LNB tests
Expert with RF Bands C-Band, Ku-Band, KA-Band
Calculate Satellite Link Budgets for small and Huge Networks, and good user for iDirect Network Planning tool.
VSAT Experience
Platforms Installation and iDIRECT Experience
Has Installed 4 iDIRECT Hub's. Software, Hardware (under my Admin Management)
Mini iDIRECT HUB (LIC 15) running with iDS 7.0.8 Remote Installation (ORIONCOM)
Mini iDIRECT HUB (LIC 30) running with iDS 7.0.8 Remote Installation (ORIONCOM)
5IF iDIRECT HUB running with iDX 3.0.0 Onsite Installation (ITM)
5IF iDIRECT HUB running with 6.7.9 and 8.0.1 Onsite Installation (EGYPTSAT)
Has Installed Newtec SAT3Play HUB Onsite Installation (EGYPTSAT)
Managing (Tooway KA-Band Network Installed by Skylogic, Eutelsat) EGYPTSAT)
Managing (Inmarsat Terminals, Phones with Evosat, SATCOM Global (EGYPTSAT)
Installing (Hughes, iDIRECT, Inmarsat, Tachyon, KA-Band, COMTECH Terminals)
Attached with Outdoor units 1.2m, 2.4m, 3.7m, 4.5m, 7.3m
SATCOM Monitoring, Commissioning New Networks (STAR and MESH), Troubleshoot end user equipments
Perfect experience with iDIRECT Group Quality of service GQoS
Applications Profiles and Service's Packet Priority
NMS Server, PP-Blade Server Software Installation (Applying all related Licenses)
Linux Red hat, Centos Expert, Administration, Network, Security
Installing Marine sat Tracking systems and Auto Deployment antennas. (Azimuth) (E-PAK) (Sea Tel).
One-way Satellite Connection over VPN and Proxies with AMS Company and Show net (Gulf sat)
LAN, WAN, GSM, and Operating Systems Experience
Ability to capture and interpret IP packet traces.
Strong working knowledge of Microsoft Windows (XP, 2000, NT, 98, etc) and Microsoft office suite
Intermediate working knowledge of Linux
Window Installation and LAN-Cabling Installation
Demonstrated LAN/WAN troubleshooting skills
Demonstrated microwave systems troubleshooting and installation.
BSC Equipment Installation
BTS 900/1800 & DTS Equipment Installation
Wireless Point to point and Point to Multi-point Equipment Installation
Tower Erection Project
MSC and BSC Complete Installation
Access Gateway Installation
Wireless Equipment Installation PToP and PToMP
LAN Cabling Planning and Optimization or Supervision
E1 and PRI Termination, troubleshooting and Installation
Training Courses
- CCNA, CCNP Course
- GVF 510 Core Skills for VSAT Installers Course Certified Student ID 1197486
- GVF 520 Student ID 1197486
- GVF 521 Student ID 1197486
- GVF 561 Fundamentals for Marine VSAT Operators Certified Student ID 1197486
- GVF 562E Operating the SeaTel Model '09 series Marine VSAT Certified Student ID 1197486
- Tooway Eutelsat - Skylogic Course in KA-BAND Certified
- iDIRECT IOM for iDS 8.0.2.5
- Newtec Sat3Play Course (Operation and Internet Access)
- Linux Red hat Technical, Administration, Network and Security
- VoIP Training Course, VoIP Compression using NOP Technology (World Telecom Labs)
- Quality Assurance Course by DNV (IS9001)
- Elective Course: Optical Communications Systems, Satellite Communications Systems.
- Wireless Comm. Courses: GSM at Cairo University in 2006.
- Microsoft MCSE Course
Facilities
Able to do a VSAT Installation on and outside Egypt
Able to mange Satellite Network Remotely and support it with reports
Able to work with SNG as a part time outside Egypt
Able to prepare Link Budgets for big satellite Networks
Computer Skills
Microsoft Office
Good experience with MS-Word, Excel & Power Point
Operating Systems
Broad experience with Windows NT, Windows 2000, Windows XP
Windows 7, Windows Vista Org. Other
Extensive experience with Internet / Emails
Operating Systems
Microsoft Windows (XP, Vista, Win7, Linux).
Professional Work Experience
Owner - Digital Satellites
August 2012 - Present (5 months) Cairo - Egypt
KSA Embassy VSAT Project Manager - Acel International, LLC
January 2012 - Present (1 year) Egypt
Network and Planning Engineer- ITM
August 2011 - Present (1 year 5 months) Congo DRC
Teleport Manager and Technical Support Director - EgyptSat Telecom
February 2005 - October 2012 (7 years 9 months) Maadi Central Satellite Earth Station - Egypt
Senior Network Engineer - EgyptSat Telecom
February 2006 - September 2011 (5 years 8 months)
Installation Manager - EgyptSat Telecom
February 2007 - September 2010 (3 years 8 months) Egypt
Technical Support - Marco
January 2003 - January 2005 (2 years 1 month) Egypt
Known Projects
Multicasting Solution

Description: Built Multicasting solutions using FAZZT Software over Satellite DVB S2 (Newtec Technology).
Used for: file delivery from one station to more than 1000 site with saving the bandwidth.
E-learning (Remote distance learning)

Description: use VBrick technology for distance learning solutions over Satellite by (iDIRECT and Newtec technology).
Used for: help many student to learn from any were, only need VSAT system or one-way dish.
Satellite Terminals monitoring

Description: use NetFlow Application as it support SNMP Protocol to monitor satellite terminal network traffic and accumulated volume.
Used for: help satellite operators to calculate the exact bandwidth usage for any customer (only need SNMP connectivity support between the Sat and network hardware).
Project Name: SNG for Satellite Broadcasting.
Description: built a manual SNG by using RF L-Band modulator + H.264 Video Encoder + Handy Cam + 5Watt up converter and were able to make a live test ended to satellite end user.
Used for: help many student to learn from any were, only need VSAT system or one-way dish.
iDIRECT SCPC for Video Conference

Description: establish a SCPC link between more than one site then use Video Conference hardware (Tandberg or Life-size or Ploycom).
Used for: Continuance Video Conference Achievement with Mr. President Hosni Mubarak in Most of the governorates of Egypt (Sohage, Elmenia, Asyut, Nag3 Hamady-Gamssa- Mansura-Alexandria .. etc).
VoIP Server

Description: setup a Voice over IP server using Asterisk application based on Linux, and use (IP Phones hardware, IP Phone Software) for clients connect.
Used for: making local and international calls.
Video Conference (QVidium IP Codec)

Description: built a video conference solution using QVidium Encoder and Decoder for the streaming (Video Protocol H.264).
Used for: point to point video conference solution.
Personal Skills & Abilities:
Negotiations Skills & Presentation Skills.
Effective Communication Skills.
Problem Solving and Decision Making.
Ready to be an effective member of a work group.
Fast and self-learner, Self-motivated, initiative and persistent.
Able to adapt with different cultures and work environment.
Ability to deal with different types of characters.
Languages:
English: Fluent
Arabic: Mother tongue.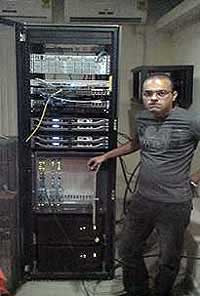 iDIRECT HUB Installation iDX at DRC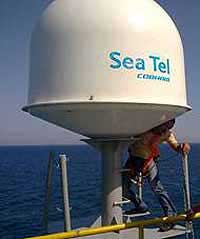 Marine SeaTel Ku-Band Installation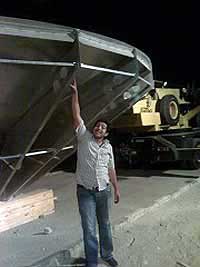 Vertex RSI 7.3m antenna Installation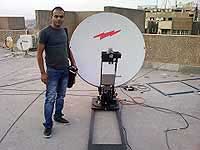 Auto Deployment Antenna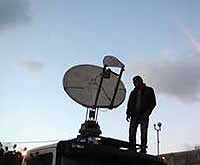 USA Self Deployment Antenna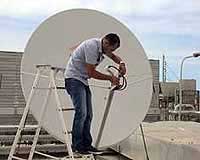 VSAT 2.4m Antenna Installation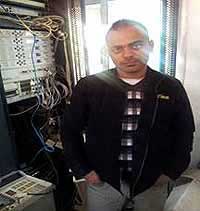 Comtech Network P2P with Marine Network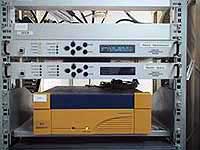 Memotech with Comtech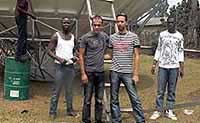 7.3m Antenna Installation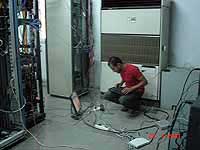 Newtec and iDIRECT HUB Network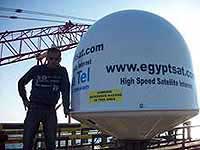 SeaTel Marine Sat: Above deck equipment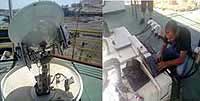 Marine Sat SeaTel VSAT: With radome removed.

SeaTel Controller Rack: Below deck equipment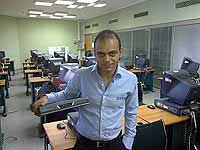 iDIRECT Evolution router for Education Ministry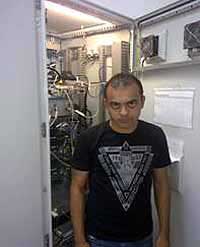 Comtech P2P Network at Rafah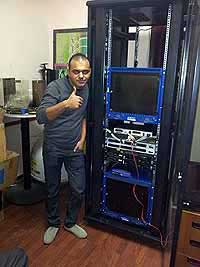 iDIRECT Hub Installation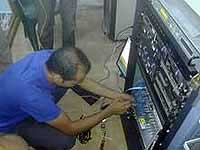 iDIRECT HUB Network Upgrade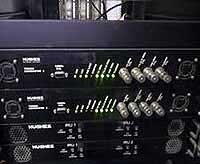 Hughes HUB at Egypt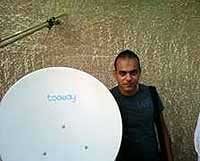 Tooway Installation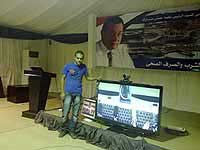 VSAT Video Conference for the Government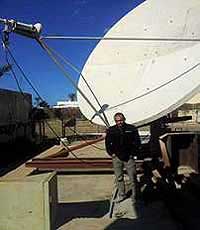 3.7m antenna Installation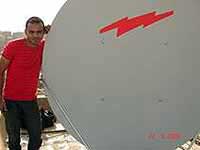 KSA Embassy 2.4m
---
Recorded Videos for SATCOM

Video: EgyptSat Teleport Badr4 iDirect Hub line card installation

Video: iDirect hub

Video: EgyptSat iDirect hub

Video: Network Training course

Video: iDirect hub maintenance

Video: Hany and work in Egypt: inc.Seatel Maritime VSAT

Video: iDirect Hub configuration - NMS PP blades Badr4