Getting a NETGEAR WG111v3 to work with Windows 10.
This morning I looked out a very old, but unused, Netgear WG111v3 wireless adaptor. My objective was to see if it worked, if at all.
My PC is also old, but running Windows 10.
The adaptor came with a While/Yellow CD with the text: Wireless - G USB 2.0 Adaptor, WG111v3, Resource CD, Version 1.1
When inserted on CD drive the result was a good introductory screen. Unfortunately no success getting it to work.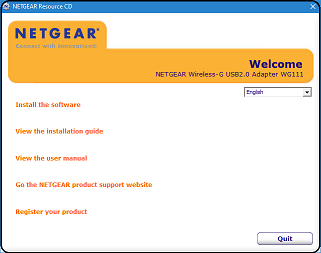 I looked on the internet and it was clear that other people had problems also, with NETGEAR drivers not going as far as Windows 10. There were discouraging remarks like "The WG111v3 does not support Windows 10."
Using the Windows 10 Device manager (Settings, System, About, Device Manager) allowed me to scan for possible Microsoft drivers, but with no success for me. I searched the web..
One site said it was possible. See https://www.driverscape.com/download/netgear-wg111v3
This quoted a Driver Version: 62.1181.1118.2009, Release Date: 2009-10-08, File Size: 252.1K
Supported OS: Windows 10 64 bit, Windows 8.1 64bit, Windows 7 64bit
This looked hopeful but the web site was not Netgear of Microsoft. The download was a zip file which when extracted gave 4 files: wg111v3.cat, wg111v3.inf wg111v3.PNF, wg111v3.sys.
I could not work out how to load these as a "driver" as none ended in .exe, so, prematurely as it turned out, I abandoned this possibility. It would have worked if had known to save these three files somewhere and then direct Windows 10 Device Manager to search for them as a source of a driver. You live and learn - and forget as well.
I did learn that all drivers for Windows 10 were the responsibility of Microsoft, not Netgear, so I explored further and found this site:

https://www.catalog.update.microsoft.com/search.aspx?q=wg111v3
This seemed promising, as the origin was definitely Microsoft.

I downloaded this option:
NETGEAR Inc. - Network - NETGEAR WG111v3 Wireless-G USB Adapter
Windows 7, Windows 8, Windows 8.1 and later drivers
Drivers (Other Hardware)
10/7/2009
n/a
228 KB

This file arrived in Downloads:
20321134_29de624190958511a5c1020f39d85997339afd59.cab

Did Extract and put the three resulting files into a new Directory called "Documents/netgear-wg111v3"
The files were: wg111v3.cat wg111v3.inf wg111v3.sys
Interestingly these file names were the same names as from the other site.

I then went to Windows 10 Device Manager.
Saw NETGEAR WG111v3 Wireless-G USB Adaptor in error status

Clicked on it and saw options to choose device driver by searching in a local directory.
Selected directory Documents/netgear-wg111v3

Device Manager did a good job, ending with a good driver now being associated with the Netgear WG111v3 wireless adaptor.
The Driver Version was: 62.1181.1118.2009,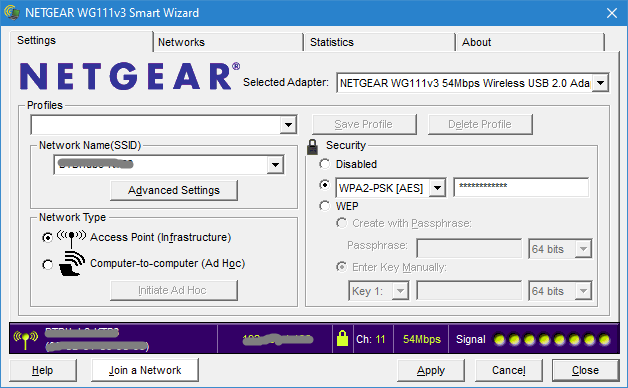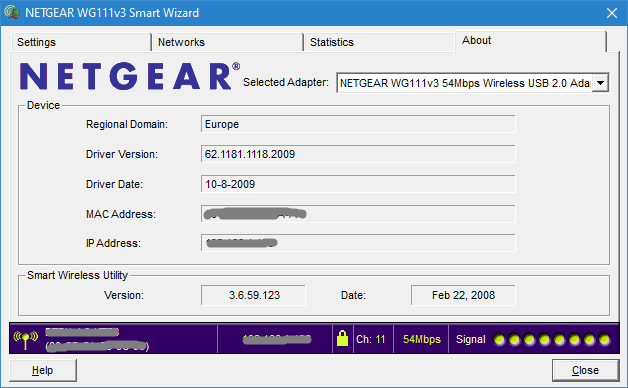 I was now able to configure the adaptor using "NETGEAR WG111v3 Smart Wizard" by following a new Desktop icon. See above screen shots.
Unexpected observation:
When applying Disconnect in Windows 10 Network Connections it reconnects spontaneously, shortly after. So best to wait till powered off before removing the adaptor.
If you read this page and it either helps or hinders you please tell me of any suggestions for improvements. Send me an email
---
---



Page started: 13 August 2023, last updated 22 August 2023

All pages on this satsig.net web site are Copyright Satellite Signals Limited © 2023 all rights reserved.