Walking holiday in the South of France - Provence hills and coastal hiking

Island walk: Isle de Porquerolles
Our base was Hotel Les Aleyons a couple of miles NE of La Lavandou. Starting sunday, breakfast at 0800, then off promptly with packed lunches heading for a supermarket so each of us could buy a 6 pack of 1.5 litre bottles of water for the week. Then on via Hyères to Presqu'Île de Giens and then to Port de la Fondue. Here at 9:55, the 9 seat minibus was parked and our leader Brian bought us ferry tickets for the boat trip. We all went ahead and stood around near the gangway to make sure the boat did not leave till Brian came along with the tickets. The boat had two decks. Chris stayed down but the crossing was very smooth and so no worry about feeling sick. After 20 minutes we were at Isle de Porquerolles. All the day trippers wandered off in various directions. For us the first stop was the Tourist Information Office and loos close by. The Tourist Information Office did good large scale maps of the island. Our walking route around Isle de Porquerolles led us along the north west coast towards the tip of the island. The track was wide and well trod. There were families with children in push chairs, people who had hired mountain bikes and us, all headed towards the beaches. We stopped from time to time to admire the views and finished up at a nice bay, facing north, sheltered from the wind and with a nice blue sea for a swim. The picnic packs were opened and met with approval with a half baguette and lots of tomato going down well.
After a suitable after lunch snooze we set off south, around the headland on more difficult tracks leading up and down amongst the coastal bushes and trees. The path involved some modest by steep climbs and with the temperature was getting up it got a bit tedious. So, instead of doing a further 2km we took a short cut back to the main village along a fairly direct dirt track. We stopped for a welcome ice cream and drink while leisurely awaiting the ferry.
Back on the mainland we took a road route to the east of the Aerodrome de Hyères, now the new Hyères international airport (Ryanair ?) and thence back to the hotel. Supper was at 7:30, ending at 10:00pm.
| | |
| --- | --- |
| A short distance walking on the beach. | Guided group walking holiday. |
Back on the mainland we took a road route to the east of the Aerodrome de Hyères, now the new Hyères international airport (Ryanair ?) and thence back to the hotel. Supper was at 7:30, ending at 10:00pm.
A good first day walk, boat trip to Isle de Porquerolles memorable, rather hot and tired.
---
Coastal walk Bormes les Mimosas
The walking route today was to be along a section of the coastline between La Londe les Maures and Cap Bebat. The minibus took us into La Lavendou (3km), then past Bomes les Mimosas and via La Londe les Maures. We made our way to the beach at Le Pellegin. Starting on the promenade, we walked ahead some 500m to the extreme end of the beach where we were told to wait until Brian returned, having moved the van to the end point and returned on his pedal bike. On the beach we found a beach cafe and settled down for refreshments. Eric pondered renting a Hobiecat for half an hour but needed a 120 euro deposit which we did not have. Anyway we sat in the shade drinking coke-cola and lemonade. When Brian got back we set off eastwards along a narrow twisty coastal path up and down along the low sea cliffs. You needed to be careful as there were plenty of rocks to fall on if you did not watch where you were going. At one of the larger bays we were entertained by a helicopter that appeared to be practising picking up someone or something from a boat. I imagined a flight instructor repeatedly trying to get a student to hover successfully in the right place while a winch man lowered a wire to the boat below. After about 4 tries they went away to try elsewhere and thankfully the rescue helicopter noise faded - a bit. At the next bay was a prominent artificial marker out to sea with what looked like a miniature lighthouse on top. This we were told was a cardinal marker indicating to boats where was the entrance to the bay.
We continued to walk the coastal path to the east. The path was quite rough, up and down many steps, over tree roots, up and down over rocks and through scratchy bushes and under overhanging trees. Most bushes were just scratchy but you had to watch out for the cacti with their sharper spikes. One plant with a fan of green leaves on the end of a short stalk had some interesting sap. If you cut the stalk some white latex like sap came out and this was said to be good for getting rid of warts. We do not try this medicine. The weather was hot sun and the intermittent shade under the trees was welcome. We passed many small coves and looked down into the clear blue water - picturesque was the correct description. After what seemed many hours of scrambling up and down we emerged to a beach with sunbathers plus a beach bar and restaurant for a rather late, low-blood sugar level, lunch at about 2:30pm. We all sat round a large table under a coloured canopy, and ordered lunch up to our 16 euro allowance. Sitting there in the shade on nice comfy plastic chairs and looking out over the sunbathers we really did feel we were on holiday.
After lunch we only had to go a few yards to find the van and had the option to then go and visit Bormes les Mimosas on the way back to la Lavendou. Considering were were all rather shattered and weary there was 100% agreement that we would give Ballymosa a miss. Supper was at 8pm.
---
Pleasant coastal walk in Provence
Coastal walk : Cap Lardier
After breakfast, of the same tea, croissant, baguette, butter and jam every day, we set off on a long mini-bus transfer via Cavaliere and Cavaliere sur Mer to le Mas de Gigaro. Cap Lardier was a distant headland some 3.5km away and facing south. Our route was along the rugged cliffs in between and it looked a long way. Despite never going much over 50m altitude there was considerable up and down, with steep steps and tricky loose gravel slopes to negotiate. Fortunately nowhere were there any really scary narrow ledges with vertical drops causing vertigo, as in some of the Levada walks in Madeira.
We were lucky at lunchtime to find a shady spot under some overhanging branches and there was time for a good snooze in preparation for a similar long slog in the afternoon.
Towards the end we stopped at Plage la Briand and then over the isthmus of Cap Taillat and finally into Berges Plage in Baie de Bonporteau, where the bus awaited us.
This was the most spectacular walk, but the heat and the hard terrain under foot meant that you kept you head down much of the time. Found good shady spot for lunch.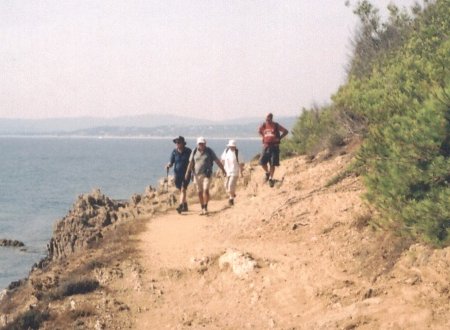 Sailing boat trip, Cavalaire sur Mer, Grimaud and Port Grimaud
After three days hiking in Provence we had a change to give our feet, ankles and knees a rest so it was a day without the heavy walking boots. So some sightseeing first at Grimaud market.
Cavalaire sur Mer was where we met the boat that Brian had rented for the day. We all climbed aboard and thankfully there was enough space for all 10 of us, including the skipper and Brian. There were plenty of multi-coloured ropes and bits of string to pull on - or get tangled up in. All went smoothly as we motored out (forwards only note - no reverse gear on the prop). In the light breeze, up went the mainsail and genoa and with the motor quiet we started sailing along leisurely to windward while trying to keep laminar flow on both sides of the sails. There was a rather neat digital wind direction indicator showing the angle of the arrow sensor at the top of the tall mast, but we only discovered that later. The boat is a 7/8-handed one-design 35-footer (10.60m), is swift and is particularly suitable for beginners at sailboat racing and corporate events. Read my idea as to how a sail works.
We tacked around the headland to the west and found a suitable bay to moor up for lunch, using the anchor.
The champagne in tall glasses made us feed suitably exclusive but the lack of significant waves was the best treat - we did not feel sick at all ! Lunch was chicken and pasta spirals followed by Tarte Tropezienne, which was a speciality of the area and rather good, a bit like a giant yellow cheese cake.
In the afternoon we sailed back, this time somewhat downwind. The wind had increased a little so the boat went along well and we has some excitement when we gybed and boom (the metal tube along the bottom of the big sail) swing over from one side to the other.
| | |
| --- | --- |
| The Grimaud market was a chance to buy postcards and souvenirs. | Grimaud is a historic town, inland somewhat from Port Grimaud and quite a different place. |

The Jeanneau One Design 35, abbreviated JOD35, was the official boat for the Tour Voile (Racing Around France) from 1992 to 1998.
I have since had a go sailing a Clipper 68



After the boat trip we went to Port Grimaud where there was a load of block of flats built on reclaimed land with canals in-between so each dwelling could have a boat moored outside. Very touristy and hot.
Nice market in Grimaud. Boat trip a great success and the highlight of the non-walking activities . Port Grimaud and its broiling hot concrete sales area was a mistake. We should have chosen the alternative boat cruise around the canal homes.
---
Walking in Provence - Massif des Maures
Out of La Lavendou and up past Bormes les Mimosas, with all its terracotta roof tiles and on to Collobrieres via a very wiggly road to the north for about 20km. The walk here was a elliptical walk to the north west. We climbed steadily amongst the trees on route GR90. A beagle dog with long legs, beige brown, and complete with a bell met us half way and continued with us upwards, despite my attempts to leave it behind. It stayed with us until we reached Col de Vaucanes where we came upon a very large wide open field with two prominent dolmens or menhirs (standing stones) surrounded by a fence. We were being told that the area had a strong electric field and the dog was promptly electrified and squealed loudly. It had touched the electric fence around the field. It thankfully then ran off back the way we had come. We climbed the style to enter the field, with myself being rather cautious as I was wearing my walking kilt and did not wish to be similarly electrified by the fence. Some of us then hugged the stones while others held hands connecting the stones together, with no ill effect.
Our guide led us safely away, suitably rejuvenated, and we soon found a shady spot for lunch, close to a dried up river bed where there was a strange V shaped water depth and water flow measuring device. The route back was predominantly downhill., but with a few discouraging rises at times. As we approached Collobrières our spirits rose and it was not too long before we found the town again and searched out a tiny supermarket with really cold soft drink tins which we held to out faces to cool us down before drinking the content. Supper tonight was the best so far with a buffet starter (entré in French) which included an excellent pâté and a whole salmon fish.
---
Great walking hike in the Provence hills, nice rural town at Collobrieres and good supper.

Eric hiking in Provence wearing his kilt!
| | |
| --- | --- |
| Half way up the climb, and a well earned rest. | Col de Vaucanes - Embracing the standing stones to gather energy. |
---
Walking from Pampelonne Tahiti Plage to St. Tropez
Started by driving all the way up the back of Pampelonne beach, past all the entrances to the various holiday centre and named beaches. Parked behind Tahiti Plage, with way quiet with few people. Set off to the north, aiming for the headland. It was the usual sentier du littoral (coastal footpath) up and down steps, tree roots, rocks, overhanging branches. Hot day with sun.
Over half way, about 8km, we found some shelter and had lunch at Plage de la Moutte, facing out to the north over the approaches to St Tropez. A regular procession of large white motor boats roared past accompanied by helicopters trying to take photos of those aboard. Occasional, much smaller and faster racing style motor boats zoomed along. It seemed a long day by the time we eventually reached St Tropez town where we enjoyed a soft drink sitting outside and small cafe in a cool side street. After that we went down to the harbour to see the big motor boats reverse up to the quay and tie up while the strolling visitors stared. Hot there with all the concrete and a relief to get in the minibus with its air conditioning. Late back and supper at 8:00pm with Brian, plus Stuart, the new guide for the next week. Stuart lives in Bédoin, near Mont Ventoux and runs guided hiking holidays in that area also.
A 12km coastal walk ending up in fashionable St Tropez
| | |
| --- | --- |
| South of France coast footpath walking from Pampelonne beach to St. Tropez | One of the many isolated coves and beaches. |
| | |
| --- | --- |
| Welcome refreshments in St. Tropez. | St Tropez harbour, the end of our hike along the coastal trail. |
| | |
| --- | --- |
| You must give the lady en route to St Tropez a wave, or it will rain tomorrow. | Lady now wearing a plastic anorak during precipitation. Who forgot to wave?. |
The last morning was made a great success by leaving around 11.00 and having lunch at Bormes les Mimosas. We stopped at the cafe at the bend in the road and asked for quick service. We were in and out in an hour, with an excellent light lunch before setting off for Marseille airport.
Hotel Les Aleyons: Located as shown in the satellite map at the top right of this page. Did not face west so we had no chance of seeing the sun change colour to a bright green flash before it set, as we had seen before in Lanzarote and Cayman islands. Think: hot sun bathing rather than hot spa baths.
---
---
Summary:
A great walking holiday in the south of France combining the Provence countryside and the coastal footpaths with time for the sandy beaches and islands.