Francis Zhakata - Company name: Visat Wireless
Satellite internet and VSAT installation services in Zimbabwe, Mozambique, Botswana and Namibia.
Francis is a Certified VSAT Consultant trained by the Global VSAT Forum (GVF) organisation. He is based in Zimbabwe but he and his team are willing to travel as needed.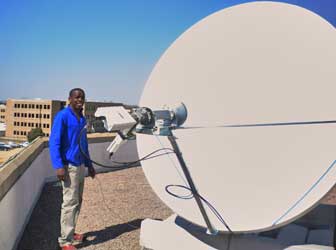 2.4m diameter antenna installation on a roof in Botswana.
Feed system is circular polarisation.
His team have experience with the following: 2.4m C-Band, 1.2m Ku-Band, Ka-Band antenna and radio systems at all sizes using iDirect, Gilat, Comtech, Hughes, DVB-S2, Linkstar, Schumberger and Paradise technology modem and indoor equipment.
He also offers a full range of communication services and products such as:
Networking solutions incorporating WiFi, WIMAX and Cable

Phone leasing

Mobile VSAT units are available for satellite news gathering (SNG)
His "Visat Wireless" team is available 24hrs for work anywhere in Africa.
"With engineers in every African country we are able to timely meet your requirements. We offer maritime and land bandwidth access and sat engineers to the public (SOHO, CAFES, WIRELESS ISP ETC and other other service providers."
Update: Now expanded to include Namibia following recent work there.

Contact details: "Visat Wireless", 10th floor, Fidelity Life Tower, 2 Luck St., Harare, Zimbabwe
skype: franzzhak
Emails: francis@visatwireless.com
WhatsApp +27 64 301 9234
Phone: +27 64 301 9234
Here are some pictures of a recent VSAT installation in Botswana.

Preparing to lift the concrete blocks
for the base of the non-penetrating antenna mount.

Using crane to lift the antenna reflector panels.

Work on the roof

Mount pole and antenna backing structure assembled.

Preparing to attach the first half reflector panel.


First half of the reflector attached.

Preparing the second half of the reflector.
(see picture at the top of the page for the completed antenna)

Job complete.
Page started 1 Oct 2010 , last amended 23 March 2018 (new phone number)