Internet via satellite, email and VoIP access connection via direct two-way customer dish terminals have been possible for over 15 years in Africa following a maturing of VSAT technology and the building of large teleport hub dishes for service into Africa.
Fast web downloads, email, ftp file transfers and streaming video and audio are achieved with speeds of typically up to one or more Mbit/s, using a share of a high bandwidth connection from a large hub station with a rate of up to 60 Msym/s (like digital sat TV DVB-S or -S2 signal).
African capacity is normally shared. Services for home and small office users have higher sharing ratios, but are lower cost than services for banking, ATM, oil and gas, business or internet café users, where dedicated or low ratio sharing is the rule.
Service providers have tariff options for various bit rates and Mbytes transferred. Email and internet web browsing are the usual intended use. For applications requiring substantial uploading of data or for sound or video interchange or broadcast ask about higher price options and feasibility.
Satellite connection is available via the beam maps and service providers shown below. Scroll all the way down this page to find all suitable providers. Ask for initial equipment price plus monthly costs for different peak bit rates and total amounts of Mbytes downloaded. C band refers to 4 - 6 GHz operation. Ku refers to 11-12-14 GHz operation. C band needs generally a larger dish, but suffers less in heavy rain. C band may suffer interference from terrestrial WiMAX networks in some places. For some densely populated places along the North Africa coast there is Ka band (17-30 GHz) coverage using the European Tooway service, see: European Tooway satellite service
Read my text summary for each provider. Click on emails where your location matches the coverage maps. Explain your requirements and ask for current prices and confirm technical details. Alternatively, you may click here to email all service providers on this page
There is no charge for the inclusion of information on this page. If your company is interested in being featured please send details explaining what you do. I am not interested in just a sales pitch. I want lots of factual technical information about beam coverage area, orbit position, hub technology used etc.
---
GROUND CONTROL COMPANY LLC.

GROUND CONTROL COMPANY LLC , provides VSAT services such as shared and dedicated service using Ku-Band and C-Band over Africa.

iDirect Services
Newtec Services
SCPC/SCPC
Mobile Services
Private Network
Oil & Gas
Maritime Services
Satellite Phone

Telephone: +971 4255 5242

Mobile: +971 52 922 5361 (24x7)

Email: sales@gccsat.com

Website: www.gccsat.com


Eutelsat E21B
Ku-Band : West Africa


Eutelsat E70B
Ku-Band : East Africa


AfricaSat 1A at 45E
All Africa : C-Band
---
STARLINK

Starlink is a low earth orbit system with a constellation of satellites at a height of around 550 km. As a customer you will 'see' them moving across the sky, rising up, going across the sky and then setting. At any time there should be at least one visible.

The customer antenna is a flat white structure with many tiny radiating elements forming a Ku band phased array. The resulting beam moves electronically and finds and follows the satellites across the visible sky.

Installation is fully automatic with the antenna setting up its initial physical pointing angle automatically. It is helpful if the antenna has a good wide view of the sky in all directions.

Coverage depends on there being a terrestrial gateway within range or via other adjacent satellites using inter-satelite links.

For service go to: https://www.starlink.com/ Forum


Ref: https://satellitemap.space/
---
OPEXTEL VSAT AND TELECOM SERVICES

VSAT Services in C, Ku & Ka Band

Opextel Ltd is an Egyptian Licensed VSAT Integrator provider, we leverage on top industry Teleports for co-location, with Tier 1 connected to major Internet exchanges in Europe & the US using leading industry satellites capacities, HT Satellites and best industry Satcoms. In order to provide robust connectivity to our clients, Opextel utilizes most powerful beams & utilize latest highest mode codes to provide best service availability and lowest market costs to our clients in Africa. Operations are in DRC, Uganda, Cameroon, Central African republic & other areas.

VSAT GSM Backhaul, VSAT Internet Gateway Services, VSAT Banks & Corporates, On the move VSAT Mobile Solutions, Maritime VSAT, Aeronautics, Telecom Services, Power Solutions, Electromechanical Services, Infrastructure Services, Training Services and Outsourcing Services.

Opextel Ltd. No 28 166 Awal Al Qahera Al Gadida, Egypt

Tel: +20 22 560 4646

Mob: +20 122 310 0031

Email: info@opextel.com

Web: https://opextel.com/


C band service in Africa
---
WIRELESS BROADBAND, based in Niger, with an office in Benin, offer clients in the West African sub region high quality integrated ICT and security solutions thanks to its years of experience in the design of VSAT services for best internet backup services.

We have a large customer base in sub-Saharan Africa for the VSAT Internet using shared and dedicated bandwidth solutions by satellite in Ka band, Ku band and C band. Professional and economical solutions supported by technical support services 24 / 7/365 for corporate markets, for governments, the military, banking institutions, NGOs and industries.

Every business needs highly reliable and fully managed remote communications signals. For this, we offer different brands VSAT for hybrid networks and VSAT with highly flexible and scalable services.

Whats'ap / Telegram: +227 98 151 940 (Niger) or +229 96 443 142 (Benin)

Email: infos@wirelessbroadb.net

Website: www.wirelessbroadb.net


C band VSAT service in Africa
---
NTvsat is a German company which provides all services. Our goal is to connect remote locations with internet or your local network using Ka, Ku & C-band. We also provide internet for moving vehicles like ships, truck, trains or plains and allow our customers to set up their own private network. Our main focus is Africa and the near East.

Everyone at NTvsat is driven by the passion for a connected world. In a global market we help your business to stay connected. You won't get lost - wherever you are.

Phone: +49.173.699 09 74

Email: sales@nt-vsat.de

Skype: neguset

Website: www.nt-vsat.com


C band Africa footprint for Afrikasat 1A


Ku band iDirect Africa footprint for T11N satellite
---
Lepton Global Solutions

Lepton Global Solutions provides customized, end-to-end satellite communications solutions for both military and commercial customers utilizing Ku-, Ka-, C-, and X-band satellite frequencies.

Example, coverage using Eutelsat 70B Widebeam and AM-8 Africa Beam, including Democratic Republic of Congo, Tanzania, Nigeria, South Sudan, Angola, Namibia, South Africa, and Madagascar.

Lepton Global's solutions include fixed VSATs, rapid deploy terminals, and COTM (communications on-the-move) systems. Solutions are available for all world regions, making use of multiple satellite beams and bringing together resources from a number of different suppliers, appropriate to the individual customer requirements. My review.

For more details contact:
Phone: +1 571-313-1256 Fax: +1 855-642-6522 Email: info@leptonglobal.com
Address: 8381 Old Courthouse Road, Suite 200, Vienna, VA 22182 USA.
---
Afrikanet - Oxford Consultech - Internet by satellite in AFRICA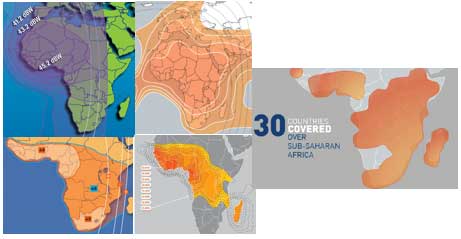 More details for C , Ku and ka-band coverages.
This company with offices and partners in sub-Saharan Africa provides satellite link connection from Europe, wherever you are using 74cm and 98cm dish for High Speed HTS Ka-band or 1m, 1.2m, 1.8m or 2.4m diameter dishes for Ku-band and C-band.
C-Band: iDirect Evolution Series X3 or X5 on the Intelsat IS-14 or Eutelsat E8W. Comtech platform SCPC and iDirect iSCPC are available and suitable for business and corporate on C band.
Ku band: iDirect Evolution X3 DVB-S2 - ACM modems on the TELSTAR T-11N and Newtec MDM 2200 modem on EUTELSAT E16A suitable for Medium size companies, NGO and SOHO
Ka band HTS [ High Throughput Satellite]: HNS Ka-Band Rx/Tx 74cm dish on Hughes Net HTS2000 & HTS2200 or HTS2400 with speed up from 25Mbps and up to 100Mbps available, suitable for SOHO and direct consumers.

For more details, including current prices, please email: sales@afrikanet.net
United Kingdom: Oxford Tel: 00 44 1865 408 365 Fax: 00 44 207 900 6479
France: Bouray sur Juine Tel: 00 33 1 82 8888 45 Fax: 00 33 1 53 01 35 61
Cameroun: Yaoundé Tel: +237 242 75 17 68 or +237 242 62 17 39
---
GlobalTT is a teleport company based in Belgium (Europe) with more than 25 years of experience. They cover the entire African Continent with 3 Satellites:

T11n (WEST) - Ku-band: Coverage example: Togo, Sierra Leone, Liberia, Ghana, Guinea(s), Burkina, Senegal, Gambia, Angola, Gabon, Tchad, Niger, Mali.
NSS-12 (EAST) - Ku-band: Coverage example: Tanzania, Kenya, DRC, Somalia, Sudan (north & south), Eritrea, Ethiopia, Malawi, Rwanda.
Arabsat-5C (EAST) - C-band: Coverage: all Africa (South, North, East, West).

Example equipment type and price:
Ku-Band: Budgetary price will vary based on the equipment type:
From small to large office (2 to 50 computers) Price from +/- 800 € up to 6 000 €
C-Band: Budgetary price will vary based on the equipment type From medium to large/big office (10 to 200 computers)

All iFast Vsat stations are available from stock and can be shipped within 24 hours.

Example of Speeds & Service available:

Ku-Band: Unlimited and Quota
Shared access (4:1) or (2:1) and dedicated access
Up to 30 Mbps in download (Receive)
Up to 1 Mbps in upload (Transmit)
Price from 250 € up to 4 000 €/month

C-Band: Unlimited
Shared access (4:1) or (2:1) and dedicated access
Up to 30 Mbps in download (Receive)
Up to 4 Mbps in upload (Transmit) - 10 Mbps with the proper license.
Price from 650 USD up to 12 000 USD/month

They take care of all: Installation/Activation and shipment

Options available: VOIP (voice over IP), public IP, VLAN, vehicle solution, maritime solution, drone solution, Transportable, Telephony.

Contact: sales@globaltt.com
---
MM Telcom : Reliable communications for all of Africa, since 1991, based in New York, USA.

This company specialise in dedicated (SCPC) links and multi-location networks.

Proven experience of 25 years in satellite communications.
Proven track records and references from real customers.
Part of a global consortium owning space segment & teleports.
Provide high speed internet, distant learning & multi casting.
Provide services to Businesses, Enterprises, Military & Governments.
Support SCPC, SCPC/DAMA, TDM/SCPC, Mesh & TDMA.
Provide exceptional customers service.
Provide 24/7 tech support by engineers in USA and Europe.
Can extend your network wirelessly by up to 40km using WiMax 802.16
Provide static IP, VOIP, Maritime, VPN-Ipsec.
Operate all TDMA platforms; iDirect, Gilat, Hughes, UHP and more.
Approved by home land security to ship cargo with passengers' airlines.
Deploy local installation teams worldwide.
Approved and registered vendor to United Nations.
Design each network to peak performance by satellite engineers.
Provide customers with option to purchase hardware at cost directly from our vendors without any markup.

They offer to meet or beat any legitimate proposal.

Call 24/7 +1.516.608.8464

Skype: michaelmarom10


Gives back to the African communities. Donated 36' RV converted to medical clinic equipped with video.
---
Bentley Walker : Hughes HX50 and iDirect services


Hughes HX50 and iDirect Ku service on Telstar 11N at 37.5 west.


Hughes HX50 and iDirect Ku service on Yamal 402 at 54.9 east.


iDirect service in 4/6 GHz on Eutelsat E8WB at 8 west.

Telstar 11N ( 37.5 deg west ): Hughes HX50 and Evolution X3 technologies.

Yamal 402 ( 54.9 deg east ): Hughes HX50 and Evolution X3 technologies.

Eutelsat E8WB ( 8 deg west ): 4/6 GHz : Evolution X3 technology.

Various grades of service plus special quality of service controls and advanced proprietary TCP/IP compression to give faster downloads compared with unprocessed feeds, plus customer access to traffic monitoring system.

Click here to email: sales@bentleywalker.com or phone 00 44 2392 311 103 (ref:satsig)
---
---
Fast Communications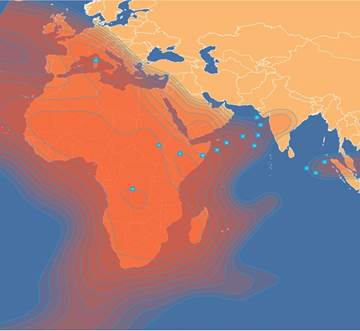 C band coverage using AFRICA SAT 1A
Fast Communications is a telecommunication FZE company based in Dubai, UAE and incorporated in the year 2009. They provide VSAT services delivering internet connectivity through several satellites. Services are directed towards all types of Internet users from end-users to Oil & Gas, Military, ISP's etc throughout the coverage of the various satellites.

They offer iSCPC Dedicated Service using iDirect X3 and X5 Evolution Modem & SCPC/SCPC on ROMANTIS ACM over AFRICA SAT 1A C-BAND which has strong beams over Africa, illustrated above.
Prices, in May 2015, are iSCPC @ $1450/MB and SCPC On Romantis @ $1550/MB.
Ka band Yahclick and Hylas 2 service is available in some African countries. Ku band is available in Northern Africa.
Contact: ceo@fastcommunications.net
---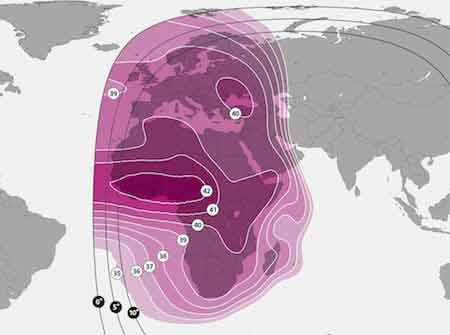 BusinessCom is the satellite telecommunications service provider operating since 2003.
Their solutions, covering all Africa include:
. iDirect Broadband
. Managed Access Service
. Maritime
. DVB-S2/ACM and SCPC
. Managed Private Networks and VNO
. Hubless Mesh Networks
. MPLS, Ethernet and VPN
. Bandwidth Management & Optimization
. Inmarsat
. Custom solutions

BusinessCom solutions range from broadband Internet access to intercontinental satellite WANs, Inmarsat connectivity and VSAT links supporting scientific missions.
Clients include Enterprise, Energy & Utilities, Defense and Government, Maritime, Business Continuity, Cellular Backhaul and ISP networks.

They operate multiple networks with uplinks from USA, Germany (DE1) and Sweden (SE1).
Services available in Africa in C-Band frequency range on SES 4, NSS-10, NSS-12 and APT Apstar 7.
In Ku-Band: Telesat Telstar 11N and Eutelsat 21B.

Call them on +1-866-556-3176 or
get a quote online via https://www.bcsatellite.net/request-a-quote/ or
e-mail to vsat-satsigs@bcsatellite.net
---
ZiSat by HostQuarters

All Africa covered with: NSS12, NSS10, Arabsat 5c, Yahsat, Hylas 2, T11N, Apt-7, Amos 5 & Yamal 402.

ZiSat by HostQuarters are a Broadcast services provider based in Pennsylvania, USA, offering Dedicated and Shared Access on Ka, Ku & C-band to NGO, Emissaries & Businesses across Middle East & Africa.

Including SCPC/SCPC, Private Network/ VNO, Point to Point/Multipoint and Fleet Broadband. Platforms: iDirect, Comtech and Hughes. Coverages: NSS12, NSS10, Arabsat 5c, Yahsat, Hylas 2, T11N, Apt-7, Amos 5 & Yamal 402.

Phone: +1 267 341 1619
Email: sales@zisat.net

Website: www.zisat.net
Skype: zisatbroadband
---
Skytic Telecom in Congo


A5C satellite


T11N satellite

Skytic Telecom is a licensed internet service provider in Congo providing VSAT, fiber optic and wireless services.

They offer effective solutions for large, medium and small business.

They have a local Network Operations Center and technical support in in Pointe-Noire and Brazaville staffed by technicians and engineers ready to assist.

More details: English version

Contact: info@skytic-telecom.cg

Tel: +242 05 576 74 99

128 Rue Bouyala, Immeuble Mayala, BP 235, Pointe-Noire, Congo
---
IsoTropic Networks

Fixed : Mobile : Maritime : Auto pointing : Inmarsat

Company Owned & Operated Teleports
iDirect Host Network Operator (HNO)
Flexible & Scalable Bandwidth Packages
iDirect Evolution & iNFINITY Networks
Installation & Maintenance Services
On-Demand Dedicated Bandwidth
24/7/365 Technical Support

For higher resolution details of individual African beam coverages, click on the map above go to a detailed interactive map at the Isotropic web site.

W2835 Krueger Road, Lake Geneva, WI 53147
Contact: Phone: +1 262-248-9600 Email: sales@isosat.net
---
DSD Telecom: iDirect internet par satellite en Afrique


4/6 GHz iDirect service on AMOS 5 at 17 East. Also, 4/6 GHz on Africasat 1A and Intelsat 25.

4/6 GHz premium SCPC/SCPC and low contention ratio iDirect service on Yahsat 1A at 52.5 East.

Ku band iDirect service in Ku Yamal 402 at 54.9 East. Also, Ku on T11N, Astra 4A and E70.5B

Basée à Paris, cette société offre un service dans toute l'Afrique en utilisant trois couvertures comme indiqué. Dans chaque cas, la technologie iDirect est offert mais l'ADSL par satellite, le SCPC/SCPC et les technologies de réseaux maillés..

DSD fournit des services VSAT depuis 1998. L'entreprise est un choix attrayant pour les clients francophones.

Lire les revues sur ce site: version anglaise

ou la version française.

Contact: Tel: +33 (0)1 83 64 59 16
Web: www.dsdafrique.com

Email: mlaurent@dsd.fr
---
WAFA - Your gateway to high speed internet.


Telstar 11N beam.

Eutelsat W3A beam.

Telstar 11N, at 37.5 west longitude, provides coverage from Senegal, through Nigeria to Southern Africa. Eutelsat W3A, at 7 east, provides the same, plus the eastern coast, Madagascar and Mauritius. Typical dish size is 1.2m diameter. Ask about dish size if you are near the beam edge, where a larger dish may be recommended.

WAFA offer high speed VSAT access services on both Telstar 11N (at 37.5 west) and Eutelsat W3A at 7 west, using HughesNet HX equipment.

Special offers: HughesNet HX 50 or iDirect X3 VSAT kit. Terms and conditions apply.

Tell WAFA where you are located and explain what services you require. They have a range of tariffs to match your requirements, from single user to large business / community ISP etc. Accepting all major credit cards for any transactions.

For complete details email: sales@wafa.ae
---
New Era Systems


2.4m C band terminal

PanAmSat 1R at 45 west is also available and provides good coverage of North West Africa.
For more details click on map.
New Era Systems operate direct from their own International Teleport, located in Miami, Florida. The Teleport provides connection for C-Band coverage on PAS1R, Intelsat 707 and 907. All make use of cross strapped transponders so that the hub operates in the N. America beam while your VSAT dish operates in the Africa coverage beam.

Installations requiring high volume connections of >1MB will find cost savings by installing the larger 3.8m or 4.5m antennas. Although these antennas cost more to purchase and ship, there will be savings on the re-occurring monthly bandwidth cost that will compensate for the higher initial cost.

Cyber Cafes, ISP's, telephone companies and corporate offices all use VSAT communication for more efficient operation and increased profit. The equipment division of New Era will sell and install a VSAT system exactly designed for a client's needs.
Email: sales@newerasystems.net
---
Global Broadband Solution

C and Ku band beam coverages includes Ghana, Togo, Benin, Nigeria, Gabon, Congo RDC, Angola, Tanzania, Kenya, Uganda, Mozambique, Botswana, Zimbabwe, Ethiopia, Madagascar and S.A.

GBS specialise in the design and the supply of integrated solutions in the satcom and wireless telecommunication field. They provide turn-key and tailor-made solutions for projects of any size. They use BT's Teleport facility at Martlesham, UK, to host their own VSAT iDirect hub and equipments providing internet services to Africa. They are also in partnership with Intelsat and Satlynx and their technical staff to install C-Band services everywhere in Africa. ViperSat is another partner, offering a technologically advanced infrastructure products, providing bandwidth-efficient and scalable solutions.

For urban concentrations, GBS are installing WiMAX wireless infrastructure for internet and intranet access. GBS operate with Alvarion wireless products using the 3.5 GHz and 5.8 GHz frequencies. To provide African customers with reliable international telecommunications at a very low cost, GBS has developed a VoIP platform providing quality international phone calls in regions where remote Internet access sites will have been set up.

They have a dynamic, motivated team working using the most modern management and file follow-up methods. They take a pride in personal contact with customers.

More details about Global Broadband Solution

or email: satellite@gb-solution.com
---
Onlime : European teleport access to Africa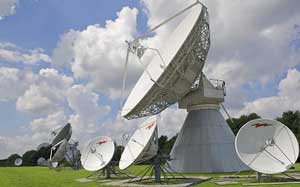 The Onlime teleport, in Germany, delivers VSAT and media broadcast services.
Extensive disaster recovery facilities, a 24/7 Help Desk and over 50 antennas ranging from 15m diameter downwards, allowing access to more than 200 geostationary satellites located from 58°W to 76.5°E. Also provides a major Ka-band gateway.
Links to Europe, the Middle East, Central Asia, the Caribbean and South America. SCPC and contended VSAT services through the iDirect Evolution® and iNFINITI® platforms to support enterprise, government, military, oil & gas, mining, banking, NGO and many others.
Web site: www.onlime.com
E-mail: info@onlime.com
---
SMS Teleport

For more information, Email: info@sms-teleport.com
or visit Web site: https://sms-teleport.com/
The SMS Gateway Teleport, located in Europe at Rugby, UK, offers service and infrastructure facilities for VNOs, SCPC, IP connectivity, streaming, voice, video and data. The teleport supports hub services for major platforms from STMi, iDirect, Newtec and Tandberg.
Fully staffed 24/7, with a wealth of engineering and communications expertise, the greatly expanded SMS teleport provides comprehensive solutions for all of your infrastructure needs to Africa and the Middle East: ground segment, internet connectivity, including direct Tier 1 backbone link, RF and space segment.
---
Have your say now. Contribute now in my Africa satellite internet forum Help others with advice. Tell others about your own problems, successes, failures, also VSAT wants and for sale etc.
Regarding this page, if you have comments about service providers on this page, please e-mail me, Eric Johnston or use the forum. Apologies to anyone for mistakes, missing countries etc - please tell me.
The setting up and control of two-way satcom, with interactive return channel system ( RCS ) is controlled from the provider's hub so any problem sites can be switched off remotely until a technician attends. Also, the VSAT equipment design and frequency bands comply to international regulatory "type approval" for general use, so that operation does not cause unacceptable interference to other services or continue to require individual transmit licence. Non-approved terminals continue to require individual licence.
Other pages which may be of interest:
GlobalTT satellite service in DRC
Logistica Communications Services
VSAT service in Africa from Vizocom
Fixed VSAT and maritime mobile services in Atlantic and Indian ocean regions: Castor networks
ITC Global, a Panasonic Company - communications for business, oil, gas, mining and maritime.
Atlantic / Africa capacity for lease on INTELSAT 25 (was Protostar)
Global Technologies based in Paris.
iDirect, Hughes HX, Tooway and Inmarsat from Digital Satellites Corp, Cairo
iDirect Ku and C band Africa from ICCES
LinkStar and iDirect service for West Africa from JuchTech
Sub-Saharan Africa with Sat3Play from seanetng.com
Constellation 4/6 GHz satellite networks
Telstar 11N and iDirect services
Connect Internet iDirect for Africa T11N
Blue Sky - South Africa services
Easycom VSAT service installation in Tunisia, Algeria and Libya
Q-KON Africa broadband service on Telstar 11N
iDirect on BADR-5A and 6 4/6 GHz and Telstar 11N Ku from Talia
VSAT service and installation in Mozambique
iDirect and ECC DVB-S2 from Logical Wireless ZA
IS-904 Africa hemi beam C-band
Level 412 satellite communications
SMS Gateway to Africa Teleport( Rugby UK )
Installing VSAT in Darfur, Sudan
South Africa Wireless and Sat Internet consultant
VSAT installer and hub engineer Egypt
Acel: VSAT installer and warehouse in Ghana
Omnisat: Satellite in Botswana Sat3Play from Newtec
iDirect service from iSAT Africa
Gilat and NewTec VSAT service in Africa from iosat
Portable laptop sized RBGAN or
similar R-BGAN hand carry terminals suggested for reporters and travelling business users in Africa north of equator.
Archive and older pages:
Africa internet service provider review article
VSAT service by EMC via Raisting and Redditch teleports
Durban Communication Networks, Abuja, Nigeria, Africa
Patriot to start dish manufacturing in Nigeria ?
VSAT installer training courses
---
Disclaimer, Terms of Use and Privacy

"SSL", "Sat Sig" and "Ivsat" are Trade Marks. Images are displayed with permission of the respective companies.

Copyright (c) SSL 2003 All rights reserved. Last updated 14 March 2023.