| | | |
| --- | --- | --- |
| Satsig.net home page | | |
DSD Telecom: iDirect satellite internet in Africa


Contact: Marc LAURENT, Internet Business Manager, (French speaking, also English)

DSD, Tour Montparnasse, 33 Avenue du Maine, 75755 PARIS Cedex 15,FRANCE

Tel: +33 (0)1 83 64 59 16 Fax: +33 (0)1 83 64 63 33

Web: www.dsdafrique.com
Email: mlaurent@dsd.fr
This company, DSD Telecom, has been a major satellite data communication provider since 1998.
They help companies with Africa locations profit from access to the internet by providing appropriate VSAT satellite communications solutions.
Although they are able to provide a VSAT connection anywhere in the world this page concentrates on a major market: French speaking Africa. They speak English as well, of course, but are able to help you with advice and assistance in your native French language.
The three satellite beam coverages shown operate on C band and Ku band frequencies and use iDirect router technology. The typical dish diameters (1.2 or 1.8m) required are shown. The indoor modem/router, iDirect Evolution X3, X5, X7 or iDirect Infiniti 3000, 5000, 7000 hardware, are well proven, having been designed by engineers with extensive internet routing experience. iDirect may be configured to provide just what the customer needs, such as low bit rate 24/7 continuous transmission, intermittent small bursts of telemetry/SCADA data from hundreds of sites, public internet access for offices with multi-megabit rates or steady bit rates for VoIP, voice calls and quality video. Private networks are possible for inter-office use and governmental applications with secure connections.
It is important to discuss your needs so that the service provided does do what you want and offer value for money.
DSD will help you at all steps of your project, from the design of the network architecture to the final installation and LAN configuration.

DSD are experts in satellite Internet access, public and private, and will work with you to design a network that takes account all aspects of your project.
Africa coverage, both C band and Ku band.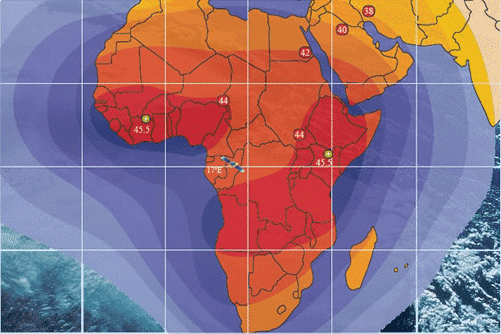 C band AMOS-5: iDirect with 1.8m antenna 5W BUC
---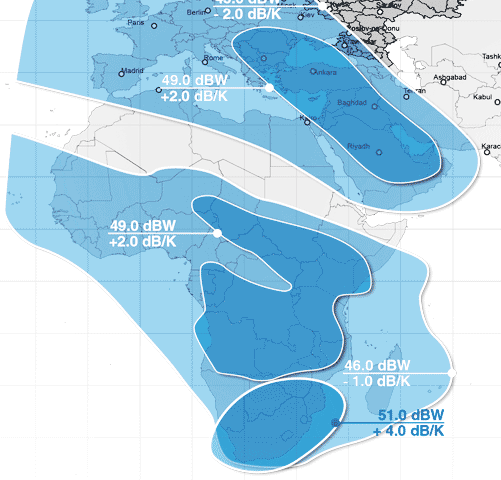 Ku band Yamal 402: iDirect with 1.2m antenna and 3W BUC.

---

C band Yahsat 1A: iDirect with 1.8m antenna and 5W or 8W BUC.
The images and text on this page are based on information kindly provided by DSD Telecom.
This page is for information only and is not a paid-for advertisement.
Page created 23rd April 2014, amended 15 March 2016 ECJ