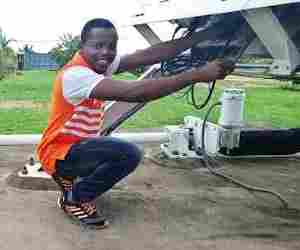 Satellite Internet Forum.
Welcome, Guest.
Welcome to this satellite broadband discussion forum. Wherever you are and whatever your problem we are here to help each other. Connecting to the internet via satellite is not always easy but is critically important to those in remote places or with poor terrestrial infrastructure. Service providers and customers are encouraged to contribute. Register at the bottom of the forum home page if you wish to contribute or ask a question. VSAT service providers and satellite equipment sellers may feature their products free of charge; just register and get posting. Paid-for adverts, top left and top right, on all forum pages, are also available. Read the Forum rules.
1
Anything else / General and other topics / Marlink Group obtains regulatory approval to acquire ITC Global
on: Yesterday at 1:41pm

Intended new owners of ITC Global from end April 2021...

12 April 2021 - Marlink.

The Marlink Group, backed by Apax Partners, has obtained final regulatory approvals to acquire 100% of ITC Global from Panasonic.

The Marlink and ITC Global management teams are preparing for a swift closing of the transaction in the coming weeks, while remaining fully focused on providing best-in-class services to their customers across the world.

Both the Federal Communications Commission (FCC) and the Committee on Foreign Investment in the United States (CFIUS) have given their approval to the deal. All is now on track for ITC Global to join the Marlink Group on 30th April, supporting the expansion of the Group's global leadership in the energy and enterprise markets.

As part of the Marlink Group, ITC Global will mainly focus on energy and high-end customers who demand specific and complex managed network solutions. Furthermore, ITC Global will extend and complement Marlink Group's global footprint with a strong presence in the US, the UK and Australia.

ITC Global have been featured (free of charge, like everone else !) on my satsig web site for several years and the following pages relate to their activities:

Satellite broadband for business in Africa

ITC Global, a Panasonic Company. ITC Global is a leading provider of industrial grade broadband and voice solutions designed specifically for oil, gas, mining.

iDirect Hubs providing satellite communications services

ITC Global operate seven strategically located iDirect Hubs.

Satellite internet service providers in Asia / Pacific

ITC Global operate multiple iDirect hubs, in both C and Ku band, with coverage of Asia, the Indian subcontinent, Australia and New Zealand.

I have no information yet about any change of name or contact details (web site, phone or email addresses).
2
Service Providers / Starlink satellite internet service / Starlink terminal costs revealed
on: Apr 11th, 2021 at 11:45am

During recent LEO Digital forum at SATELLITE 2021, the COO of SpaceX, Gwynne Shotwell, reported that there were about 1320 Starlink satellites in orbit right now, each weighing 260kg. They don't yet have inter-satellite links, which are planned for future satellites, so at the moment ground earth station gateways need to be used which limits customer sites to circles around each gateway.

User terminal costs were revealed.  The manufacturing cost per terminal has been reduced to under $1500. Starlink is subsidising the deliveries, charging Beta users only $500.  As quantities build up the manufacturing costs should come down to just a few $100.

The 20 million rural households in the US are a target market.

More about the SATELLITE 2021 Program:

https://www.satshow.com/program/
4
VSAT technology and installation / iDirect Forum: hubs and terminals / Re: X7 Load package
on: Apr 11th, 2021 at 7:06am

when i trying to load it show to me below message, anyone know what could be the issue?

You want to update /dev/mmcblk02. OK, but not checking args here.
========= Base Rootfs Package Installation script starting =========
Package Install: Partition device is not a block special device: /dev/mmcblk02.
Package Install: Partition device is not a block special device: /dev/mmcblk02.

5
VSAT technology and installation / Hub and VSAT satellite equipment for sale and wanted / Re: Vertex 9m antenna for sale Ku band, 4 port.
on: Apr 10th, 2021 at 4:24pm

For sale:  Vertex 9M 4 port Ku-Band Antenna with full electronics

In excellent condition due to its location in a dry climate. We took it down in June and sent it to Arizona for storage because of the low humidity climate. It is currently packed in a forty foot shipping container.

Vertex 7200 antenna controller.  In addition to satellite tracking the electronics package that you can see in the photographs it includes an LNA 1:1 redundancy system. The complete description and pricing information is shown on our website.

vertex-9m-ku-band-4-port-earth-station-antenna

An antenna with this full range of options normally sells very promptly. If price is an issue we can discuss any reasonable suggestions.

Talk to me today. Phil Thomas Phone : +1 321 914 0224

Email : pthomas@newerasystems.net

New Era Systems, Inc.
6
Service Providers / TooWay and KA-SAT satellite / Re: Unable to get the activation page
on: Apr 10th, 2021 at 1:39pm

| | |
| --- | --- |
| Started by creusetec - Ex Member | Post by Admin1 | |

Although this post appears to be done 11 April 2021 it was actually done 14 Sept 2011. I messed up the forum editing....

Here is some advice from a reputable Tooway service reseller (Europe Satellite) who helps their customers:

"Check that Skylogic have your modem MAC address in the Skylogic Tooway hub database"

This requires that your reseller communicates this information to Skylogic. The MAC address is something like 00:12:af:00:b3:34 and probably marked on a label on your Surfbeam modem.

A search of Google for skydsl throws up this page, which, if true, is rather discouraging:

https://www.ispreview.co.uk/talk/threads/skydsl-pure-hell.20318/

It is the job of your service reseller to help you with your self installation with advice and assistance. Call them and tell them your MAC address and ask for help. The MAC address comprises hex characters, i.e. numbers 0 to 9 and letters a to f. Make certain it is communicated correctly. Use a magnifying glass to read the label if necessary.

Please provide feedback here in due course - whatever the outcome. Good news particularly welcome !  Thanks.

Best regards, Eric.
7
Service Providers / Satellite Internet - Americas / Re: vsat speed test sites
on: Apr 10th, 2021 at 11:47am

I have just noticed that the McAfee speed tester mentioned above no longer seems to be available.

I have a page, 1.13 Mbytes size, on this web site that you can download and measure how long it takes. You do the measurement using the Chrome browser and laptop or desktop screen.

https://www.satsig.net/speed-test/speed-tester.htm

  ( Note: Use only on low cost connections. )

Warning:  Downloading this page causes just over one megabyte of traffic so it may cost you a lot if you are on a high tariff.

To measure download time in milliseconds you go to More Tools, Developer Tools, F5. Put your mouse on the green time bar for download time for the page and it will tell you the number of milliseconds, e.g. 500 ms.  In that case your bit rate would be 1.13 x 8 / 0.500 = 18 Mbit/s.
10
VSAT technology and installation / iDirect Forum: hubs and terminals / Re: Tx X7 modem
on: Apr 7th, 2021 at 4:15pm

Have you spoken to the network hub about this ? It is possible that they have moved your return link to new frequncy and not told your router. That might explain "error in freq parameter"  I don't know what "call_band" means ?

The change to "max attenuation" suggests that your router has reduced the transmit power to minimum to avoid interference to other people, perhaps by transmitting on the wrong frequency.

Tell us what the NOC has to say.

Other comments please from anyone with iDirect experience.