Geolink Access is a satellite broadband Internet access and corporate network service offering reliable coverage in C-band and Ku-band.
The Geolink Access solution includes the deployment of the VSAT on-site through a network of local installers, management and optimization of the space segment from the Geolink / CETel teleport located in Germany.
We offer a wide range of services such as VoIP, videoconferencing or setting up a VPN between the teleport and the client's office.
Mission: to design and deploy a scalable IP satellite communication solution that meets your requirements.
Your project: Geolink deploys a team of experts able to manage your VSAT Satellite project. Three main steps to efficiently manage your VSAT project:
Project survey and analysis to define your needs.
Design, development and validation of the VSAT project.
Deployment of the satellite IP solution with personalized monitoring & support.
We guarantee the project deployment will be completed on budget and time, meeting all technical requirements.
Geolink Access services
Geolink Access meets your needs for IP satellite connectivity through shared or dedicated bandwidth.
We provide a comprehensive and flexible VSAT solution that includes:
Packaged or customized network design.
Shared or dedicated space segment in Ku and C-band.
iDirect, Skywan, Linkstar, SCPC, DVB/SCPC technology.
Dynamic bandwidth management.
Client monitoring interface.
Network and infrastructure
To ensure the quality of service to our customers, Geolink relies on a first level infrastructure:
Extended Coverage:
EMEA Zone (Europe, Middle-East, Africa).
Ku and C-band capacities.
Intelsat, Eutelsat, Telesat, Arabsat preferred partner.
More than 500MHz satellite capacity utilized over more than 24 antennas. Satellite coverage in standard and extended C Band and Ku Band (capacity on twelve satellites).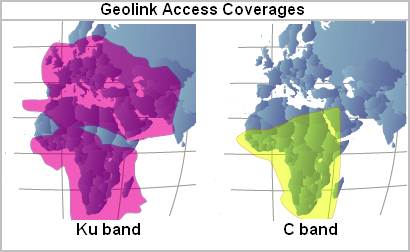 The Geolink Teleport is located in Germany.
Suggested new contact details:
https://www.speedcast.com/contact/
In addition, they offer many value added services including:
Videoconferencing
Voice over IP
Bandwidth allocation on demand
Secured VPN network and MPLS land expansion
Technical support provides:
365/24/7 hotline and dual layer monitoring.
Connection optimization using Quality of Service (QoS) tools.
Worldwide technical partners' network to ensure local support and assistance
Teleport:
State-of-the-art completely redundant and highly secured teleport facilities.
Two Network Operating Centers (France and Germany) ensuring 24/7 technical support.
Sales Offices (France, Germany, United Arab Emirates).
Satellite coverage in standard and extended C Band and Ku Band (capacity on twelve satellites).
Worldwide technical representatives:
PoP in Telehouse, Frankfurt, Germany and Telehouse North, London UK.
Local Internet Registry (LIR) and own autonomous system (AS 39151)
Latest Technology:
Geolink Satellite Services is an iDirect Hub agreed operator.
QoS Equipment (Quality of Service).
Secure and accelerated network ( Firewall, VPN , WAN accelerator ).
Possibility of extending the satellite network via terrestrial MPLS infrastructure