| | | |
| --- | --- | --- |
| Home page: | | |
INSAT 3C to offer LinkStar satellite service over India, Nepal, Bangladesh and Bhutan
Derived from a press release from ViaSat.
Viasat are supplying a LinkStar broadband network to HCL Comnet Ltd, a subsidiary of HCL Technologies, for shared hub network services in India.
HCL Comnet will be offering network services, from low-rate point-of-sale data to broadband virtual private networks and Internet access, to about 100 sites already with planned expansion to 500 sites in the next three years. LinkStar VSAT options for network access and bandwidth management make it an efficient choice for all types of applications.
The HCL Comnet shared hub services are targeted at banks, stock brokers, and gaming applications that need fast access and low-rate transactional data, as well as enterprise customers looking for high-speed, secure client-server connections.
"The flexible bandwidth allocation and bandwidth-on-demand feature of the LinkStar system will find use in emerging applications like interactive distance education, backup for landline connectivity using VSAT, and Internet services to remote locations," said HCL Comnet vice president Mr. S. Barathy.
The addition of the LinkStar satellite network by HCL Comnet adds to previous ViaSat installations of Skylinx and StarWire mesh networking systems, as well as a 9-meter ViaSat antenna at the hub in Voida UP.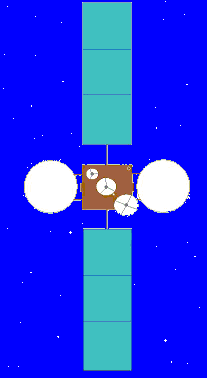 INSAT 3C 15.4m solar array,
Two C band transmit antennas, each 2m dia. One C band receive antenna 0.7m dia.
LinkStar, a hub-based "star" networking system, includes enterprise-level features such as DiffServ QoS and multi-label protocol switching support that enable many customers to share a single VSAT hub, while keeping their data separate and secure from other users.
ViaSat dynamic bandwidth allocation increases or decreases data rates on-the-fly to adjust to each customer and use the available satellite bandwidth in the most efficient way.
Nine MHz of transponder capacity on the INSAT 3C satellite will carry the network traffic. Data rates will begin at 256 on the inbound and 4.4 Mbps on the outbound (hub to remotes). The system can support up to 3.3 Mbps uploads from remote sites and up to 45 Mbps downloads from the hub.
The advantages of the LinkStar VSAT system can be traced to its versatility. The system is cost-effective for a full spectrum of applications, from low speed, quick-turnaround retail transactions to broadband multimedia applications. The LinkStar system can operate in a proprietary configuration from ViaSat or according to the DVB-RCS international standard.
From 74 deg east orbit longitude the coverage pattern is approximately as shown below.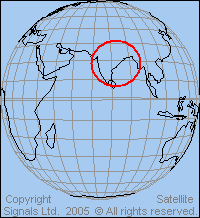 Satellite transponder parameters:
5930-6410 MHz and 6755-6995 MHz rx G/T=-5 dB/K
3705-4125 MHz and 4530-4770 MHz tx EIRP=36 dBW
► Page created 25 Sept 2005, amended 4 April 2021.
All pages on this satsig.net web site are Copyright Satellite Signals Limited © 2005 all rights reserved.