New Era Systems, together with World Satellite Services, operate from their own International Teleport, located in Miami, Florida. They have two 9.3m Andrews antennas, two 13 m Vertex antennas and a 4.5 m Andrews antenna.
The 9.3m Andrews dishes provide C-Band coverage on PAS1R and on Intelsat 707. Both make use of cross strapped transponders on the satellites so that the hubs operate in N. America beams while their VSAT customers operate in Africa coverage beams.
The 4.5m dish is set up for C-Band service on PAS3 and one of the 13m Vertex antennas is used on SatMex 5.
Contact details: Email: sales@newerasystems.net
Web site: newerasystems.net
Contact telephone: +1 954 974 7144
New Era Systems, Inc.
2179 N Powerline Road,
Suite 1, Pompano Beach,
FL 33069
This company provides a single point contact where you can discuss your requirements, purchase equipment and installation and arrange a suitable monthly bandwidth lease. They are anxious that you should make a success of your business and can provide support for local area network, VoIP gateway, router, ethernet switch, wireless hot spot and local networking. This is precisely the sort of service needed by internet cafés, business parks and community networks.

The company has a background in the telephony business, and for this reason they offer dedicated SCPC services. At the hub the customer may co-locate modems, muxes and routers to interconnect with major terrestrial fibre backbones.
The installation photos, on the right, refer the assembly and installation of a 4.5m diameter Andrews antenna. Such a size would be suitable for a high quality backbone for a large installation serving a small town or major business area.
The majority of the customers terminals are smaller, comprising 2.4m dish, 5 watt C band BUC and an L-Band modem. Typically this sort of package is put together for around $9000. Many clients also add VoIP gateway, router and ethernet switch.
Making a VSAT terminal a commercial success requires local connectivity and this is increasingly being achieved using wireless techniques, including the use of repeaters within a 15 mile radius (line of sight).
The company are friendly and experienced in implementing such services in remote African areas and knowing about providing every necessary item, including extra nuts and bolts, waterproofing tape, tie wraps etc.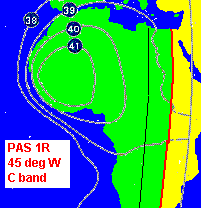 The PanAmSat PAS-1R satellite at 45 deg west orbital position has good coverage of West Africa, but not down east African coast due to the elevation angle being too low.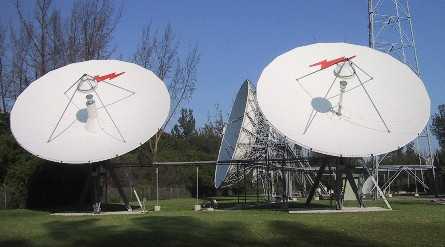 Two 8m Andrew antennas and one 13m Vertex dish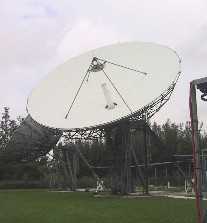 13m Vertex antenna dish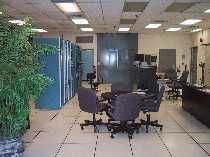 VSAT hub equipment room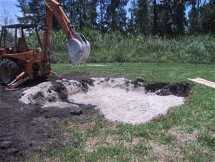 Digging hole for concrete antenna base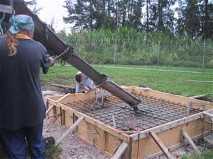 Pouring concrete to form the antenna base. Note the wooden shuttering and reinforcing iron grid. The three foot fittings for the dish legs are already accurately positioned.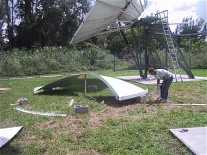 Assembling the antenna dish reflector panels requires great skill. The outer ring must be flat to 3mm for C band operation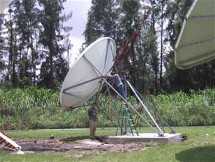 Finding the satellite is difficult but accurate peaking up even more so. Nuts must be adjusted to 1/6th of a turn precision.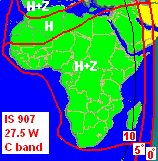 The Intelsat 907 satellite at 27.5 deg west orbit position is ideal for all Africa. Circular polarisation is attractive in equatorial regions where ionospheric Faraday rotation occurs.
H+Z means that the area is covered by both Hemi and Zone beams. H means coverage by Hemi beam only. Both are C band, with opposite circular polarisations.