1. How a satellite beam was used in the tsunami relief work.
An example of how a satellite beam was used in the tsunami relief work.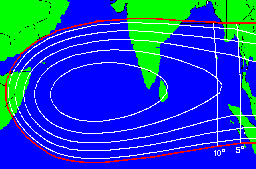 Click to enlarge coverage map.
This satellite beam was re-pointed on board the satellite (by remote control of the satellite antenna pointing mechanism) as required to meet the coverage requirements on the ground. Ideal for VSAT telecommunications for emergency relief workers, health clinics etc.
April 2005: This beam has now been moved again - it no longer available in the area shown.
Relevant link: Solar power and inverters
2. Pakistan, Kashmir, India earthquake - Autumn 2005
Relevant link: How to make emergency shelters
I am not aware of a similar satellite beam as above being re-pointing to help in this instance. There are already several satellite beams covering the area. The following is an extract from a relevant press release from the Pakistan Times Business & Commerce Desk:
Pakistan receives 55 Inmarsat satellite phone for the quake hit zone
ISLAMABAD: The International Telecommunication Union [ITU] has hand over 55 Inmarsats satellite phone sets to Pakistan to be used for communication in the Quake-disaster zones.
Minister for Information Technology Awais Ahmad Khan Leghari Friday lauded the help received and coming in from world agencies, particularly the ITU to restore and re-install telecommunication links in earthquake hit areas. "Restoration of telecommunications links is extremely critical for supporting the disaster relief operations in the earthquake struck region", said he. "We are doing all we can with the help of world agencies to put these links back in place".
The Minister was addressing a meeting with an ITU delegation led by Mr Tai Ogunderu who met the minister here. The minister told the delegation earthquake had devastated an area of 20,000-sq. km in the country with thousands of people have died or injured.
"Infrastructure of highways, link roads and telecommunication is vastly damaged but we are doing all we can with the help of international community to restore telecom links to step up relief operations and rehabilitation, he said. The minister said offers of help from the international telecommunication community, were pouring in, and the SCO which is charged with providing communication services to the region, had been made the focal point for all such assistance.
The small portable INMARSAT satellite telephones are ideal for this situation
I have been asked to repeat advice on clean water as follows:
Advice on safe drinking water treatment / diarrhoea / dehydration below:
Dear Sir/Madam.
Two years ago, as a medical professional I was victim of a great disaster . I coordinated evacuation of 40.000 people.
From my training and from experience I fear the days to come. INFECTIOUS DISEASES CAN MAKE THE DEATH TOLL TENFOLD.
Could you please inform us about the possibility to meet the urgent need for free information about the use of safe drinking water and prevention diagnosis and treatment of diarrhoea and dehydration, in disaster area.
Our messages are simple and will not contain more than 160 characters. They are called MUSTS: Medical Updates SMS Tsunami = MUST
Our messages are:
Message 1: "Prevent diarrhoea/dehydration: drink CLEAN fluid and be hygienic"
Message 2: "1 litre Unsafe water add 4-7 drops common antiseptic, chlorine or iodine solution, wait 30 minutes = OK"
Message 3: "Heat: Bringing water to a boil makes it OK. No need to boil more than 1 minute"
Please pass this information to your associates, reference website http://www.remedi.org safe drinking water with free information and help stop a coming health disaster from breaking out.
Heat: Sufficient heat will kill micro-organisms in contaminated water already at a temperature below boiling point. The time to heat the water to a boil makes it hot long enough to disinfect it. There is no need to boil water for 5 minutes, 10 minutes, or 20 minutes, as some guide books recommend! Bringing water to a boil is adequate for dis-infection.
Walter Schrader (MD): Former head of department Social medical Care and disaster relief manager of Rotterdam Area
---
---
► Page created 2 May 2005 Eric Johnston, amended 14 August 2023.
All pages on this satsig.net web site are Copyright Satellite Signals Limited © 2005 all rights reserved.