Mach6 teleport hub

Mach6 was founded in 2000 by its current CTO, A. J. Post, and CEO, P. J. A. Visser. Both were already active in the satellite business, but were dissatisfied with the quality on offer. Their passion for satellite technology and services brought them together and created a new company with a focus upon high-end solutions. Mach6 was born.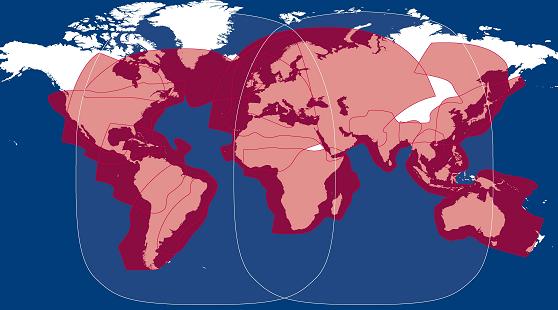 Worldwide coverage using Atlantic and Indian Ocean region satellites
iDirect, Cisco and Comtech Vipersat are state-of-the-art suppliers of satellite hardware. They represent the premium-brand quality delivered by Mach6. The technology used is well thought-out and attuned to the hardware. With highly skilled and qualified personnel, we manage our own platforms and control our own earth station. This combination of elements gives us a unique head start on our competitors.
Contact details: Duit 7 | 8305 BB Emmeloord | The Netherlands T +31 (0)527 688 366 | F +31 (0)527 624 455 www.mach-six.com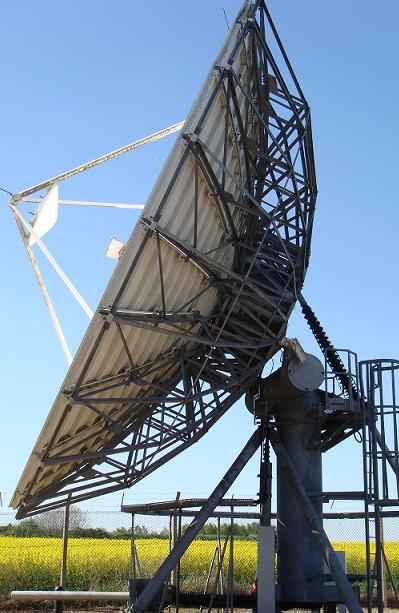 Mach 6 teleport hub antenna
Dealer network
Mach6 works exclusively with certified dealers. Each has been extensively trained and can always call upon Mach6 technical support. That results in high quality and reliable solutions offering complete flexibility in cost structure, subscription type and bandwidth.
Cost-effective
By combining both voice and data, Mach6 services are as cost-effective as land-based communications. And in many cases even more economical! A rapid return on investment is guaranteed. Our many customers include: ● Coca-Cola ● Renault ● Sonelgaz ● Siemens Westinghouse ● Mittal Steel ● Boskalis.
Satellite beam coverage
To provide the best possible service, Mach6 has worldwide coverage on both Ku-band and C-band satellites. This enables us to select the most suitable option for each specific client's needs. We have developed satellite connections with the availability and reliability our customers expect.
Markets
With an established customer base in multiple market segments, based upon individual client needs, Mach6 is able to provide the right advice regarding the coverage aspects of the total solution being offered. For each market - Marketing, Oil and Gas, Solutions providers, Government and Military - different key issues need to be taken into account in order to make the right choices. In the maritime sector, for example, a good understanding of different types of business, international seaways, regional operating areas and industry-specific communication needs is crucial. Only then can you choose the right frequency band, satellite, coverage area and type of stabilised antenna system.
Satellite communications teleports
As well as the satellites we reach directly from our own teleport in Amsterdam the Netherlands and Mach6 manages the SMS Teleport in the UK. We operate through our satellite partners' professionally run earth stations around the world. For example Intelsat and SES Global both have their own satellite fleets and ground facilities, to which we have direct access. We use the same platforms at all of these teleports: iDirect platform and Vipersat platform. This results in uniform procedures everywhere we work, which is practical both for our clients and for our Network Operations Centre.
Maritime satellite communications
Until recently, communication at sea was limited by high costs and not focused on business communication, let alone employee satisfaction. Times have changed. Today's sea-going vessels no longer need to embark on long journeys, isolated for months on end from their home port and sister ships. Satellite can provide a continuous linkup from any ship in any ocean to any port. A ship can operate as a mobile business centre that just happens to be thousands of miles away from its Head Office. Mach6 offers internet, e-mail, phone, fax, video streaming and distance learning through fixed subscription prices. And with global coverage, you get seamless switching from one satellite to another - wherever you are at sea.

Why you should move to satellite...
Creating an Office at Sea
Your company network can be connected to your ship or several ships. It's practical and easy to stay in contact with your business partners and customers. A ship can become an office at sea, linked up to the Head Office and other vessels. You can make plans, take important decisions and involve top management even while at sea. With 24 hour availability, you can handle your administration on board, place your orders and sell directly from your ship. And take advantage of safety data from shore to ship, remote training, surveillance and video conferencing. Mach6 customers are finding that they have shifted from 80% use of the internet for email and surfing to 80% operational use. A ship becomes a mobile extension of your Head Office - not a detached part of the business that only comes alive when back in port. Save time with one platform for all applications. No matter where you are, Comtech's VIPERSAT platform offers fully automated seamless switching from one satellite to another as vessels move round the globe. Comtech develops world class applications for the maritime market (including self defrosting antennae). VIPERSAT reduces operating expenses by minimizing and matching bandwidth and power. With no extra costs, as this is programmed into your contract.
Looking after your crew
One of shipping's greatest challenges is a shortage of skilled personnel. Retention is a big problem as staff demand more home comforts while at sea. Now you can give them some. Satellite links now make calling home affordable - for the cost of a local landline call. Crew members can phone their loved ones as they would on land. With wireless access in cabin, they can enjoy the privacy of wireless calls. They also have the opportunity to use the internet for entertainment, e-learning and updated training. You also need no longer go to harbour when a crew member needs a doctor. With satellite video link, you can provide a doctor from onshore for all your vessels. You will attract skilled personnel who will join a crew enjoying these onboard benefits and who no longer feel isolated. Staying in touch is not only good for the soul, but good for the company. You will gain a fast return on investment - improving retention and reducing expensive recruitment and training. Read our case study on how Dutch fishing vessels are hooking up to satellite to get their fish to market.
Contact details:
Duit 7 | 8305 BB Emmeloord | The Netherlands
T +31 (0)527 688 366 | F +31 (0)527 624 455
www.mach-six.com
---
Page created 1 Feb 2009, amended 2 Feb 2018
The text and images on this page are derived from information kindly provided by mach-six for publication. This is not a paid for advertisement.
All pages on this satsig.net web site are Copyright Satellite Signals Limited © 2000 all rights reserved.