VSAT service from Emerging Markets Communications.

Emerging Markets Communications, Inc. (EMC) is a global satellite and terrestrial communications company specializing in delivering mission-critical, network services for the global energy industry, maritime, mobile network operators, carriers, governments, NGOs and worldwide enterprises with locations in the most remote and/or challenging areas of the world.
The company operates in 150 countries, with 32 global field support centres and wholly-owned infrastructure of teleports and terrestrial pops in US, Europe and Africa. EMC is financially backed by ABRY Partners; a firm specialized in funding the communications industry with $36 billion of completed transactions.
Updates May 2016, Oct 2022: In May 2016 ANUVU announced that Global Eagle Entertainment would be acquiring EMC in a transaction valued at $550 million. My link to the EMC web site has been changed to link to the ANUVU web site. The activities seem similar, with emphasis on in-flight connectivity.
For more information, please visit their new website at https://www.anuvu.com/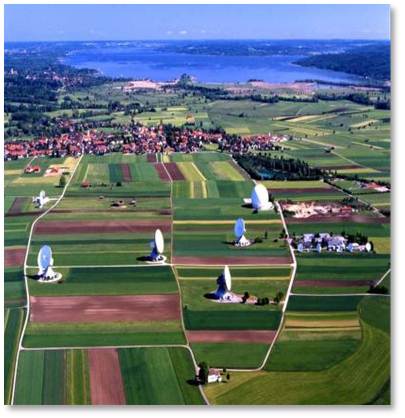 Aircraft view of the major gateway hub teleport at Raisting, in Germany.
In 2013, EMC acquired STM and its affiliate entities Global IP and Vodanet Brasil. EMC's unique satellite connectivity offering now includes a global C-band and Ku-band footprint for high availability enterprise networks with the largest number of wholly-owned field support locations in the industry.
EMC owns and manages 32, in-country field support centers worldwide. These support centers are staffed with EMC-certified engineers, spare parts, test equipment and manage all logistics in deploying, maintaining and repairing services for onshore and offshore customers.

Note the large teleport antennas with enclosed rear structures to allow warm air heating to assure uninterrupted service during severe winter weather conditions.
Vertical Expertise
EMC's expanded customer base and vertical expertise includes oil and gas, maritime, telecom, governments, NGOs, mobile operators and corporate enterprises. Oil and gas customers in onshore, offshore and maritime segments have VSAT installations in the Gulf of Mexico, Brazil, West Africa, the North Sea, as well as the Indian and Pacific oceans.
Additional mobility customers include fishing boats, ferries, high-speed trains and helicopters. These customers leverage EMC's wholly-owned support centers and global Ku-band and C-band networks to maximize their business performance on land, in the air or at sea.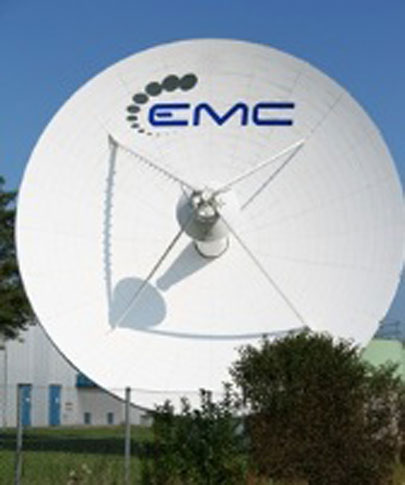 Front view of one of the EMC gateway dishes.
Strategic Geographic Locations
EMC's additional geographic locations broaden its reach in servicing customers worldwide. In addition to being the largest VSAT provider in Africa, EMC now has a solidified presence in Latin America, Europe, the Middle East and Indonesia, creating a complete global network with 32 wholly-owned support centres worldwide.
In Brazil, a key market for oil and gas, EMC is now one of the only global providers with a direct Anatel-approved VSAT license for delivering services in the country, both onshore and offshore. EMC also has in-country teleport infrastructure and field support offices in Rio, Sao Pablo, Brasilia and Bello Horizonte, equipped with engineers to quickly respond to customer demands. In Brazil, EMC has approximately 8,000 VSAT terminals in service for the oil and gas, telecom, and government industries.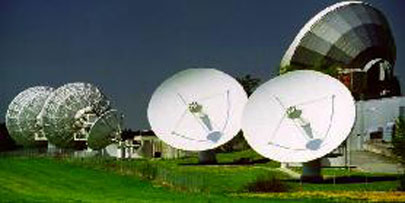 Raisting earth station.
Technology Leader
EMC's research and development facilities in United States and India, and its 18 patented technologies, combined with STM's research and development facilities in Norway and innovative design and manufacturing of high quality, bandwidth-efficient satellite systems, positions EMC as a leading provider of the DVB-RCS2 standard.
EMC's patented bandwidth technology will optimize the SatLink® networking system in providing IP-based voice, data, interactive video, mobility and Comms-On-The-Move (COTM) solutions for mobility customers and SatLink® users in general.
The content and images on this page are based on information provided by EMC. This page is provided for information only. Please check any details with ANUVA. This is not a paid for advertisement.
This is satsig.net web site. Any feedback, update etc., please to me at eric@satsig.net
Forum comment may be added to the satsig VSAT forum New members welcome.
Page - Started 7 March 2009, last amended 27 Oct 2022.