| | |
| --- | --- |
| Web page downloads, email, ftp file transfers and streaming video and audio are typically achieved with speeds up to several Mbit/s, using a share of a high bandwidth carrier from a large teleport hub. Teleport hubs are located in MENA and Europe. | Service providers have tariff options for various speeds and Mbytes per month. Email and internet web browsing are the usual intended use. For applications requiring substantial uploading of data or for real time both way video or VoIP ask about higher price options and feasibility. |
Below is my text summary for each satellite internet access service provider. These are not paid-for adverts. Details of suggested companies are at my discretion and may be removed. Click on emails against all suitable coverage maps for current prices and to confirm technical details.
Click here to email all service providers on this page
There are more companies, with separate pages, listed lower down. Look at these as well. If you want your company added please tell me about what you do, beam coverage maps etc. There is no charge. This is not a 'paid-for' advertising page. Updated and new details tend to get moved to the top.
---
OPEXTEL VSAT AND TELECOM SERVICES

VSAT Services in C, Ku & Ka Band

Opextel Ltd is an Egyptian Licensed VSAT Integrator provider. They use top industry Teleports for colocation, with Tier 1 connected to major Internet exchanges in Europe & the US using leading industry satellites, High Speed Satellites (HTS). To provide robust connectivity to our clients, Opextel utilizes powerful beams & the latest, higher order, modulation and coding methods to provide high service availability and low market costs to our clients in the Middle East.

Applications include: VSAT GSM Backhaul, VSAT Internet Gateway Services, VSAT Banks & Corporates, On the move VSAT Mobile Solutions, Maritime VSAT, Aeronautics, Telecom Services, Power Solutions, Electromechanical Services, Infrastructure Services, Training Services and Outsourcing Services.

Address: Opextel Ltd. No 28 166 Awal Al Qahera, Al Gadida, Egypt.

Tel: +20 22 560 4646

Mob: +20 122 310 0031

Email: info@opextel.com

Web: https://opextel.com/


C band service area
NTvsat is a German company which provides all services for satellite internet. Our goal is to connect remote locations with internet or your local network using KA, KU & C-band. We also provide internet for moving vehicles like ships, truck, trains or plains and allow our customers to set up their own private network. Our main focus is Africa and the near East.

Everyone at NTvsat is driven by the passion for a connected world. In a global market we help your business to stay connected. You won't get lost - wherever you are.

Phone: +49.173.699 09 74

Email: sales@nt-vsat.de

Skype: neguset

Website: www.nt-vsat.com


Ka band Hylas spot beams for Libya, Iraq, Afghanistan


Ku band beam for Europe, N.Africa and Middle East


ABS-2 satellite: Ku band beam coverage
---
Lepton Global Solutions provides customized, end-to-end satellite communications solutions for both military and commercial customers utilizing Ku-, Ka-, C-, and X-band satellite frequencies.

Example, coverage using Eutelsat 70B Widebeam in the Middle East and North Africa, including Libya, Egypt, Iran, Iraq, Kuwait, Qatar, Jordan, Turkey, Israel, Lebanon, and Syria.

Lepton Global's solutions include fixed VSATs, rapid deploy terminals, and COTM (communications on-the-move) systems. Solutions are available for all world regions, making use of multiple satellite beams and bringing together resources from a number of different suppliers, appropriate to the individual customer requirements. My review.

For more details contact:
Phone: +1 571-313-1256 Fax: +1 855-642-6522 Email: info@leptonglobal.com
Address: 8381 Old Courthouse Road, Suite 200, Vienna, VA 22182 USA.

Example coverages, with emphasis on the Middle East.
---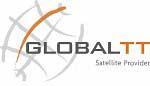 GlobalTT is a privately owned teleport company, based in Belgium, with more than 25 years of experience. They provide coverage of the Middle East using Arabsat 5C.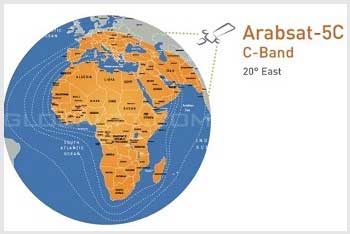 Arabsat-5C (EAST) - C-band: Coverage, as illustrated, includes: Algeria, Libya, Egypt, Saudi Arabia, Yemen, Oman, Iraq, Iran and Turkey.
C-Band equipment: Suitable for medium to large offices (10 to 200 computers). All iFast Vsat stations are available from stock and can be shipped within 24 hours.
Service & Speeds available:
Shared access (4:1) or (2:1) and dedicated access.
Up to 30 Mbps in download (Receive)
Up to 4 Mbps in upload (Transmit) - 10 Mbps with the proper license.
Price: from 650 USD up to 12 000 USD/month.
GlobalTT take care of all shipment, installation and activation.
Options available: VOIP (Voice over IP), public IP, VLAN, vehicle solution, maritime solution, drone solution, Transportable, Telephony.
Contact: sales@globaltt.com
---
Fixed : Mobile : Maritime : Auto pointing : Inmarsat

Company Owned & Operated Teleports
iDirect Host Network Operator (HNO)
Flexible & Scalable Bandwidth Packages
iDirect Evolution & iNFINITY Networks
Installation & Maintenance Services
On-Demand Dedicated Bandwidth
24/7/365 Technical Support

For higher resolution details of individual Middle East satellite beam coverages, click on the world coverage map to go to a detailed interactive map at the Isotropic web site.

Contact:
W2835 Krueger Road, Lake Geneva, WI 53147
Phone: +1 262-248-9600
Email: sales@isosat.net
---

Ku Hughes HX50 and iDirect Evolution x3 on Eutelsat W6 satellite at 21.5E.


Ku Hughes HX50 on
Eutelsat W7 satellite at 36E.


Ku iDirect Evolution x3 on
SESAT 2 (Express AM22) at 53 East.


Hughes HN9200 service. Due to start 2Q2012.

iDirect Evolution x3 and Hughes HX50 service: Your dish: 98cm - 1.8m diameter according to location.

Outlink: 512 - 2056k - 4Mbit/s.
Return link: 64 - 256k - 1Mbit/s

Choice of three orbit positions now with coverage of Europe, North Africa, MENA, Iraq, Pakistan, Afghanistan, Tajikstan, Kyrgystan, Western India and Turkmenistan.

Hylas 2 is due to be launched in early 2012 and will be used to provide small dish Ka band service using Hughes HN9200 modems.

For prices click: sales@bentleywalker.com

Military only, click here: Satcom in Iraq and Afghanistan

iDirect in the Middle East using Eutelsat W6 beam.
---
BusinessCom : Internet via Satellite services for the MENA region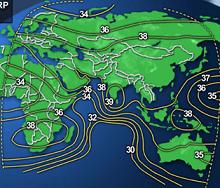 For SOHO, Enterprise, Internet Cafe and Calling Centers, Wireless ISP and Hot Spots, VoIP Termination Carriers and more. No FAP, no throttling, no hidden fees, smart bandwidth management, dedicated technical support and personalized service - this is what BusinessCom services are. Features include:
. iDirect, LinkStar, DVB-S2, SCPC and FR platforms - shared and dedicated links of any possible configuration.
. Ready to support business-class VoIP and Videoconferencing, VPN (IPSec), Mesh topology and more.
. Individual QoS setup per each VSAT system to make sure your own applications traffic are prioritized .
. SLA with 98.2%+ annual network uptime guaranteed and more
. Immediate Spare Parts Replacement Warranty option, in-country Installation and Maintenance options.
. Ability to connect with your own equipment, flexible migration deals, APO delivery... and more!
. Free VoIP phone and calls to the USA.
Regions and Countries covered (but not limited to):
All ex-USSR (CIS), including Ukraine, Russia, Armenia, Azerbaijan, Moldova; MENA, including Iraq, Afghanistan, Lebanon; All Asia, including: Pakistan, Bangladesh, India and Thailand.
Contact: vsat-satsigs@bcsatellite.net to inquire for more information and prices.
BusinessCom currently provides it's services from Telstar-10, NSS-7 and NSS-10 (AMC-12) in C-Band and Telstar-12, NSS-6, AM-22, BADR-4 and W6 satellites in Ku-Band. more details
---
MM Telcom Corp. New York, USA: Providing reliable VSAT communications since 1991

MM Telcom offer one stop shopping for equipment and service. MM Telcom is an American company serving Business, Enterprise, NGO's, Educational, Military or Government. Providing high speed internet (e.g 9.0 meg downlink, 4.2 meg uplink), quality VoIP, video, distance learning and multi-casting capabilities.

MMTelcom coverage includes Iraq and Afghanistan

Both shared or dedicated (TDMA or SCPC) Ku band services are offered. You may extend your network up to 12 km radius by using Wi-Fi equipment (protocol 802.11) or 50 km using WiMax (802.16)

Running VOIP? Using additional compression equipment with proprietary algorithm MM Telcom can compress VOIP into 4k per channel, obtaining the equivalent of (30 lines) E1 using only 128k! (4k per voice). No download quota or limits. Excellent warranty: if equipment is down then your monthly billing is stopped.

24/7 tech support engineers in USA and Europe.

For further details > michael_marom@yahoo.com or 516-608-8464



---
CorpSkies: Provider of satellite communications, internet via satellite, VoIP, video and wireless access.





This company, with 17 offices in the MENA area, makes use of Arabsat / BADR satellites, plus others from Eutelsat and Intelsat, to deliver service throughout the Middle East and North Africa.

The emphasis is on reliable data, video and VoIP, with data rates from 64kbps to 155 Mbps, either dedicated or shared, symmetrical or asymmetric, as required by the client. IP is used to provide internet, data and images for the entire region.

Private data/voice networks are available for corporations and government organisations with multiple branch operation. WIMAX is used to deliver into local area networks for branches and sites up to 50km apart.

Corpskies contact: sales@corpskies.com
---
WAFA - Your gateway to high speed internet - Anywhere and anytime


Eutelsat Express 22 beam

Eutelsat W3 at 7 east footprint

WAFA offer access services in the MENA area and elsewhere using HughesNet, iDirect and Linkstar equipment.

Satellite coverage areas include Africa (Western, Central , South Africa, Libya, Algeria), Lebanon, Saudi, Iraq, Bahrain, Kuwait, Qatar, Oman, Western Europe, Eastern Europe, Afghanistan, Pakistan and India.

LinkStar and iDirect services may also be used for VoIP connection - suitable for internet cafe, business or residential. More details.

Tell them where you are located and ask about what services you require. Typical dish size 1.2m diameter.

For complete details email: sales@wafa.ae
---
DigitalSkys operate their own iDirect VSAT hub


iDirect VSAT service area

iDirect VSAT on NSS703 at 57E

Using their own large teleport hub dish in Cyprus, DigitalSkys provide an iDirect VSAT service all along the North Africa coast, Egypt, Saudi Arabia, Iraq, Baghdad, Turkey and surrounding area.

They offer a service also around Afghanistan, Pakistan, Kashmir, Hindu Kush, Western India and Tajikstan area using the NSS703 satellite.

Tariffs and equipment suitable for single PC users, small business, large business and military (DES iDirect modems) are available. Local wireless extensions for up to 50km are available using 802 standards.

Contact: info@digitalskys.com +971 4 391 0863
---
The customer VSAT terminal comprises a parabolic antenna dish, similar to satTV, together with an indoor modem box unit. Ethernet cable links one or more local PCs. You may normally add wired or wireless router to connect many PCs or VoIP phones. The arrangement is suitable for both home use and for small office applications. If you want to connect many IP devices you will need a higher capacity tariff or lower sharing ratio - otherwise your link will be congested.
The outdoor radio modules on the front of the dish receive the outlink (or downlink) using a conventional satellite television LNB (low noise block downconverter) and transmit the return link (or uplink) data to the satellite using a transmit block up-converter (BUC). The wireless service is always-on direct access and not dependant on dial up or ADSL lines.
The large teleport hub station is where the VSAT Operator and ISP providers are located with a high speed digital backbone for worldwide networking connectivity.
Ku band refers to 11/14 GHz operation. C band (4/6 GHz) needs generally larger customer antennas but suffers less from heavy rain fading in the tropics. Ka band refers to 20/30 GHz operation using high throughput satellites (HTS) with multiple small spot beams, providing lower cost, smaller dish access, but with higher risk of outage in high rainfall events.
Have your say. Write your message now in my Satellite Internet Forum. Help others with advice, contribute your problems, successes, failures, wants, sales.
Click here to email all service providers on this page
Please e-mail me, Eric Johnston if you have problems with this page. This web page is intended to be helpful, it does not use flash, cookies, pop-ups or other nonsense.
The setting up and control of VSAT terminals is controlled from the teleport hub station so any problem sites can be switched off remotely until a technician attends. Also, the equipment design and frequency bands comply to international regulatory "type approval" for general use so that operation does not cause interference to other services. Non-approved terminals require individual valuation and licensing. Import/export regulations restrict use of VSAT equipment in some countries. Technical coverage areas do not imply that operation is allowed everywhere within the beam. Country border lines are approximate.
---
VSAT service in the Middle East from Visocom
Fixed VSAT and maritime mobile satellite services in Indian ocean region: Castor networks
Satellite engineer manager: Middle East
iDirect from Auriga networks on ABS-1
GOSAT: New ViaSAT Surfbeam service for MENA from NSTT
iDirect, Hughes HX, Tooway and Inmarsat from Digital Satellites Corp, Cairo
Egypt: VSAT hubs: iDirect and Newtec Sat3play
One way service in western Asia
Satellite dish installer Doha, Qatar
iDirect Ku and C band from ICCES
SMS Gateway to ME Teleport (Rugby UK)
DigitalSkys, Dubai UAE, have an iDirect VSAT hub in Cyprus
ICCES and Satway Dubai & Saudi Arabia VSAT service
Nynex iDirect and Hylas Ka band in Afghanistan
Satlink and MTVS merger (Israel)
VSAT installer and iDirect hub engineer Egypt
iDirect in Middle East from Auriga networks on ABS-1
TWISTER - service provider in Baghdad, Iraq
Ka band Hylas HTS service for Iraq
Global Technologies (based in Paris)
Please note that VSAT is strictly licenced and may be otherwise illegal in some Middle East countries.