| | | |
| --- | --- | --- |
| Relevant links on this satsig.net web site: | | |
HX VSAT hubs

# 1 hub HX Service in UK,Europe, Iraq, Middle East, North Africa
Sept 2007:
# 1 HX hub: The Europe / Iraq / Middle East HX hub was installed and configured with complete success and is working well with some 200 customers now connected. WAFA is the local sales agent for customers in Iraq and the Middle East.
---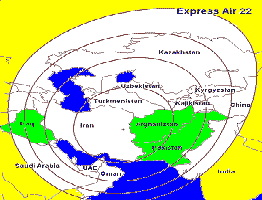 # 2 hub HX VSAT hub service on AM22
2007:
# 2 HX hub: HX VSAT hub service on the AM22 satellite with a beam serving Afghanistan.
---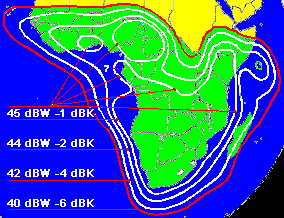 # 3 hub HX VSAT service in Africa
March 2008:
# 3 HX hub: Service for Central and southern Africa W3A started 12 March 2008.
Service in Europe, Iraq, Middle East beam: Now over 500 sites operating.
---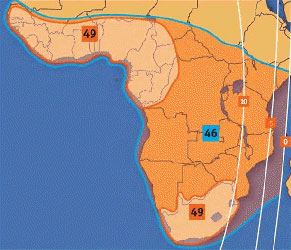 #5 HX hub: Telstar 11N service Africa
20 April 2009:
#5 HX hub: Service in West Africa, central and southern Africa using Telstar 11N coverage.
---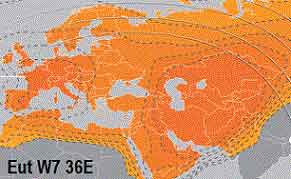 #6 HX hub: Iraq, Iran, Afghanistan, Turkmenistan, Uzbekistan, Tajikistan, Kyrgyzstan and PakistanJan 2010
#6 HX hub: Service for Iraq, Iran, Afghanistan, Turkmenistan, Uzbekistan, Tajikistan, Kyrgyzstan and Pakistan using Eutelsat W7 coverage beam.
---
Nov 2010:
HX service on AB1 satellite for South America: Caribbean, Trinidad, Tobago, Grenada, Aruba, Bonaire, Curacao and all South America countries: Panama, Bolivia, Brazil, Colombia, Guyana, Ecuador, French Guiana, Peru, Paraguay, Suriname, Venezuela. Argentina, Bolivia, Paraguay, Chile and Falkland Islands.
News: 29th May 2010:
HX hub for service in South America coverage beam of AB1 satellite in Ku band.
Contact email to enquire about for service: sales@bentleywalker.com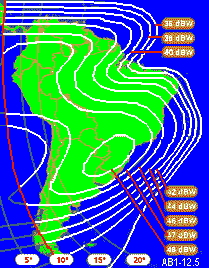 Based on press release 1st June 2007: Bentley Walker and Hughes Network Systems, LLC., have signed an agreement to deploy an advanced HughesNet HX broadband VSAT satellite hub for the provision of Internet data services out of the Turin, Italy, Eutelsat Skylogic teleport. The system will be run and managed by Bentley Walker, Hughes, and Skylogic, and will utilize the latest technology in broadband satellite Internet not yet seen in Europe and the Middle East.
Mr. Mike Darcy, president of Hughes Europe commented, "We are proud to extend the long relationship between Hughes and Bentley Walker. Bentley Walker will be one of the first operators of an HX hub with advanced features including high speed return links, extensive QoS support, plus DVB-S2 with adaptive coding and modulation, which significantly improves space segment efficiency."
Mr. Anthony Walker, CEO of Bentley Walker Ltd commented, "This is a significant investment on our part and will put us at the forefront of this industry in Europe and the Middle East. We are pleased to expand our business as a global hub operator and to have selected Hughes as our supplier for its world leading combination of features, performance, and cost effective platform."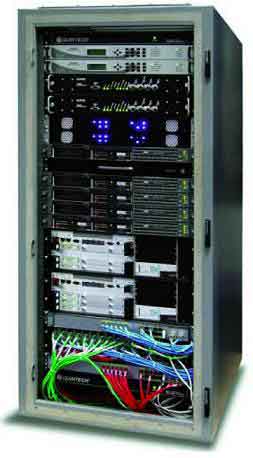 Hughes HX VSAT Hub rack


Hughes HX200 customer VSAT modem up to 2 Msps transmit rate.
Some of the features include:
· 256k, 512k and 1 Msps return links are supported, with multiple return link demodulators.
· Enhanced Quality of Service (QoS)
· Guaranteed bit rate services - Constant Bit Rate (CBR) Service, Adaptive return links
. Constant Bit Rate Service, Minimum and Maximum Committed Information Rate (CIR) Service
The HX hub incorporates the latest DVB-S2 technology. Two redundant Radyne DM240-XR DVB S-2 modulators are shown in the picture with adaptive coding modulation (ACM), along with automatic return link switching and many other features. In the middle are five HP ProLiant PC servers. At the bottom of the rack are two Cisco 3750 switches. I think it is these that are used to provide the QoS features.
Services will be announced very soon. Bentley Walker expect to install the first hub with satellite internet access service on the EUTELSAT W3A satellite starting in August 2007.
There will be very competitive dedicated Committed Information (CIR) and Constant Bit Rate (CBR) services, similar to Single Channel per Carrier (SCPC), along with shared packages.
The customer terminal Hughes HX CPE VSAT modem comes in standard format and rack mount and features two LAN connections. There are two models HX50 and HX100 with the HX100 offering up to 1 Msps return link transmission.
Please contact sales@bentleywalker.com for further information.
For service in the Middle East you may alternatively contact WAFA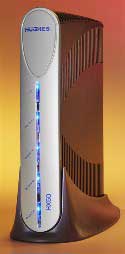 Hughes HX50 customer VSAT modem with up to 1 Msps transmit rate.
HX Hub in Moscow serving Russia
30 Jan 2007: I have been told of a second HX hub being ordered by IPSat for use at a teleport in Moscow.
Further press release dated 20 June 2007 about this:
More About Hughes Network Systems, LLC: Hughes Network Systems, LLC (HUGHES) is the global leader in providing broadband satellite networks and services for large enterprises, governments, small businesses, and consumers. HughesNet encompasses all broadband solutions and managed services from Hughes, bridging the best of satellite and terrestrial technologies. Hughes has shipped more than 1.2 million systems to customers in over 100 countries. Its broadband satellite products are based on the IPoS (IP over Satellite) global standard, approved by the TIA, ETSI, and ITU standards organizations. Headquartered outside Washington, D.C., in Germantown, Maryland, USA, Hughes maintains sales and support offices worldwide. Hughes is a wholly owned subsidiary of Hughes Communications, Inc. (NASDAQ: HUGH). For additional information, please visit www.hughes.com
About Bentley Walker: Bentley Walker has extensive expertise in providing satellite solutions across Europe, the Middle East and North Africa using the HughesNet Internet service. Whether you are looking for an Internet connection for 1 pc or a multi site communication solution, Bentley Walker can support your needs. Their range of products includes: Two-way Satellite Broadband, Voice over IP (VoIP) and Mobile Satellite Communications Solutions. For more information and to see how they can support your communication requirements, please go to www.bentley-walker.com
---
Hughes and HughesNet are trademarks of Hughes Network Systems, LLC.
Page started 1 June 2007 ECJ, amended 5 May 2015