Gateway Communications - Connecting Africa
Information about Gateway Communications...
Gateway is a leading pan-African connectivity service provider operating Africa's largest international network directly connecting over 40 African countries.
They have a long history of innovation in Africa, with operations dating back to 1991.
Their base of over 1,200 large customers includes Africa's leading mobile and fixed line telecom operators as well as multinational and large businesses from the oil / gas, banking, mining and manufacturing sectors.
They provide a broad range of connectivity services (voice, cellular backhaul, international, GPRS / internet, VSAT, VPNs), applications and management services.
The workforce comprises some 360 skilled employees in 14 countries across Africa, plus Belgium, France, Switzerland and the UK.
They have a large international network with over 45 equivalent transponders of satellite capacity over Africa, 24 fully owned teleports and substantial terrestrial and sub sea capacity.
For further information please contact:

Stuart Hardy
Sales & Marketing
Building 12 Harrowdene Office Park Woodmead
tel: +27 11 797 3326
mobile +27 82 838 5302
email stuart.hardy@gatewaycomms.com
Web site link: www.gatewaycomms.com
Slogan: "Connecting Africa"

Countries mentioned in their email: Angola, Belgium, Cameroon, Cote d'Ivoire, France, Ghana, Kenya, Mali, Mozambique, Nigeria, Senegal, Sierra Leone, United Kingdom, Switzerland, Tanzania, UK, Zimbabwe.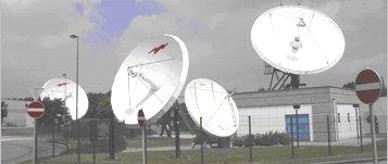 Gateway's Gosselies Teleport in Belgium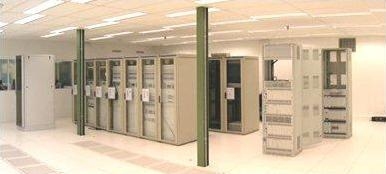 Hub equipment racks at the Gosselies Teleport, Belgium.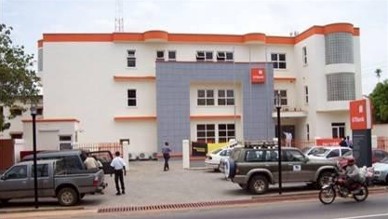 Office in Accra, Ghana

| | |
| --- | --- |
| Teleport antennas in Accra. | Satellite equipment racks in Abuja, Nigeria |
| Satellite antennas on roof. | Large axi-symmetric Gregorian antenna. |
► Page created 8 July 2009, amended 30 Jan 2015 Eric Johnston
Back to Satellite broadband service providers in Africa
Amendments please to eric@satsig.net
I have written this page at the request of Gateway Communications. The information and images were provided by Gateway Communications and are used here with their kind permission. This is not a paid for advertisement.
All pages on this satsig.net web site are Copyright Satellite Signals Limited © 2009 all rights reserved.