| | | |
| --- | --- | --- |
| Home | | |
iDirect X1 routers
These new routers are being introduced into service in April 2012, by Bentley Walker, in eight world-wide Ku band satellite coverage beams, and in Ka band in Europe, Middle east and Africa in mid 2012 on Hylas.
What are the implications?
The new iDirect X1 customer router is smaller and lower cost is expected to very attractive to the loyal iDirect userbase of local installers and local service provider operations as well as to new government, utility, military and commercial customers operating over large areas. The new X1 router still provides the essential broadband satellite internet access service plus VoIP.
It has enhancements however that make it very efficient for very low bit rate services where terminals may inactive for much of the time, such as weather stations that report once per hour. When not active a terminal does not use any satellite resource, but when wanted for use it wakes up and the full bandwidth becomes available.
Unusually the iDirect X1 router terminal comes as either a conventional model intended for indoor use or as a sealed external outdoor weatherproof box suitable for pole mounting in association with equipment, street level radio linked utility metering, SCADA, remote monitoring, telemetry, weather sensors, seizmographs, water levels, security camera etc. The X1 is designed for low power and is well suited to solar power and rechargeable battery situations.
Finally the router is configurable via a web interface which I consider to be a big improvement on loading site option (configuration) files via the command line style Linux interface.
---
At April 2012, iDirect X1 was available for use only on the worldwide iDX3.1 networks operated by Bentley Walker. Enquire by clicking on this email: sales@bentleywalker.com
---
Technical details..
Network Topology: Star netwok (DVB-S2/ACM downstream plus Multi Frequency D-TDMA upstream)
Modulation: Downstream: QPSK, 8PSK, 16APSK; Upstream: BPSK, QPSK, 8PSK
Maximum bit rates:
Downstream (TDM) Symbol rate 1- 45 Mbit/s. Information rate up to 160 Mbit/s.
Upstream (D-TDMA) 128ksps - 2 Nsps. Information rate Up to 4.8 Mbit/s.
The processing capability of an individual remote will be less than the stated maximum carrier size.
Forward error correction: Downstream: LDPC, 1/4 - 8/9, Upstream: 2D 16-State, 1/2 - 6/7
Router interfaces:
SatCom Interfaces: TxIF cable: Type-F, 950 - 1700 MHz, Composite Power 0dBm / -30dBm
RxIF cable: Type-F, 950 - 2150MHz, Composite Power -5dBm / -65dBm
Available BUC Power (IFL) +24V, 25W max. supporting BUCs up to 3W (60W external PSU)
Available LNB Power (IFL) +24VDC, 22kHz DiSEqC tone
Data Interfaces: LAN: 10/100 Ethernet : New feature: Web-based configuration via Ethernet port
Protocols Supported: TCP, UDP, ICMP, DHCP, Local DNS Caching
Traffic Engineering: QoS (Priority Queuing, Strict Priority Queuing, WFQ); Application-based QoS; Configurable Packet Classifier; CIR (Static and Dynamic), Minimum CIR, Idle/Dormant Min IR
Other Features: Built-in Automatic Uplink Power Control, Frequency and Timing Control, Authentication, Remote Lock (to network)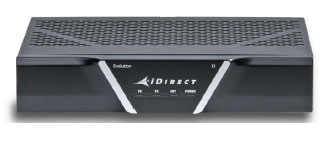 iDirect X1 router.
The iDirect router is a compact indoor router which interfaces between the outdoor transmit BUc and receive LNB and antenna, and an ethernet cable to your local PC, wireless router or similar.
It is significantly smaller (Size 9" x 6.8" x 1.8" in. Weight 2.0 lbs, 0.91 Kg) than the older iDirect Evolution X3 router (Size W 11.5 in (29.2 cm) x D 9.9 in (D25.1 cm) x H 2 in (5.1cm) Weight 4.3 lbs (1.95 Kg).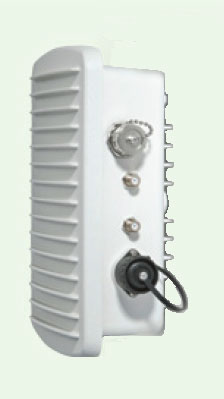 iDirect x1 OD (outdoor) router.
iDirect X1 OD router suitable for outdoor mounting on pole or similar, close to the Ku or Ka band ( Hylas ) satellite antenna and cabled either to local electricity sub station (power grid monitoring) or to adjacent pole mounted equipment such as community wireless internet access network antenna, or to utility meter reading network (water, gas, electricity).
Reliable communication under extreme environment conditions.

Can withstand -40 to +60 deg C without need for external heating or cooling devices.

IP67 rating for outdoor installation without the need for sheltering or protective enclosures.

Multiple power options including DC.

BUC and LNB can be run on battery power that can be recharged from solar sources.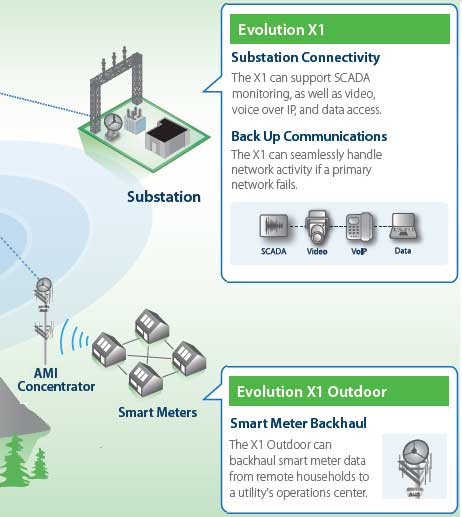 Diagram from iDirect "advertorial" showing how a corporate HQ can collect data or send tele-command data to remote located power substations for collect meter readings or apply smart metering commands to customer communities.
All the above, plus normal VoIP and broadband satellite internet access service.
Mechanical/ Environmental
Size 9" x 6.8" x 1.8" in
Weight 2.0 lbs (0.91 Kg)
Operating Temperature 0 deg to 50 deg C (+32 deg to 122 deg F) at Sea Level
Humidity: 5% - 92% non-condensing humidity
Input Voltage: 100-240 VAC Single Phase, 47-63 Hz, 1.4A max.
Radio Standards EN 301-428v1.3.1 - Ku-Band System Level Specifications
EN 301-443v1.3.1 - C-Band System Level Specifications
Safety Standards Complies with IEC 60950, EN 60950, UL 60950-1, CSA C222 NO.60950-1-03
Emission Standard Complies with EN 55022 Class B, FCC Part 15 Class B, EN 61000-3-2, EN 61000-3-3
EMC/Immunity Standard Complies with EN55024, EN301-489-1, EN 301-489-12, EN 61000-4-2, EN 61000-4-3, EN 61000-4-4, EN 61000-4-5,
EN 61000-4-6, EN61000-4-11
Certification FCC, CE and RoHS compliant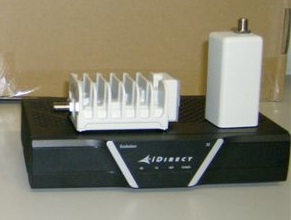 Also available iDirect approved complete terminal bundle, from Bentley Walker, comprising outdoor radio modules plus antenna dish:
BUC Ku-band 1.5W or 3W universal BUCs (13.75 - 14.50 GHz)
LNB Ku-band universal PLL (multiple sub-bands)
C band and Ka-band radio modules and antennas also available.
The router and BUC and LNB can be run on battery power that may be recharged from solar sources
The above information is derived from discussions with Bentley Walker and is not a paid for advertisement.
Page new ECJ 19 April 2012, amended 6 Feb 2015.