Onlime satellite services
Onlime, based in Germany, has one of the largest teleports in Europe delivering a wide range of corporate VSAT and media broadcast services. Onlime offers both satellite and terrestrial services. They used to be called "CET Teleport", till March 2014.
The teleport sits in 160 acres of land and has extensive disaster recovery facilities, a 24/7 Help Desk and over 50 antennas ranging
from 15m diameter downwards, allowing access to more than 200 geostationary satellites located from 58°W to 76.5°E and provides a major Ka-band gateway.
Onlime's satellite links cover Europe, Africa, the Middle East, Central Asia, the Caribbean and South America and provide SCPC links as well as contended services through the iDirect Evolution® and iNFINITI® platforms to support enterprise, government, military, oil & gas, mining, banking, NGO and many other customer groups.
Besides the German Headquarters, they have offices in the United Kingdom, West Africa, India and Dubai. Customers are supported with a network of qualified engineers based in a large number of countries within the Onlime satellite footprints.
The site is connected to the main terrestrial east-west and north-south German national fibre networks. In addition, the site has multi-gigabit international Internet access to London, Frankfurt and Amsterdam. Also, Onlime has redundant dedicated access to BT's Global Media Network (GMN) considerably increasing Onlime's reach to the worldwide fibre network.
VSAT and Carrier Services
Onlime has the technology and expertise to provide the following services and more:
● Hubbed and SCPC VSAT Corporate and Enterprise Services
● GSM Backhaul Services
● Voice Services - Carrier and VoIP
● Disaster Recovery Networks
They can arrange local licensing, installation and maintenance with Service Level Agreements guaranteeing agreed levels of availability to ensure that, whatever your application, your connection is there when you need it.
Broadcast Services
They are expanding their range of broadcast services to provide tailored solutions to broadcasting organisations across the industry. They can offer Direct-to-Home (DTH) Multiplexed Services as well as facilities for Playout and Distribution, Turnaround and Occasional Use. They can also provide access to some of Europe's premier DTH bouquets and multi-point content access and storage facilities.
They also provides all the services required to ensure that you get a system that is tailored to satisfy customer's specific needs- project management, installation, licensing, field service and maintenance, network monitoring and management, third party hosting, co-location and data storage and, for satellite operators, telemetry, tracking and control (TT&C) services.
Satellite beam coverages
Their teleport is located in northwest Germany with satellite visibility from the east coast of Canada and the United States, through the Caribbean and down to South America, then covering Europe and Africa, all the way across Russia and China, and all of Asia, down to the west coast of Australia.
This excellent geographical location allows access to over 200 geostationary satellites located from 58°W to 76.5°E, providing coverage and connectivity across most of the global landmasses.
Optical fibre submarine cable connection
The Africa Coast to Europe (ACE) optical fibre submarine cable is a 17,000 km long, high bandwidth system that connects 21 countries from France to South Africa.
The first phase came into service Dec 2012. It provides security and diversity for international broadband traffic routing, with design capacity of up to 5.12 Tbps.
For further information please contact:
Tel: +49 (0)5154 937 1500
Fax: +49 (0)5154 937 1111
E-mail: info@onlime.com
Web: www.onlime.com
Onlime ● Bexen 2 ● 31855 Aerzen ● Germany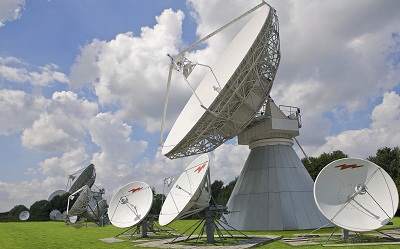 Three large antennas, over 50 in total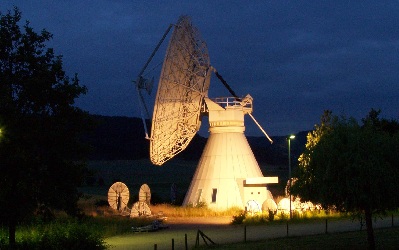 View of one of the large antennas at night.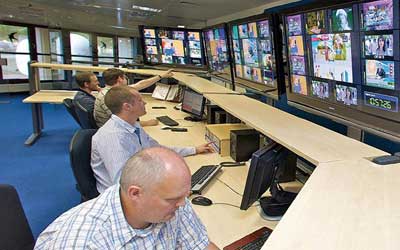 TV Broadcast operation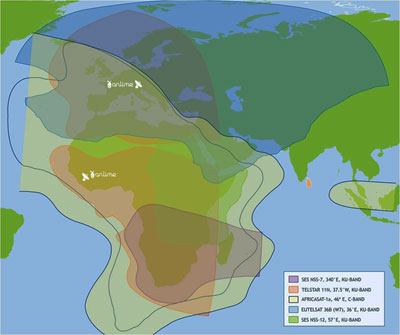 African coverage area, using five satellites and two Onlime teleports.
(Click on the image for high resolution version)
---

Alternative access via optic fibre submarine cable.
(Click on the image for high resolution version)
Enterprise services
In a rapidly developing world, businesses and organisations, whether they are major multinationals, government and non-government agencies or SMEs, depend on fast, accurate voice, data and video communications via a consistently reliable Internet connection.
They offer 'Premium Enterprise Class' Internet service to deliver cost effective broadband and VoIP connectivity.
The company delivers SCPC services, iNFINITI® and iDirect's Evolution® DVB-S2 technology including ACM capabilities, which can deliver up to 50 percent more bandwidth efficiency and largely combat the effects of rain fade. With these substantial bandwidth gains, service providers are able to improve their services across a range of IP applications, including VoIP, virtual private networks (VPN), video conferencing and enterprise networks.
Onlime offers standard and customised packages, specifically designed for organisations requiring an 'Enterprise Class' of service which include dedicated links or shared links with a contractually-binding Minimum Guaranteed Data Rate (MGR), with capacity up to the maximum bandwidth available on the link. Onlime also offers rapid deployment and competitive pricing.
Partner programme
Onlime is committed to offering an unrivalled quality of service at competitive prices for all your iDirect needs.
They operate a 24/7 network monitoring centre at Hameln, and provides technical support and field support services globally.
They have attractive opportunities to organisations that would like to join our Partner Network to represent us in countries around the world.
They are looking for partners such as iDirect re-sellers, VSAT installers, hardware distributors and system integrators who want to add service provision to their product portfolio without having to invest in their own teleport to act as our Agents or Distributors.
To become an Onlime re-seller or to receive more information about our worldwide Partner Network Programme, please email us at info@onlime.com
Satellite transponder bandwidth exchange ( for sale and wanted )
Please contact the Onlime Satellite Exchange Team if you are interested in purchasing any of the satellite capacity listed or alternatively if you have any questions regarding the capacity for sale.
If you have any spare satellite capacity for sale that you wish to advertise free of charge using the Onlime Satellite Exchange Service please contact satex@onlime.com for more details.
For further information please contact:
Tel: +49 (0)5154 937 1500
Fax: +49 (0)5154 937 1111
E-mail: info@onlime.com
Web: www.onlime.com
Onlime ● Bexen 2 ● 31855 Aerzen ● Germany
---