Dedicated service
Dedicated access is an always-on IP backbone service via Teleports in Oslo and London.
Dedicated satellite link connections
Telenor Dedicated Satellite Access is intended for Internet Service Providers (ISP's), Voice carriers, miltiary and governement orgainisations who need a minimum of 512kbit/s. Note that your satellite capacity is dedicated to you only. You are not sharing the capacity with other satellite customers.
Telenor use thier own satellite capacity located 1° West, as well as third party capacity on other satellites including Telstar 12 and Intelsat 12.
The teleport facility is based on antennas ranging from 3.7m to 11m antennas, with high speed modems connected via redundant Cisco Routers that are multi homed with Tier 1 providers.
MCPC, SCPC, DVB and Mesh Networks
Dedicated service uses state or the art modulation and coding to achieve high bandwidth efficiency and least monthly cost.
MCPC for point to multipoint links.
SCPC (both ways) for point to point services.
SCPC (return link) and dedicated capacity within DVB (outlink).
Hub-less Mesh Networks capable of providing single hop connectivity, burstable bandwidth and Network Control remotely via SNMP.
Features and Benefits
State of the art VSAT technology
High power C and Ku band space segment
Global Internet access through multiple Tier one suppliers
24 hour operations
Easily upgradeable via remote configuration
Asymmetric connectively available
Low latency service provision
Very high QOS with customised SLA
512kbit/s -155 Mbit/s
Online access to traffic and network performance.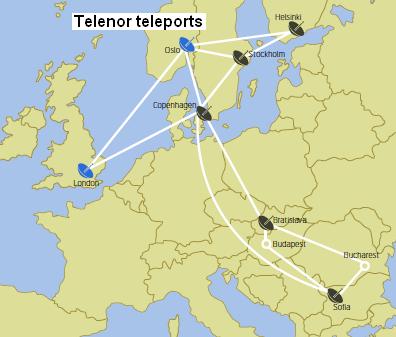 Contact: Telenor Satellite Broadcasting email: sbcsales@telenor.com
CEE: Business Park Sofia, Sport Depot fl.3, Mladost 4, 1766 Sofia, Bulgaria
Tel. +359 2 97 44 911
UK: 40 Bernard Street, London, WC1N 1LE
Tel +44 (0) 207 923 6500
Norway: Snarøyveien 30, 1331 Fornebu
Tel +47 67 89 00 00