| | | |
| --- | --- | --- |
| Relevant links on www.satsig.net | | |
Kempa Satellite Networks Sp - Warszawa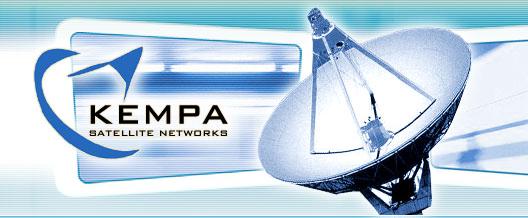 Kempa Satellite Networks jestautoryzowanym przedstawicielem Eutelsat.
Address: ul.Walicow 13, 00-865 Warsaw, Poland
tel: +48 22 624 11 43, fax: +48 22 624 26 80, mobile +48 602 322 104
email: office@kempa-satellite.com
Na tej stronie prezentujemy nasze najpopularniejsze rozwiązanie - dwukierunkowy i szerokopasmowy dostęp do Internetu dla odbiorców indywidualnych, przedsiębiorstw i urzędów w całej Europie.
Podstawowe zalety:
Natychmiastowy dostęp /instalacja w czasie do 7-14 dni/
Wielokrotnie szybsze ściąganie danych niż w łączach DSL /512 - 2048 kbps w zależności od wariantu usługi/
Obsługa serwisowa w godzinach 9:00-17:00
Brak ograniczeń ilości przesyłanych danych
Dzięki szerokiej strefie pokrycia wiązkami satelitarnymi usługa ta jest dostępna w całej Europie, także jeżeli będziesz potrzebował Internetu w jakimkolwiek oddziale zagranicznym chętnie podejmiemy się tego zlecenia. Nasze łącza pracują już w Iraku, Libii, Gruzji, na Litwie, Ukrainie i Morzu Bałtyckim.
Advantages:
Fast installation from 7 to 14 days.
Transfer speed up to 2048 kbps.
Help desk 9 am to 7 pm. /CET/
No transfer limitations
Broadband infrastructure for all your applications:
● Two-way Internet
● VPN
● VOIP
● Closed User Group
● File transfer
● Corporate Networks
Kempa Satellite Networks offer internet access to almost the whole globe thanks to the Eutelsat satellite fleet with links working in among others in: Poland, Ukraine, Asia, Iraq, Africa, Lybia and on the North Sea.
For more information please contact them by email: office@kempa-satellite.com
On their website http://www.kempa-satellite.com/ they present the most popular solution for two-way internet access using satellite links. Their service is mainly dedicated for business, corporation, offices and local ISP on the whole world.
Some of the text and images on this page are provided with kind permission of Kempa Satellite Networks
Page started 4 Jan 2005, last amended 15 ot 2018 HTML5
All pages on this satsig.net web site are Copyright Satellite Signals Limited (c) 2005 all rights reserved.