Inmarsat R-BGAN portable satellite data service.
Now using the Inmarsat-4 satellite beam coverage indicated in green. Satellite located at 65 east orbit longitude.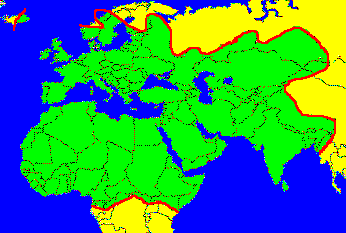 Ideal if you are travelling on business and need to send important documents, are working on a construction site and need to see the latest blueprint or reporting from the latest war torn country.
It is even a possibility while on holiday if you want to update family and friends with your latest adventures, Inmarsat BGAN ensures you're always in touch.
The coverage area on the right has now been extended to include southern Africa and further east into Asia.
Coverage using other satellite now provides worldwide coverage is the main land masses. Limitations apply to the polar regions and to isolated islands and continental extremities, so you need to check service coverage with Inmarsat for very remote locations.
You need to rotate the entire unit using the compass to that the lid (which is the antenna is pointed towards the satellite).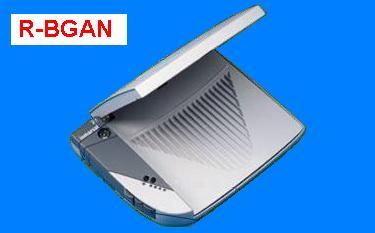 You connect to your laptop PC using a USB or ethernet cable
You have a proper IP connection and only pay for the data you send and receive, not for the amount of time you are connected.
BGAN pre-paid options are available.
Speed is not broadband and you share in a portion of 144 kbits/s. Typical down load time for a 59 kbyte email attachment is 10 seconds.
Larger wall or floor mounted antennas are available if you plan semi-permanent installations.