Objective of BGAN:
To provide email and satellite internet access direct to laptop sized portable terminals. Created by Inmarsat the Broadband Global Area Network (BGAN) was designed to provide telecommunication services using portable land mobile platforms. The small antennas, which are low gain and non-tracking, provide bit rates from 216 kbps to 432 kbps in downlink, and 72 kbps to 432 kbps in uplink.
The BGAN air interface was optimised for a land-portable environment with directional antennas, which means you must orient the device so it approximately points towards one of the Inmarsat satellites.
How does BGAN work:
The solution is to have high power transmission in the downlink and high sensitivity satellite uplink sensitivity. This is largely achieved simply by using a large 10m diameter antenna on the satellite. The earliest satellites (e.g. Telstar) used low power, say 1 watt, into its antennas with gain of 3 dBi or so plus 30m diameter dishes on the ground. The BGAN idea simply reverses this arrangement so there is nothing too improbable about it.
The feed system will need to generate some 100 spot beams, each approx 1.8 deg beam-width, thus covering all the visible surface of the earth, which looks like a circle approx 18 degrees diameter as seen from the R-BGAN satellite. With such a design it is possible to have an uplink G/T per beam of 17 dBK (10m dia, 1.6 GHz, 300K)
On the downlink, beam gain will be about 42 dBi giving a beam edge eirp of some 55 dBW when the power allocated to a beam is 40W. The power per beam will need to vary according to the traffic required. If you do the BGAN link budgets using https://www.satsig.net/linkbugt.htm you will find that uplink bit rates of 100 kbit/s and downlink bit rates of 144 kbit/s look quite feasible.
This is not 'broadband' as I understand the term in respect of cable modems, ADSL phone lines and fixed larger 1.2 to 1.8m satellite dish users, rather medium speed. Even the 144 kbit/s is shared amongst multiple terminal users.
Located at orbit longitude 65 degrees east the BGAN service is now successfully operating on Inmarsat-4 satellite where it has has coverage of Africa north of the equator, Europe, and Asia to the west of Calcutta. Coverage to the south of Africa and further to the east in Asia is expected but is not guaranteed and awaits confirmation. In some places BGAN is subject to licence restrictions.
There are three main terminal manufacturers are: NERA, Thrane & Thrane and HNS.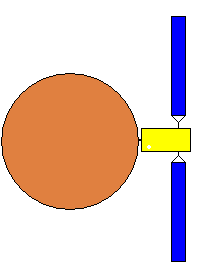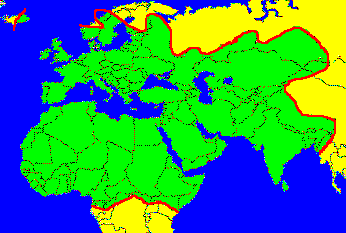 Extension of this BGAN coverage area has been made to the north, south and east using a satellite F2 over the Indian Ocean. A second satellite F2 is operational for North and south America and the Atlantic Ocean region. A Pacific Ocean coverage satellite F3 is due for launch in 2008.
Page started 12 October 2004,
Amended 23 May 2016