Tooway: The story of progress towards low cost satellite internet access in Europe and UK
This page provides a historical record of the early days of European high speed internet access via satellite.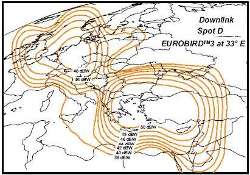 Eurobird 3 Spot D Downlink eirp contours Ku band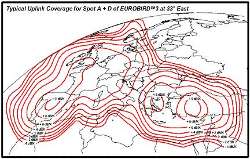 Eurobird 3 Spot D Uplink G/T contours - relevant to operation on Albania, Greece, Turkey area + elsewhere
The early days used Ku band beams above.
---
The service matured once Ka band capacity became available, initially on broad coverage beams. The brand name "Tooway" was created by Eutelsat/Skylogic and paved the way for a far greater operation on a planned multi spot beam satellite called KA-SAT.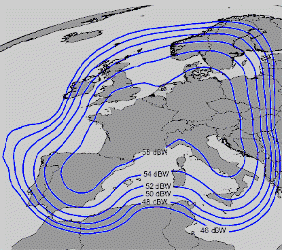 Tooway Ka band downlink beam coverage
Hotbird 6 at 13 deg east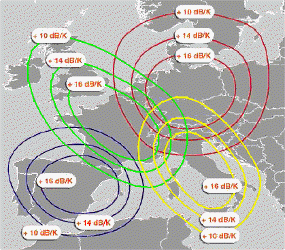 Tooway Ka band uplink spot beam coverage
Hotbird 6 at 13 deg east
In the UK about 1% of homes are too distant from BT phone exchanges to be able to have ADSL internet access. 1% may sound like a tiny number but for those affected this is a serious matter. 1% of 25 million home is 250,000 families affected, so you can see there is a problem. There are many VSAT services available. This web page is about one of these services, called "Tooway" and provided by Skylogic from Turin. Italy. Skylogic is a teleport company owned by Eutelsat, the satellite operator. Providing a service like this helps them to use up capacity on their satellites.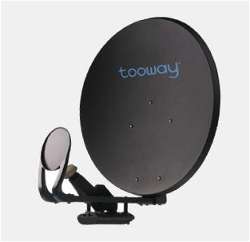 26 inch diameter Ka band VSAT antenna (Hotbird 6) Early design with subreflector, based on USA design used for Wildblue. Later version reverted to the simple front fed design.
2009: Satellite communications is very high cost compared with terrestrial so the service provided to end users is shared, which many customers all sharing the same satellite bit rate. Tooway presently offers download speeds up to 2 Mbit/s by throttling the outbound (download) traffic at the Turin teleport. The quantity amount of traffic (Mbytes) you can download depends on the price you pay. The more you pay the more you may download in a given time. Overall, you might get about 10 -15kbit/s average over a week, on the lower tariffs. If you have a need for long steady data transfers you would be better off with a 56kbit/s phone modem. If you want brief periods of up to 2 Mbit/s with long inactive periods in between, then shared satellite is appropriate. Voice calls are best made by phone line as a voice call (e.g. VoIP or Skype) represents a severe stress on the satellite network due to its continuous data flow (approx 12 to 30kbit/s) in both directions. Similarly uploading large files such as music or video is best minimised or avoided.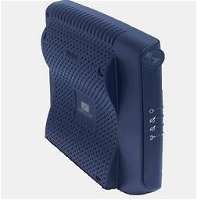 Indoor customer Surfbeam modem from ViaSat.
Tooway is already serving customers in 20 European countries including UK, Germany, France, Spain, Italy, Switzerland and Ireland. The main retail resellers and service providers are Bentley Walker and El Molino.
Tooway operates with Viasat Surfbeam technology in the Ku-band or Ka band. It is delivered using Eutelsat's EUROBIRD 3 satellite at 33º East or Hotbird 6 at 13 deg East.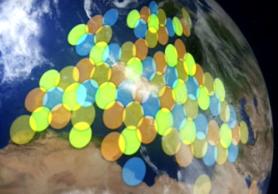 KA-SAT beam coverages Ka band 9 east. Note the multiple small spot beam footprint, enabling multiple frequency reuse.
2011: Eutelsat intends to expand the service with additional capacity using the new Ka band satellite called KA-SAT which was launched 26 Dec 2010. This is a dedicated new satellite specifically designed for broadband delivery in Europe and is similar to the Wildblue satellite. Ka-SAT provide coverage for all Europe from 9 deg east orbit position. It is not clear if existing customers will be able to transition to the new satellite. Some changes to the outdoor feed system will certainly be needed.
Tooway is intended to provide satellite internet access for domestic and small business customers in remote locations in Europe within the beam coverages shown. The downlink is a single broad beam covering Europe. The uplink comprises several smaller Ka band spot beams to obtain higher uplink G/T and thus permit lower transmit eirp from the small earth stations.
Advanced coding/modulation and dynamic rain fade mitigation techniques are used to minimise outages during heavy rain. The return links and capacity are dynamically assigned to make best use of the satellite capacity available.
A variety of traffic quantities per time period are offered with corresponding tariffs. The system incorporates an integrated performance enhancing proxy (PEP) with pre-fetch to speed up browsing and downloads.
Tooway FAP or Fair Access Policy
2009:
The traffic flow at all sites is limited to try to ensure that everyone gets their fair share. The more you pay the more you get. Example for a BRONZE tariff user:
Tooway FAP Fair Access Policy limits (example as of 2009):
53 Mbytes in 1 hour = 117.6 kbit/s
100 Mbytes in 4 hours = 25 Mbytes per hour = 55.2 kbit/s
300 Mbytes in 24 hours (day) = 12.5 Mbytes per hour = 27.7 kbit/s
800 Mbytes in 168 hours (week) = 4.7 Mbytes per hour = 10.4 kbits/
2000 Mbytes in 672 hours (4 weeks) = 2.9 Mbytes per hour = 6.4 kbit/s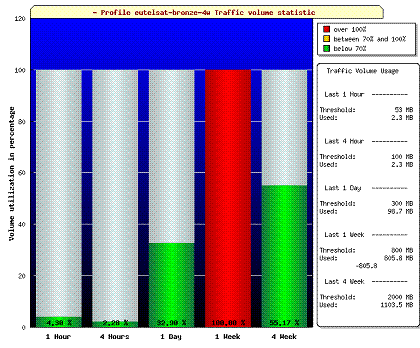 The FAP graphic bar chart table gives some idea of the instantaneous site status.
This FAP graphic on the right shows the actual status of a customer site that has exceeded its weekly 800 Mbytes allowance. Once time has passed, using a sliding window re-calculated every 5 minutes, and the average for the past week has reduced to an acceptable amount then the site will be up and running again at full speed.
This highly complex FAP system, although very cleverly conceived, was difficult for customers to understand.
The good news that Eutelsat were changing to circular polarisation (as used for Wildblue) for KA-SAT to make a big difference to the mass market installation problem by reducing the skill needed by installers.
2013: FAP policy changed and simplified.
In the KA-SAT system download speeds are now allowed up to 20 Mbit/s. According to tariff you are limited to quantities of Gbytes downloaded per 28 days. Resellers are now advertising packages like: 10 GB for £40, 20GB for £60, 30 GB for £80, 50 GB for £120, plus installation and equipment price.
Briefly an unlimited package was offered, but this was highly misleading as in any shared VSAT system your service is limited by the fact that very many others share the same satellite capacity which is up to 68 Mbit/s per downlink carrier or 400 Mbit/s per beam, when a beam is configured with a full set of carriers.
Eutelsat and Skylogic send out Press releases from time to time and I am sent information by Bentley Walker and El Molino to help me put informative information here.
This is not a paid for advertisement.
Page started 1 May 2009 Page last amended 16 Feb 2015.