Antique Microscope oil lamp for sale: SOLD 5 June 2017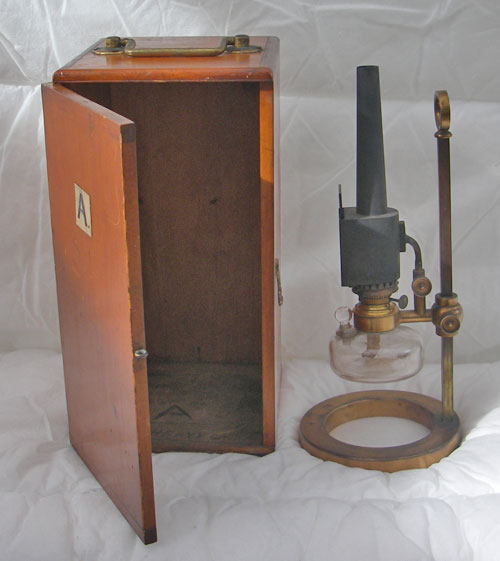 This is a late 19th or early 20th century paraffin oil lamp, intended for use with a microscope.
Although perfectly functional, this lamp is a collector's curio suitable for associating with a collection of microscopes.
The square section post allows the lamp height to be adjusted, while preventing any unwanted swinging from side to side.
Total height 12 inches. The glass paraffin oil reservoir has a ground glass stopper. There is blue tinted glass filter, 3 x 1.5 inches, that slides up to allow the lamp to be lit. The black chimney helps achieve a stable flame..
The burner control knob that adjusts the wick height says "E Miller and Co. Made in USA", believed to be in Meriden, Connecticut. The complete lamp may be from Watson & Sons as the base of the case says "Watson's lamp or New Heavy Lamp". The lamp base is unusual. It is particularly heavy, providing exceptional stability when the lamp is raised high up. The 'heavy' feature is noted in three places on the wooden case "HEAVY", "New HEAVY LAMP" and "Watson's lamp or New Heavy Lamp". The brass base ring and the door and base of the case are marked with the bold letter "A" - reason not known. The underside of the the base ring has 5 equidistant machined holes, possibly intended to facilitate locational positioning on some other equipment. Known history: Bought second hand in London in 1947 and taken to Cleveleys, near Blackpool, and used by Basil Johnston for rotifer and diatom studies of the content of ponds throughout the Lancashire Fylde district.
The wooden carry case has a brass handle on the top and clasp at the side to hold the front door closed. Overall dimensions 6.25" wide, 6.75" deep and 12.75" high.
---
14 Nov 2015: Not yet sold. For sale price: £320. Enquiries or more information, please click:
eric@satsig.net
Phone 01245 352373 +44 1245 352373

► Page created 10 October 2011, amended 9 June 2017 Eric Johnston
All pages on this satsig.net web site are Copyright Satellite Signals Limited © 2011 all rights reserved.