| | | |
| --- | --- | --- |
| Satsig web site: Africa navigation index: | | |
Constellation Networks: Satellite internet for Africa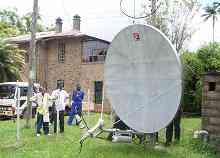 Click picture for larger image
Constellation Networks Corporation is a global satellite networks service provider, offering a range of integrated satellite networks, terrestrial and internet solutions in flexible, expedient manner.
They incorporate the latest technology with the appropriate mix of infrastructure, experience and a caring team to offer a competitive solution. They aim to be a one stop source for worldwide voice, data, fax, and video conferencing.
From dedicated SCPC to iDirect powered shared services, we have a solution that will meet your satellite network communications requirements. SCPC provides dedicated continuous transmission both ways. iDirect is one of the most advanced shared systems and is highly recommended on account of its network traffic management methods.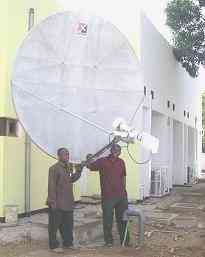 Click picture for larger image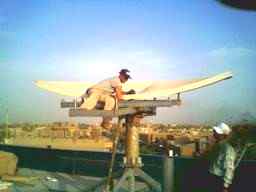 Although the emphasis on the maps shown is on Africa, coverage includes other countries at well. If your location is included somewhere it is worth asking. If you are located at extreme beam edge operation may not be feasible unless an extra large dish is used and this must be determined on a case by case basis. The best plan is to try and find as good a coverage as possible.
Constellation Networks promise to educate you every step of the way and keep you informed on your shipment and check in on your installation. They offer 24/7 customer support to assist with any technical issue and sound very pleasant and helpful. Go to their web site using the link below for more information and contact details. Call them or email your details and request a quotation for your particular satellite network application.
Go to www.constellationetcorp.com web site for more information.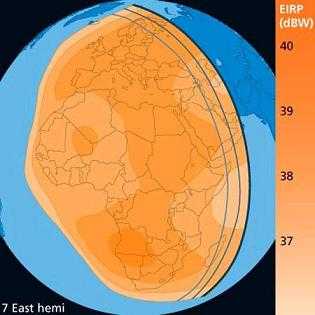 North Africa, West Africa, Mid Africa and South Africa satellite map using NSS-7 East hemi beam.
Operation on NSS7 is Global beam, East hemi to east hemi and Southeast zone to north east zone.
C band frequencies (4 and 6 GHz) with circular polarisation are ideal for tropical areas where rain fading and ionospheric Faraday rotation can cause outages for other services using Ku band or linear polarisation. An added advantage is that there is no polarisation angle to adjust. The disadvantage is a larger dish than for Ku.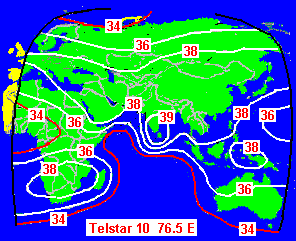 Wide C band satellite coverage from 76.5 deg east longitude.

High power Ku spot beam (small dish service) for South Africa and North Africa coast. T-12
We are on the European beam with that ability to expand to the Pan Am beam and South African beam.

The content and images on this satellite networks page are partly based on information provided by Constellation Networks Corporation and are reproduced with their permission. The images of the dish construction and installations were provided by photographer Dick Elleray, to whom many thanks. The images are copyright AfriConnect © 2004 All rights reserved.
Page - Started 10 Nov 2004, last amended 11 May 2015