El Molino Systems S.L. Broadband Internet & Phone as was provided in Spain, France, Italy, Greece and the Middle East.
This page was originally about El Molino. I've been told that the activities of El Molino were taken over by Broadband Algarve. Broadband Algarve was then taken over by "Simply Algarve" and then by "Europasat". Europasat" was most recently taken over by BigBlu, Portugal.
So, if you want satellite broadband service now, and are located in any of the following countries: United Kingdom, Ireland, France, Spain, Germany, Portugal, Italy, Norway, Sweden, Hungary, Poland and Greece, all served by BigBlu, then go here: Web sites: Portugese BigBlu, Portugal English Big Blu UK
Legacy information:
In recent years, satellite communication technology has been used increasingly as a way to connect to the Internet. This can be very useful for users who are located in very remote areas and cannot access a landline broadband or a wireless connection.
Two-way satellite Internet service sends data from remote sites via satellite to a hub, which then sends the data to the Internet.
Satellite systems can be used almost anywhere and we offer the widest coverage of any Satellite Broadband service available. Satellite service can be used not only where ADSL is unavailable, but even where telephone lines can't reach!
Beside surfing the web and using email you can use your Satellite system to make and receive phone calls. You can call normal landline and mobile phone numbers all over the world and you can have your own phone number.
El Molino Systems S.L. has been successfully providing and installing satellite systems since 2004 to Home users, Large and small Enterprises, Military and Offshore the last few years - in Africa, Middle East and Europe: this includes war zones, remote jungle locations and idyllic holiday resorts.
Wide experience in the satellite market means they are able to undertake projects regardless of the size and location with the utmost confidence, resulting in an appropriate solution for every customer.
Sales offices were in London and near Barcelona/Girona in Spain.
Their website was www.europe-satellite.com
They supplied me with plenty of images of their installed satellite broadband antennas - see them on this page and many more in the satsig forum section that deals with images of satellite dish installations.
---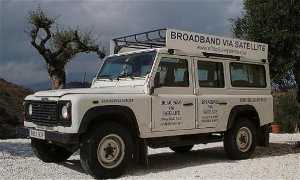 "Broadband via satellite" service vehicle.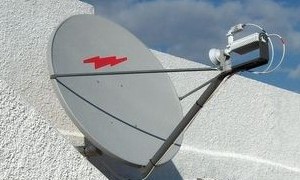 Valencia, Spain, VSAT installation.