GTSC (Global Telecom Services Company) is a company providing world-class Communication Networking Satellite-Related Services, Internet Access Solutions and Satellite Media Broadcasting.
They have their own International Team of experienced high calibre Engineers and Technicians.
They are are exclusive Partners for state-of-the-art Communications and IT Platform Vendors from various top-notch firms around the world. They own and operate their own hubs located at teleports around the world in order to cover the regions of business.
They offer a wide range of corporate services that can accommodate all customers no matter how big or small their Business requirements are.
Current customers, large Corporations, Educational Institutes, Hotels, residential compounds and end users.
They have been in this business since 1990, and now we cover Middle East, the GCC, and Africa & Europe by utilizing various Satellite footprints.

GTSC offers services directed towards all types of Internet users from end-users to ISP's and Telco's Throughout the various coverage areas of the Satellites. Current Services include LinkStar VSAT services, SCPC links, Carrier Services and DVB Services over various satellites. The goal is to provide fully managed IP services to customers and the most robust, reliable and fully comprehensive managed Internet backbone service.

Their plan is to bring highly reliable and robust services from USA and Europe to the Middle East, GCC and North Africa in one step. With the growth of the Internet and other value-added services Satellite communications become the ideal delivery platform.

GTSC provides the satellite capacity, terrestrial services and remote station management. This makes us a full end-to-end network service provider for many broadband applications, delivering services to almost any industry.

GTSC is an associate member of the Global VSAT Forum. The Global VSAT Forum is an association of key companies involved in the business of delivering advanced digital fixed Satellite systems and services to consumers, and commercial and government enterprises worldwide.

GTSC SERVICES:

LinkStar services
iDirect services
SCPC/SCPC services
SCPC/DVB services
Point to Point services
Point to Multi point services
VOIP services

If you need any further information please do not hesitate to contact:
Contact now: E-mail: info@gtsc.ae
Phone: +971 4 299 0029

Head Office : Global Telecom Service Co. Dubai Airport Free Zone East Wing-3 Office #323 Dubai UAE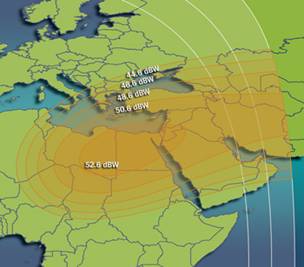 The above satellite beam coverage map is for the INTELSAT 901 satellite, located at 18 West orbit longitude.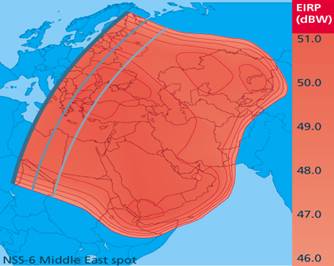 Newskies NSS6 Middle east coverage (Ku band).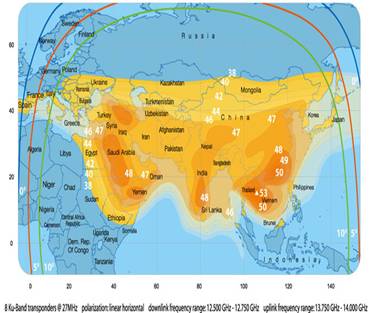 ABS Ku band coverage of Middle East, India and Asia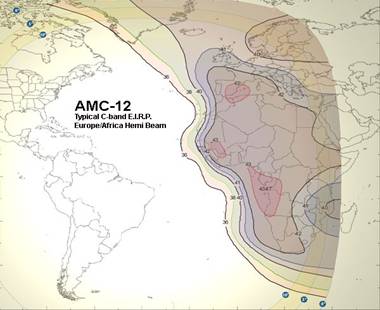 C band coverage of Africa using AMC-12 satellite at 27.5 deg West.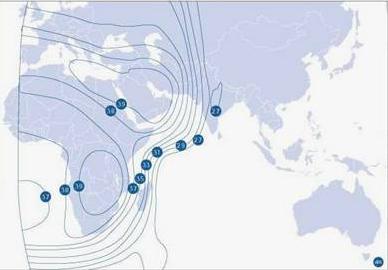 C band coverage of Africa and the Middle East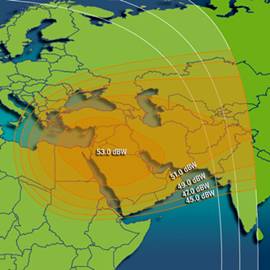 The above satellite beam coverage map is for the INTELSAT 10-02 satellite, located at 1 West longitude. This is a high power and high sensitivity Ku band spot beam ideal for VSAT services.
Operation is recommended to the left (i.e. to the west) of the 10 deg elevation contour line. The 10,5 and zero elevation angle contours are shown.