ICCES have available space segment on SES 4 and service with iDirect technology (Infiniti & Evolution).
ICESS and Satway are offering two-way service throughout the Dubai, Saudi Arabia and Middle East area using several satellites and technology solutions from different providers and hub stations. ICCES has 15 years experience in Global Telecommunications with Satellite, Cellular and fixed wireless network communications.
Tell them your location and describe what you want to do and they will be able to help you find an appropriate solution - ranging from a single PC home user to ISP and large multinational business with many sites and large numbers of PCs and VoIP telephones at each site.
Services include SCPC (Single Channel per Carrier) for dedicated continuous information rate (CIR) capacity - suitable for high quality VoIP phone services, internet cafe and business applications. Lower cost shared services, (typically DVB-RCS, are possible and suited to intermittent use for web browsing and emails but with risk of congestion during peak times. VSAT based services are attractive where terrestrial cable modem or ADSL services based on fixed phone lines are unavailable or uneconomic to provide.

A VSAT terminal consists of an outdoor dish with small transmit and receive modules, plus an indoor satellite modem (iDirect Evolution X3 shown here as an example). Here you connect up your PC or LAN using simple ethernet cable. One dish may be shared by many PCs in the local area, using ethernet or wireless connections, thus sharing one dish and the cost of the satellite link
VSAT networks normally involve a large hub earth station, 6m - 13m diameter, where the customers communications connect to the terrestrial internet backbone. If you need direct linking from one VSAT direct to another VSAT please ask. It is possible, but dish sizes will normally have to be larger. Also, if you want a substantial amount of traffic (1 Mbit/s or more in dedicated SCPC mode from point to point ) then you may achieve big cost saving if you use larger dishes.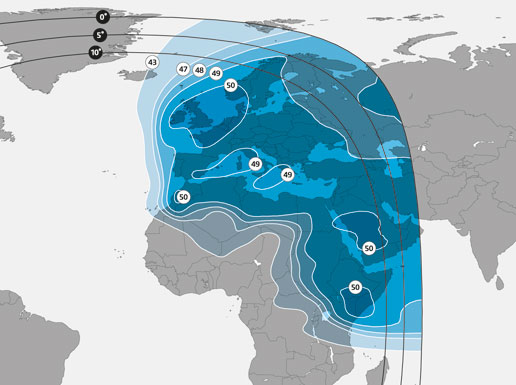 SES4 Ku band beam coverage: Europe, North Africa, Middle East, North East Africa.
Satellite orbit location 338deg E (22 deg West)
Serving all of Middle East and North Africa within the following satellite beam coverage areas:
| | |
| --- | --- |
| Eutelsat W1 | Express AM22 |
| Europestar | New Skies NSS-6 |
| New Skies NSS-7 | Hellasat-2 |
For more details please go to the ICCES web site.

CONTACT DETAILS: ICCES- DUBAI, PO Box 51146 Dubai UAE

Email: inquiry@icces.com

Web sites: http://icces.com