| | | |
| --- | --- | --- |
| satsig home page | | |
News from SatLink
Israel satellite teleport and MTVS media playout server company
Two Israeli companies, SatLink and MTVS have announced today ( 15th June 2006 ) that they are joining in collaboration to mutually benefit and expand their satellite communications and media playout service capabilities.
SatLink is the leading satellite communications Teleport operator in Israel. SatLink's Chief Executive Office David Hochner is reported to have said: "This is an exciting time for SatLink. SatLink is about listening to our clients and finding the right solution for them all the way. More and more clients indicated the need for high end sophisticated play out solutions and we identified MTVS as the most adequate partner to offer the quality of service both companies have been known for. " SatLink's clients include Reuters, APTN, RAI, TVE, RTPI, Eurosport news, Vision 2, Ellacom, Globecast, Israel Plus, RTR Planeta and the EBU. They operate satellite communications via the Asiasat.
MTVS are a broadcast playout company based with the largest multi-server storage capacity in Israel and offers both tape and tapeless broadcast and archiving options. Programme broadcasters include: National Geographic, ESPN, Viva, Jetix, Hop, Life Style channel, BIP, Children channel 6, Documentary channel 8 and Israeli Music channel 24. Yossi Strugo, the Chief Executive Officer of MTVS, said "MTVS is proud to be a partner in this cooperation , we feel by combining forces together we will be the best solution to broadcasters who want end to end solutions to cover the globe.

Together the two companies with their differing skills come together to serve the media industry with the technical play out, broadcast and distribution services they require. MTVS and SatLink have installed fibre optic connectivity between their facilities allowing two way content delivery. MTVS will now locate its transmission, fibre and satellite gateway at SatLink's premises, while SatLink will co-locate its play out facilities at the heart of Israel's broadcasting district in Habarzel Street, Tel Aviv.
SatLink's clients will now have access to MTVS's recently launched new system based on Harris D series automation and Masstech digital archive for nearline storage while MTVS's clients will now have access to all of SatLink's and its shareholder Globecast global satellite and fibre solutions for worldwide distribution.
SatLink Communications Increases European Presence with New Eutelsat W2 Full Power MCPC Platform
Jerusalem, Israel. – February 04, 2008 – SatLink Communications Ltd., the fastest growing teleport in 2007 according to The World Teleport Association, announced today the launch of its new MCPC (Multi Channel Per Carrier) platform on Eutelsat's W2 satellite. With uplinks to the full transponder platform directly from SatLink's Middle East teleport, channels from around the globe are now able to reach the satellite's key regions over Europe, North Africa and the Middle East via SatLink's global fibre network or turnaround utilizing one of the teleport's more than 70 antennae. W2 offers channels a particularly comprehensive Balkan channel environment and penetration.
"We offer our clients a complete global content distribution solution and the addition of W2 to our platform capacity augments our existing European penetration. Reaching both cable-operators and end-users, W2 places our clients in an established channel environment," commented David Hochner, CEO of SatLink Communications.
Located at 16 degrees East, W2's Ku-band widebeam offers enhanced capability for television and multimedia broadcasting. W2 is the prime solution for the Balkan region and provides coverage spanning Europe, North Africa and the Middle East. It is one of the most popular satellites in the region for reaching cable operators, with leading channels leveraging its broadcast capabilities.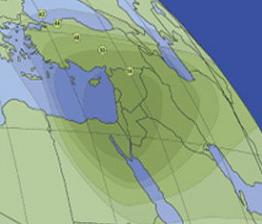 About Satlink Communications Ltd
SatLink is recognized as a pioneer in global satellite communications services.
It is a leading provider of transmission solutions for Global Content Distribution over Satellite Platforms, Fiber and IP. SatLink's services include Uplink, Downlink and Turn Around, Channel Management, Production, SNG & Fly Away, Hub Hosting, Video Monitoring, IPTV and TT&C.
Strategically located in the heart of the Middle East, SatLink provides access to a worldwide network covering five continents and has been providing its clients with flexible and cost-effective transmission solutions for close to two decades. SatLink operates a range of premier MCPC platforms including HotBird 8, AsiaSat 2, Eutelsat W2, Eurobird 9, Hellas Sat, NSS 6, AMOS and more.
For more information contact:
Mrs. Yael Shamos
VP Marketing & Sales
Tel: +972 2 534 9086
E-mail: yael@satlink.tv
or visit their website at www.SatLink.tv
The information on this page is for information only and is based on a press release from SatLink/MTVS and is not a paid-for advertisement.
► Page created 15th June 2006, amended 6 October 2016 Eric Johnston
All pages on this satsig.net web site are Copyright Satellite Signals Limited © 2005 all rights reserved.