Home > Miscellaneous > Sailing > Clipper 2015-2016 Virtual race index > Londonderry to Den Helder - leg 13
Clipper Round the World Sailing Race : leg 13: Londonderry to Holland: 4 days in July 2016
If you want to join the next real race starting in summer 2017 go to http://clipperroundtheworld.com/apply.
Meanwhile watch a video below based on the previous leg 12 New York to Londonderry.
https://www.youtube.com/watch?v=VKP5Fn4B6FI
Race 13 is due to start on 17th July 2016, Sunday lunchtime at 1pm BST from Londonderrry in Northern Ireland to Den Helder in the Netherlands. The route is round the north of Scotland passing a mark strangely inland at Gualin House, south of Cape Wrath, to starboard. Basically it means you must go round north of Scotland instead of via the English Channel.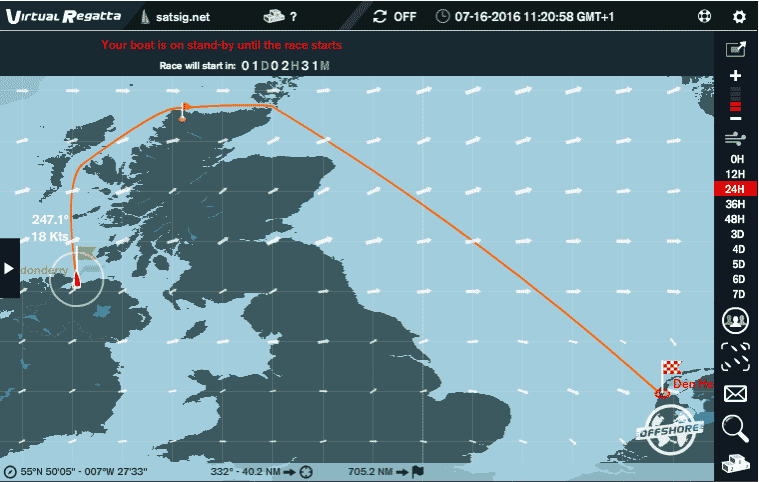 This chart above shows the route. Distance is 705 miles. I am looking at this now on Saturday. Weather forecast for tomorrow lunchtime is shown. It looks like the wind at the start will be approx from the south west, so it is likely to be use of a gennaker sail soon after the start. I think there may be a time delay saying that you are not allowed to use the gennaker until something like 10 or 15 minutes after the start. There are two type of gennaker available light and heavy. The transition is at about 19kts wind speed. Wind speed forecast is 18-19kts.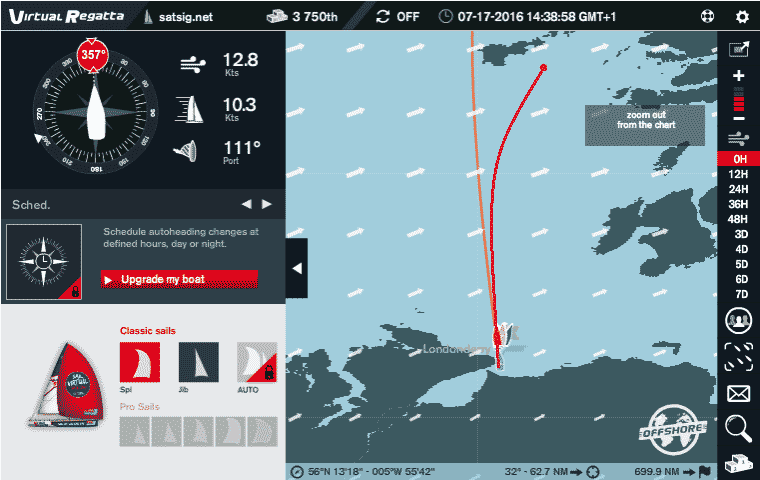 17th July 13:40. Just 38 minutes after the start. I set off on heading 357 deg (111 Wind Angle) and after 10 minutes was down in 3765th place !. A further 20 minutes and down a further 100 places. Then I turned right 1 deg to heading 359 deg and gained some 120 places. I'm aiming to keep to approx 111-113 wind angle for next 3 hours, then to 120 wind angle in the stronger winds later. At 7pm I hope to be where the red blob is located ready for the winds to change so they are from further south. I'm hoping that with faster sailing later I will make up for the slower speeds now. About 7050 boats in this race.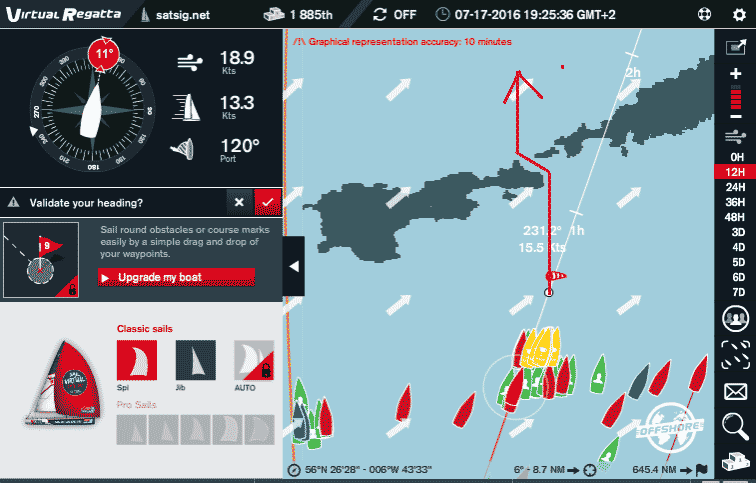 17th July 2016. 6:25pm I've gained 1865 places this afternoon. At the wind change at 7pm I intend to turn due north and then zig-zag through the narrow gap. This is difficult due to the 10 minute game increments. At 11.7kt the boat goes 2 miles per 10 minutes and the gap between the Scottish islands of Tiree and Coll is only 1.3 miles wide. The problem is to turn left after the corner and before running aground straight ahead...I managed it Ok with some unusual 300 places gained and then lost again in next 10 minutes.
18th Jul7 03:14am. Using SAMSUNG galaxy S3 screen. Passing to the north of the island of Skye and south of the Shiant Islands, where I had a happy few weeks holiday.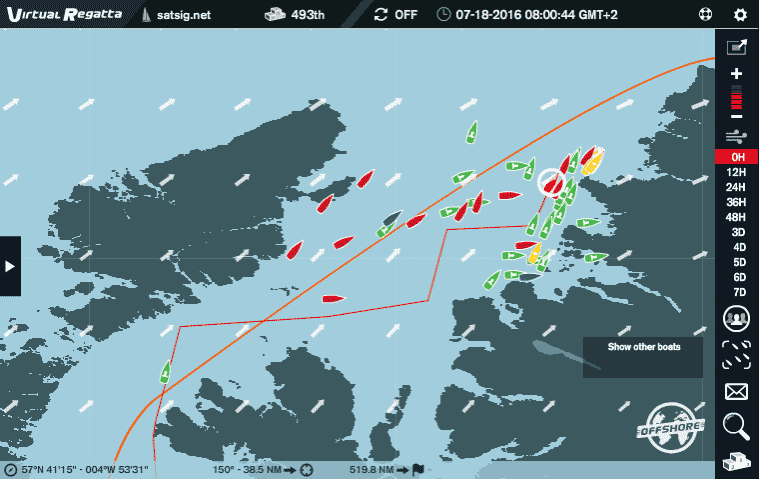 18th July 2016, 07:01am. During the night I gybed several times, without much analysis as I could not see the wind strength or direction with any accuracy, generally keeping to about 143 deg wind angle. By this morning I had somehow gained 1392 places. The boats trying to get via Kyle of Lochalsh seem to have disappeared. Maybe the road bridge there is too low to get under ?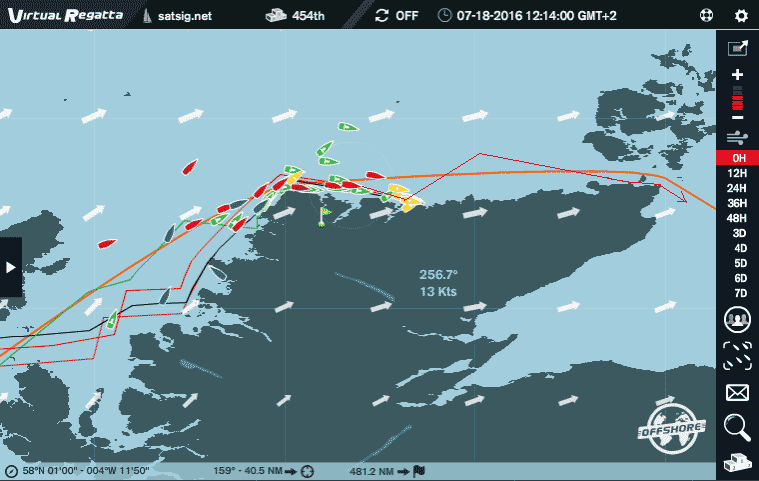 18 July 2016, 11:14am. Now past Durness (see image below) and the GPS still working. GPS use was made impossible for while in this area to give some military training exercise some realism. I've marked my intended approx route in thin red line. The RAF tend to drop bombs on a rock off the headland.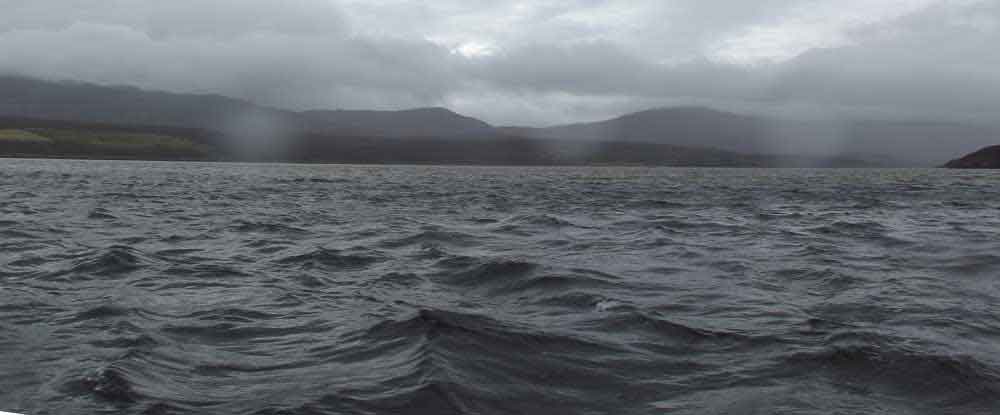 The daytime view of Durness, Cape Wrath, Scotland.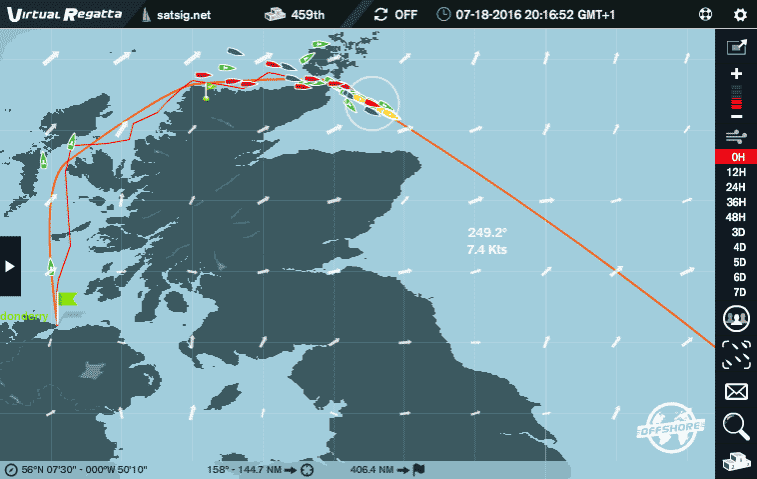 18th July 2016, 1916. I'm now round John o'Groats via a tricky narrow passage and in an amazing 459th position. I expect to be overtake by a number of higher speed pro boats over next 2 days.
---
---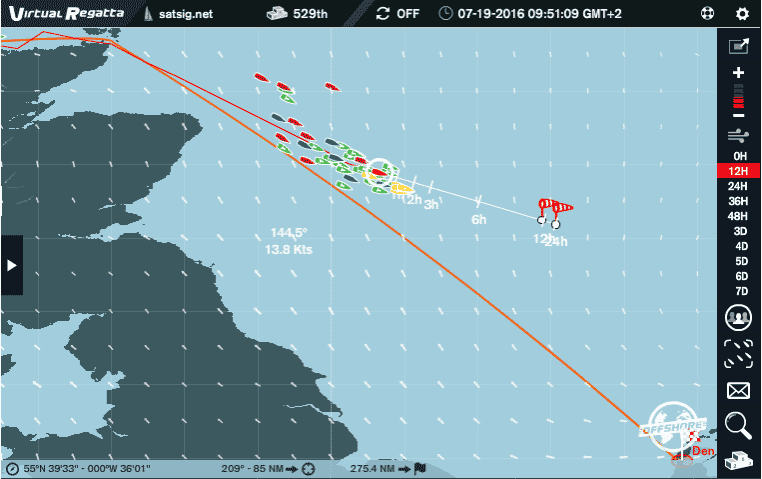 19th July 2016: 0851. Sunny morning doing the best in light winds to go to windward.


Nice view today. You just have to imaging the dozen or so other boats nearby.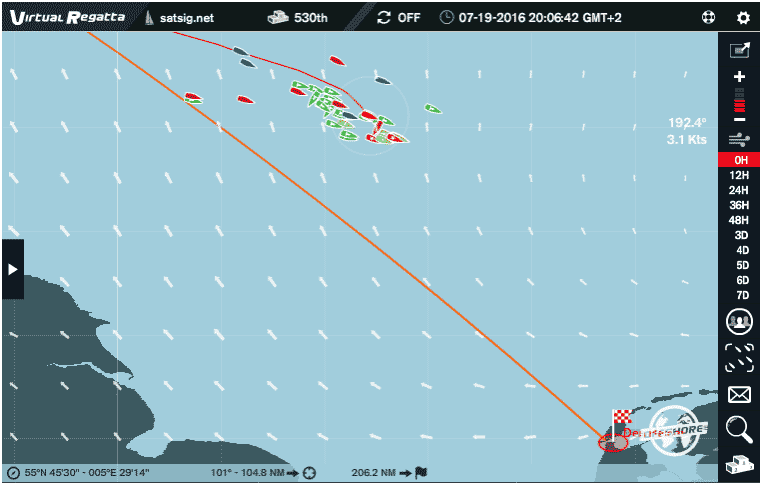 19th July 2016: 1906. Some people think it a good idea to tack. I'm just carrying on till 7am.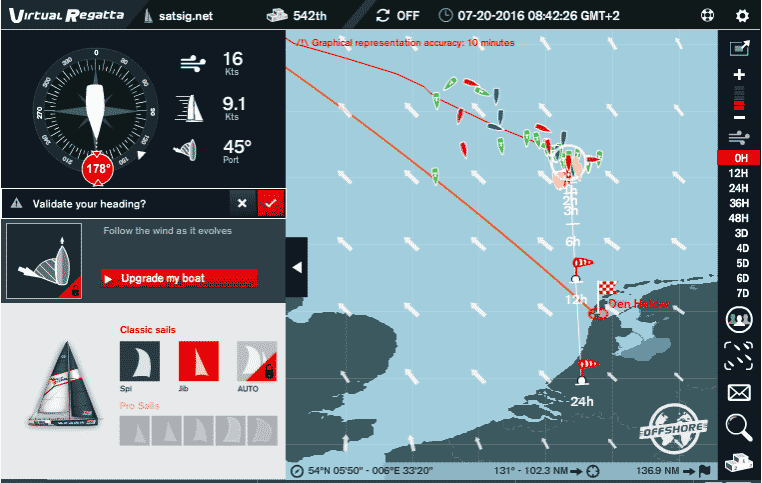 20th July 2016, 0742. The wind has picked up a bit and I'm now on starboard tack and heading, south close hauled. Quite pleased with speed of just over 9kt which is about as fast as the boat will go to windward.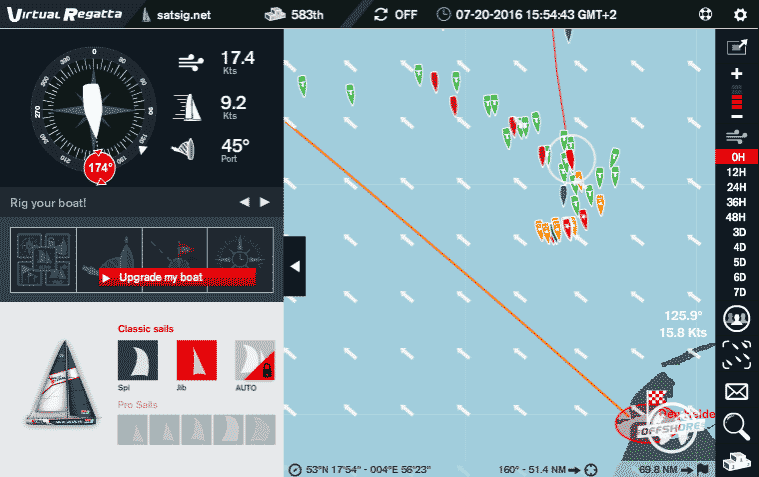 20th July 2016, 1454. Getting nearer, just 51 nautical miles to go...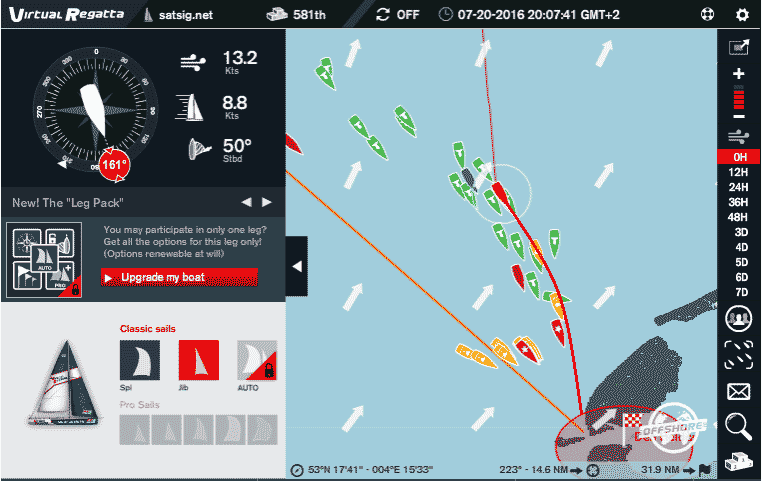 20th July 2016, 1907. Wind has completely changed, so had to tack. Though I would try something clever and keep adjusting the heading every 10 minutes to keep to close to 50 deg wind angle It is strange but boat speed is lower between 51 and 79 deg, with a peaks at 50 deg.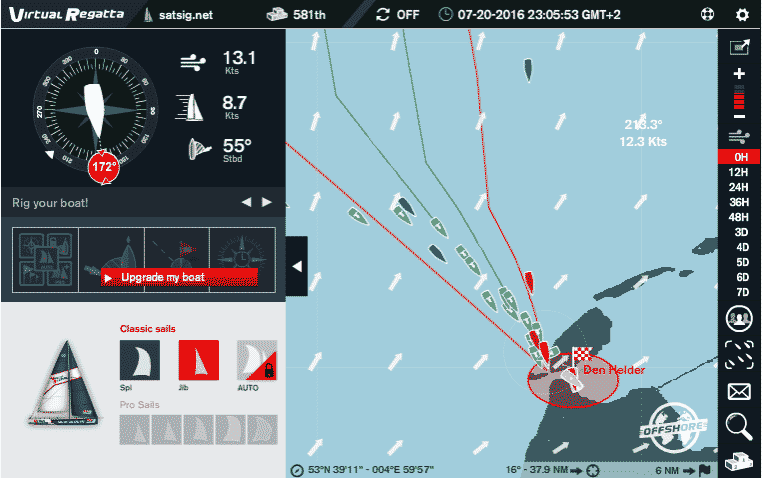 No effect - same position as before ! Finally finished at 10 pm, just after watching a TV programme about RNLI, fortunately not needed for my boat on this leg. Just about dark..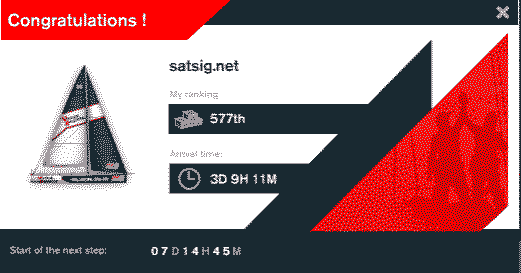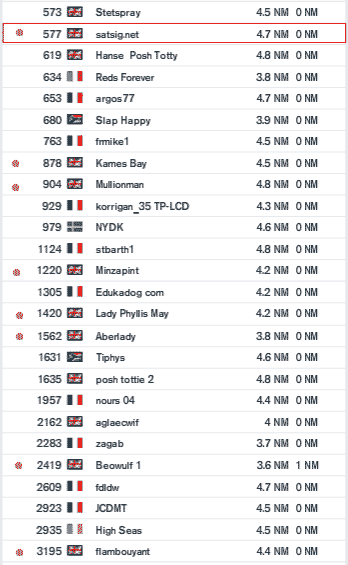 Well done everyone!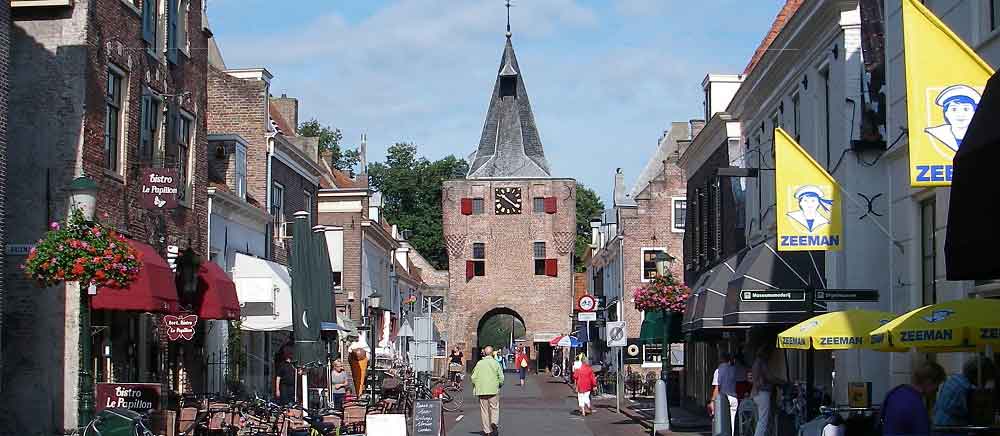 On dry land at last and time for some sightseeing : Holland street view
---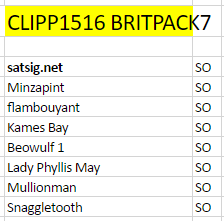 Our team for this race. Note that Aberlady competed in earlier races in the series.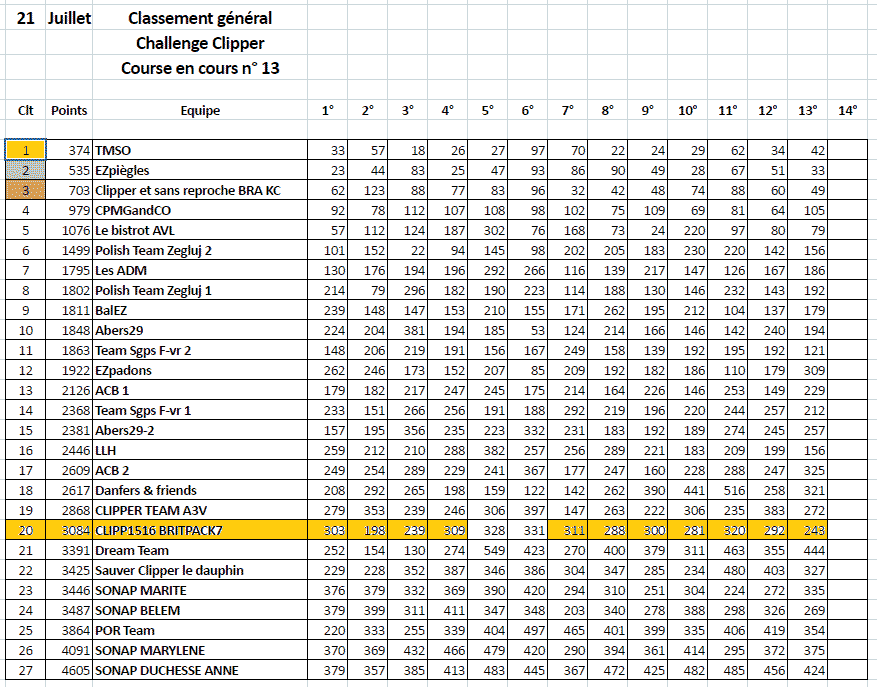 Team results. In each race the best 5 boats count. In the overall results the two worst results are discarded.
---
Next and final race (#14) from Den Helder to London. Start: Thursday 28th July 1pm BST. (subject to change)
For the real race, see the Clipper web site: https://www.clipperroundtheworld.com/events-calendar
The real race is expected to end Saturday 30th July, between 0001 and 0400 BST at the finish line off Southend pier.
Program for end of race events:
SATURDAY 30 JULY, 1100-1800
LONDON, ST KATHARINE DOCKS
FREE FAMILY EVENT
The fleet will finish the race off Southend Pier, Southend that morning between 0000 and 0400.
0719 - Fleet arrives at the QE2 Bridge at Dartford
0848 - Thames Barrier
0901 - Fleet passes the Millennium Dome
0912 - Fleet passes Greenwich Observatory
0930 - Fleet passes Canary Wharf Pier
0945 - Fleet Arrives at Tower Bridge
1000 - Tower Bridge lifts for fleet to pass in Parade of Sail
1030 - Fleet enters St Katharine Docks after second parade of sail under Tower Bridge
1300 - Prize giving begins on stage in St Katharine Docks Marina
---
If you want to add comment or images here please send to me by email: eric@satsig.net
---
Page created 15 July 2016, amended 8 June 2021 ECJ (c) 2016 Copyright Satellite Signals Limited, All rights reserved.>/p?