Home > Miscellaneous > Sailing > Clipper 2015-2016 Virtual race index > Clipper 1516 race Da Nang to Qingdao - leg 8
Clipper 1516: Da Nang to Qingdao, China: Leg 8
This page refers to the Virtual Clipper round the world sailing race game and is the log of the BRITPACK 7 team.
The start was 08:00 GMT Saturday 27th February Jan 2016.
To join this race game go to Virtual Regatta (external link) and invent your boat. Its free of charge for a boat with basic sails and manual steering. You can pay for options: faster pro sails, a route waypoints programming capability and automatic locking of the wind angle. Boats with options are called AO (avec options). Boats without options are called SO (sans options). In the team competition the scores for SO and AO boats are adjusted to compensate for the difference. Obviously, in the main individual boats race, an AO boat does better and has more chance of winning a prize. The number of competitors is now over 43616. The number of boats with options in this 8th leg is about 900.
Our Britpack 7 team comprises 8 boats, the first 5 of which score in each race. We need more boats volunteered on standby, in case someone wants a rest, drops out or does not start. Email me eric@satsig.net
Our team for this leg comprises:
Snaggletooth
Mullionman
Beowulf 1
Minzpint
Kames Bay
satsig.net
Lady Phyllis May
Flambouyant
Meanwhile watch a video below showing Clipper 70's starting from Hobart in the previous leg.
https://www.youtube.com/watch?v=08-Wv80Zdw0
If anyone wants a rest please tell me. If anyone wants to join the team please tell me.
Day 1: Sat 27th Feb 2016. 8am GMT start.
As usual there are a variety of heading angles chosen after the start. Looking at the wind forecast for next few days it is clear that going to windward will solve the problem a lot, so logic would tell me that you set off with 42 or 44 or 45 deg wind angle (with the exact angle selected from the polars) and stay there, tacking occasionally. From experience in previous races it is clear that the winners are those who use 50 deg wind angle for part of the time and close hauled for the remainder of the time. They reach the destination quicker. I'm not quite sure why. Maybe they move more quickly through the areas of lighter winds and then go close hauled in the stronger winds and benefit that way. Anyway I have started with a 51 deg angle and will allow it to drift down to about 45 as the wind changes since I can't trim it every half hour as I am out leafletting this morning.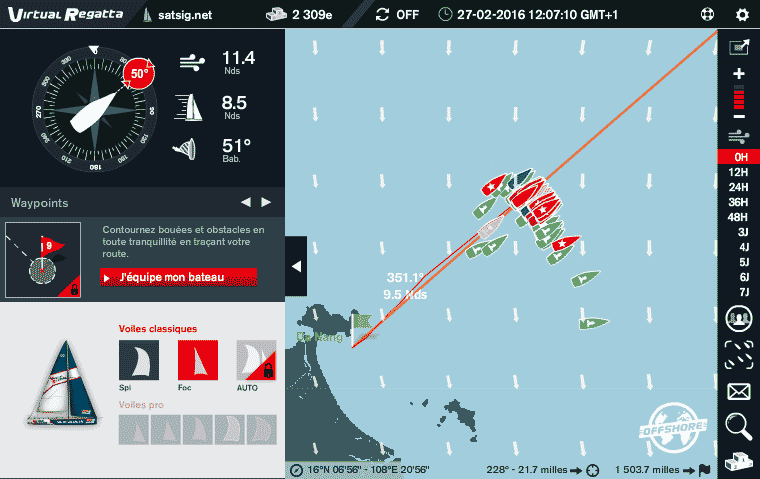 11am A few hours after the start.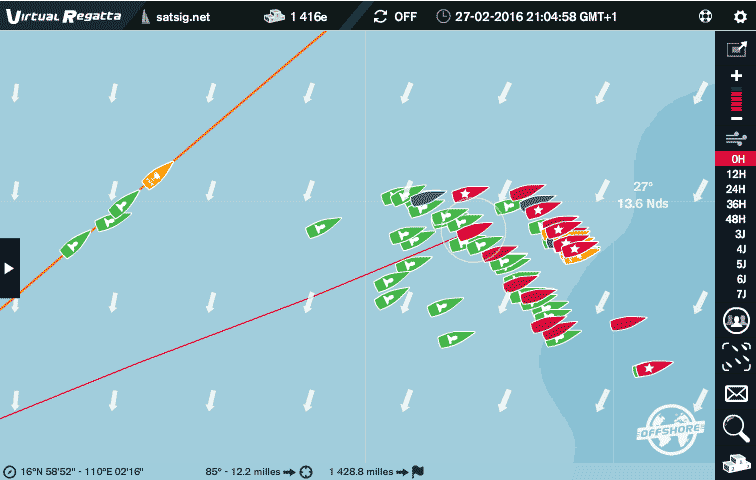 2006pm 27th Feb. After 12 hours the fleet is clearly split into two groups. The boats with the faster sails are about 4.4 miles ahead.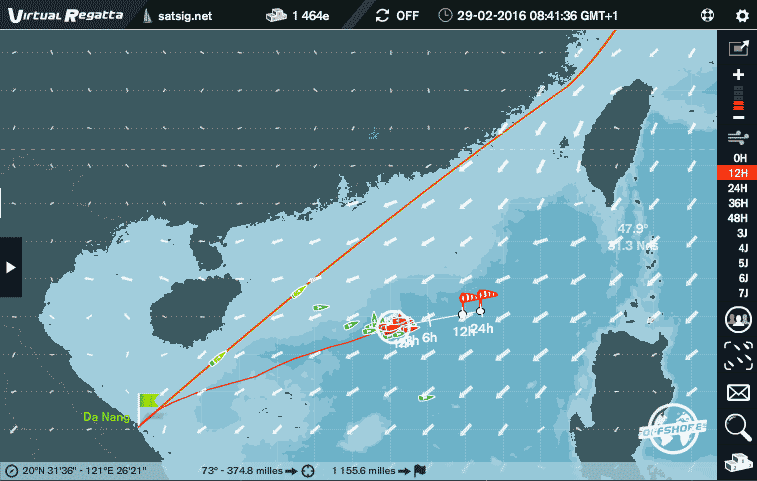 29th Feb 7:41am. A few boats have tacked and turned north. I'm continuing east for a further 12 hours as the wind direction is expected to change so it is coming from the east, which to my mind makes it a good time to tack. Yesterday the wind was light and the preferred wind angle about 45 - 50 deg. There was a tendency to 50 deg perhaps because the wind was stronger to the south and there seemed benefit in staying in the stronger winds. Today it is stronger so 42 deg.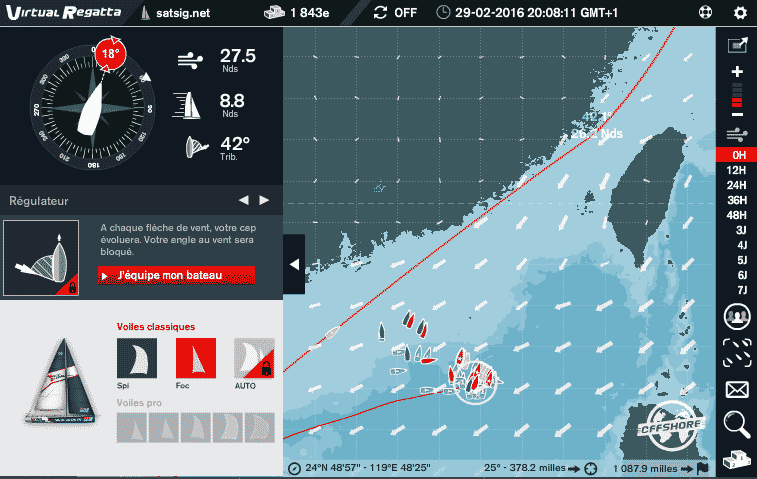 29Feb 7:10pm: Just turned north since the wind has turned well to the right. During the afternoon many have turned north earlier, not sure why. Best wind angle now with 27kt wind is 45 deg. Interestingly, above 24kt wind the boat actually goes slower to windward. Later on in the night the wind drops to 23 kt where the best angle is definitely 42 deg, so I will set 42 and keep adjusting down from time to time and the wind direction changes slightly.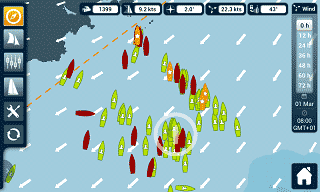 1st March 16:21 This is a screen shot using a portable WiFi device - Samsung S3. Progressing this morning steadily north, trying to not go slow by getting wind angle below 42 deg. The line of about 1000 boats with the pro sails is clearly evident. They are about 21 miles ahead. I've gained places slowly, also lost some at times and have jus improved from yesterdays 1843 to 1399 now ! You can gain 1-4 places per 10 min with exact correct angle and lose 30-40 places with one wrong move like getting too close to the wind (like wa=40) for 10 minutes.
All looking quite straightforward at the moment..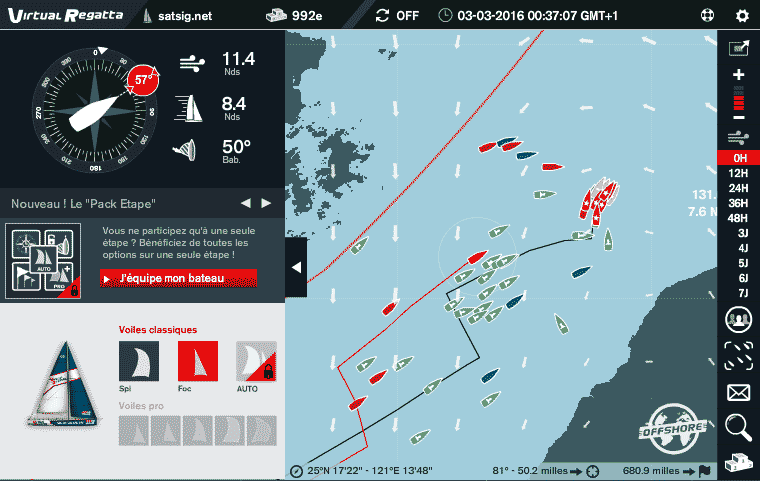 2nd March 23:37 GMT: Tricky situation tonight. I'm the red boat with the trailing red line. I need to gradually turn right every 10 minutes till about 2:30am and then tack and turn north, similar to what those lead boats are doing. This is where an auto helm would be of use, keeping the wind angle at, say, 45 deg as the wind direction evolves.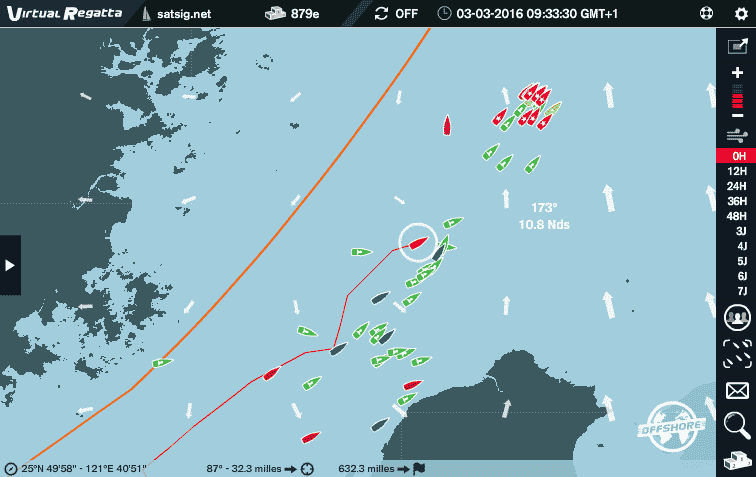 3 March 8:33am: Rather as expected I messed up and fell asleep for 30 minutes and went head to wind, (actually the wind angle dropped to around 30 deg) and I slowed dramatically and lost about 2 miles and many places. Now this morning the wind has dropped and I am not quite becalmed in 4kt wind, and will struggle for next 4 hours to get to the east into a decent following wind. I changed to spinnaker at 7am but am only making about 5 knots.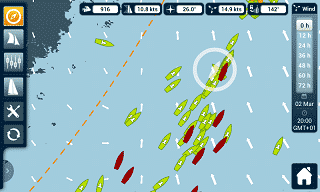 Samsung S3 screen shot. Note the barely readable small print !
During the night the leading fleet seemed to develop into a long straight line running north east, along a ridge of higher wind speed. Something odd happened at 0700 and several boats nearby appeared to turn left. Somehow I finished up going further east with a wind angle of 125 and although the boat went faster I lost places for a while. I managed to correct this when I got to a big screen desktop after breakfast and taking the dog for a walk.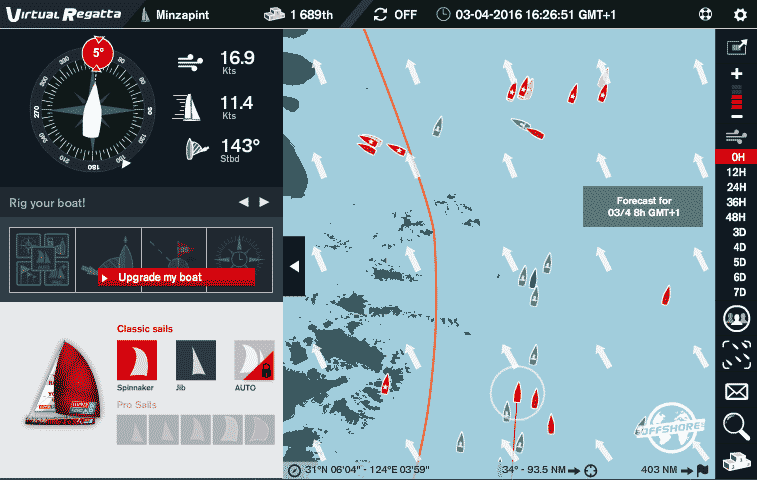 4th March: There is something unusual happening ahead amongst the pro AO (avec options) boats. Many are gybing left to the west.
This morning Minzapint, shown in red with white circle on the chart above, is setting off on real sailing trip. We all wish him well. I'm trying to help him but managed to lose him 80 places when I was out for longer than expected. I went to the doctor expecting to be back in an hour and had to go to the hospital straight afterwards. By 3:30pm I've regained 92 places so I'm +12 relative to the change over, so I must be doing something useful. We will see.
Policy for now adjust wind angle to 143 every 10 minutes. This applies to both boats. I'll maybe gybe at 6pm. leave Minzapint on NE course till there is clear route to the left, north of the islands.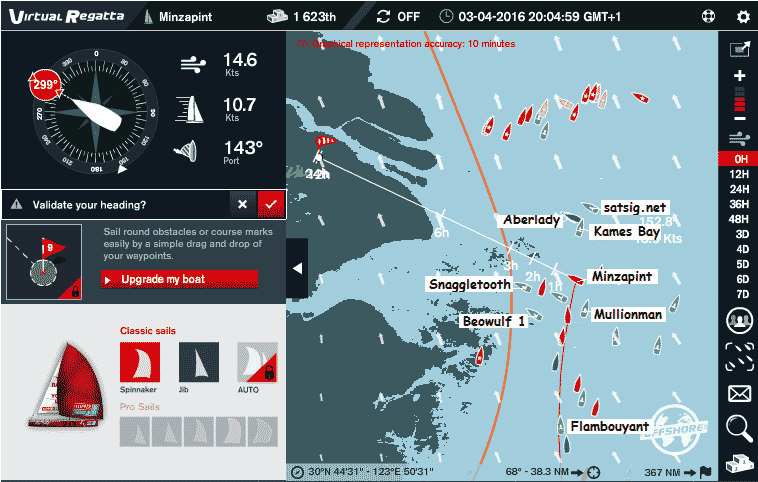 4th March 7pm. Number of competitors now over 50000. I've just set myself, satsig.net, and Minzapint to the north west. The idea is to get into stronger winds for a while before turning north east once again. Hopefully over next 3 hours we can stay on steady course as the wind angle changes from 143 to 141.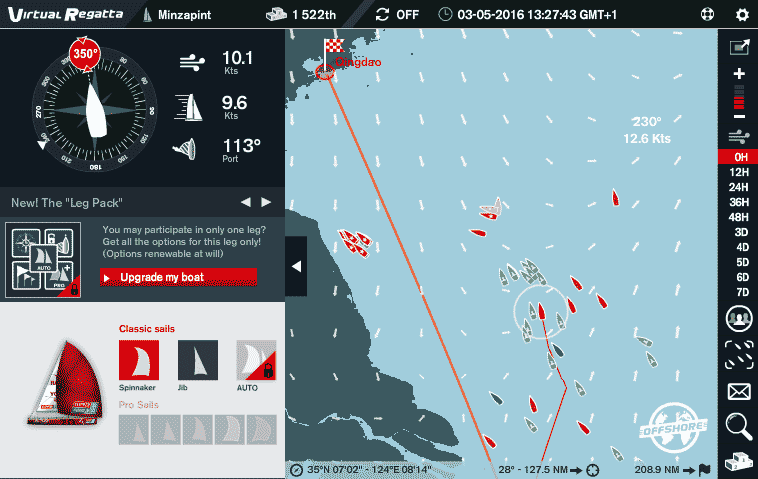 5 March 12:27 GMT Destination of Quindao, China now close on the chart with about 127 miles to go for Minzapint. Last night was fairly straightforward broad reach downwind, but today, while still downwind initially till about lunch time, it is not obvious what way to go. The problems is the circulating wind patter to the north. Do I go up the east side for best speed north, up the middle on beam reach or hack into the oncoming winds to the north west. I have decided to aim to go up the middle for as long as possible using the spinnaker (with wind angle above 107 deg) then change to jib and turn north west, trying not to get too close to the wind and slow down. i applied this plan to both Minzapint and satsig.net. Effect: little change in the positions.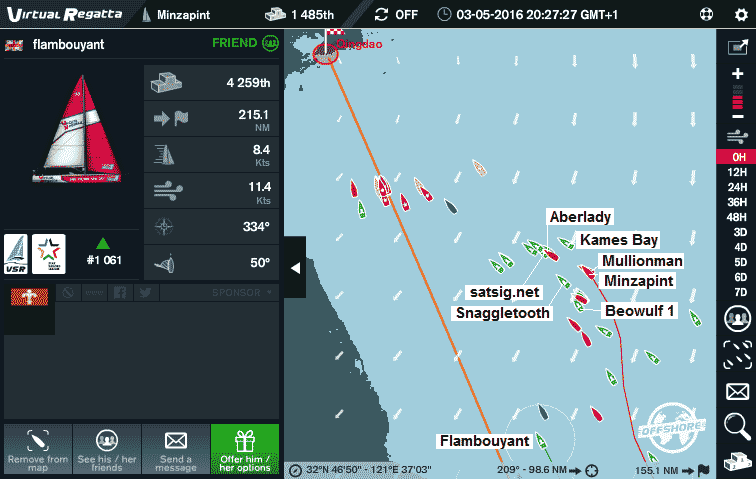 5 March 7:27pm. I'm aiming a little to the right of the direct line to the finish so as to stay in the stronger winds as long as possible.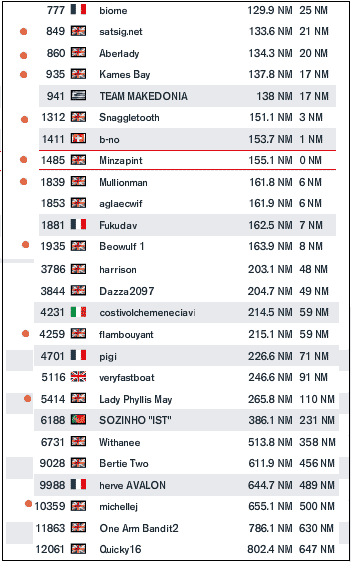 5 March 7:27pm. Positions this evening. I must say it is remarkable that three of us have managed to get into the top 1000 as there at least 900 AO boats with the faster pro sails.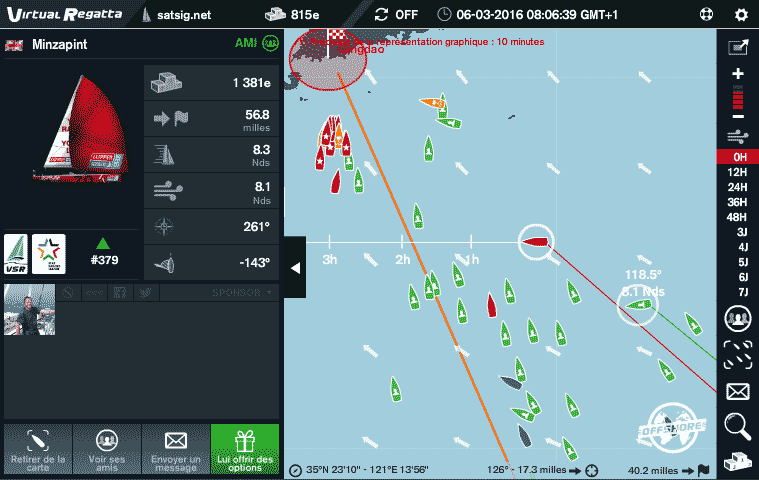 6 March 2016, Sunday morning. I'm expecting most of us to finish today, with the first to arrive about 1pm.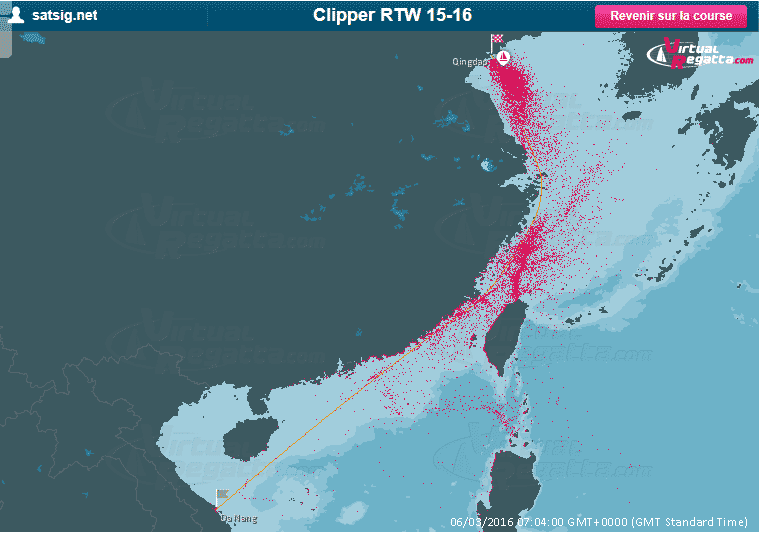 Overall view of the fleet. Of the 50000 boats registered, I think there are only about 12500 who actually participated in this race. Our team boats are all in the top red blob near Qingdao. I'm not sure quite why there is a big concentration of boats just north of Taiwan, with a gap just to the north. There are about 6000 boats to the north of the gap. maybe the ones to the south don't know how to sail to windward and have stopped. Hint to anyone reading this and who has stopped pointed in the direction you want to go: try zig-zagging at 43 deg either way. If your boat speed is 8 knots your speed made good in the direction you want to go into wind is 8 times cos (43deg) = 8 times 0.731 = 5.85 knots.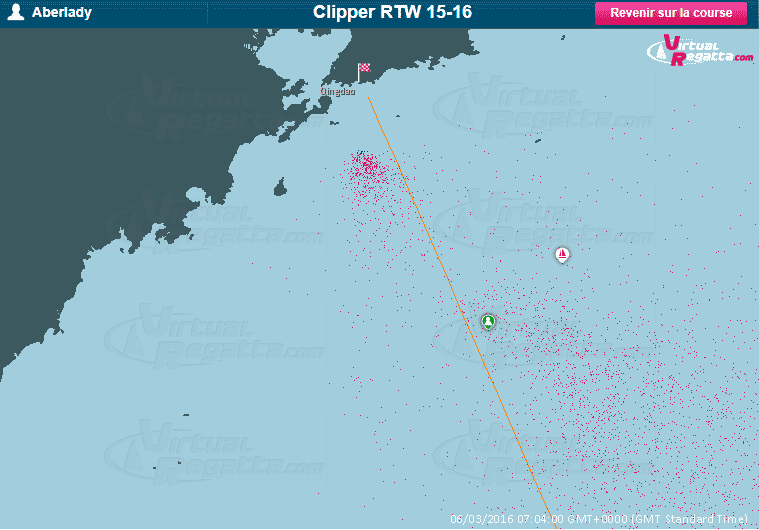 The approx 900 boats with pro sails form the upper blob nearer the finish. Us poorer sailors with standard sails form the trailing widespread mass behind. The green and red boats are in our team - not sure which is which.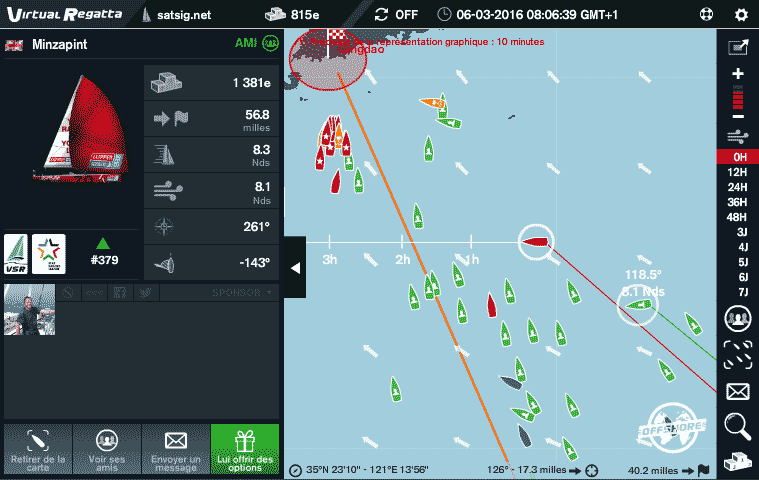 Just after 7am and now with final weather situation. Downwind to the finish. It is very tempting just to ain for the line but best results are obtained with wind angles of about 139 to 143. Different boats use different angles at different times. I am not sure why or if one angle is beer then another.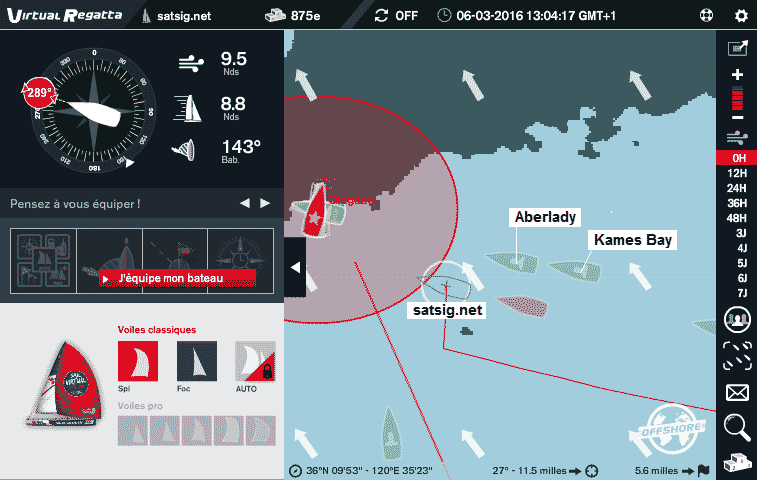 Close to finish with about 0.2 miles to go. Satsig.net followed by Aberlady and Kames Bay.
Now for the finish of Snaggletooth, Minzapint, Mullionman and Beowulf 1. Well done everyone.


A couple of the finishing certificates.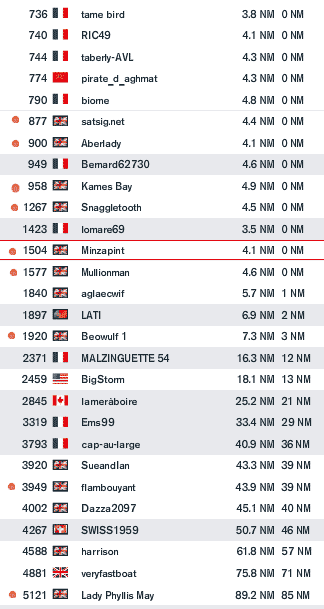 A very good results with so many of our tem in the top 2000. Well done.
I'm not sure I will be active in next race.
Next race start (provisional) Sunday 20th March from China to Seattle USA.
If you want to join the BRITPACK 7 TEAM squad (8 selected for each race) or add comment or images here please send to me by email: eric@satsig.net
---
Page amended 8 June 2021. (c) 2016 Copyright Satellite Signals Limited, All rights reserved.