Home > Miscellaneous > Sailing > Clipper 2015-2016 Virtual race index > Final race : Den Helder to London
Anyone wanting to be part of a virtual team for any virtual race please email me eric@satsig.net
Clipper Round the World Sailing : leg 14: Final race : Holland to London
If you want to join the next real race starting in summer 2017 go to https://www.clipperroundtheworld.com/apply. There are opportunities also for short sailing trips to get an idea of if you like it or not.
The final race, leg number 14, is due to start on 28th July 2016, at 1pm BST from Den Helder in the Netherlands to Southend-on-Sea, Essex, UK. Distance about 170 miles. Thence on parade to London, St. Katherines Dock via a couple of trips under Tower Bridge for fun (10am and 10:30am).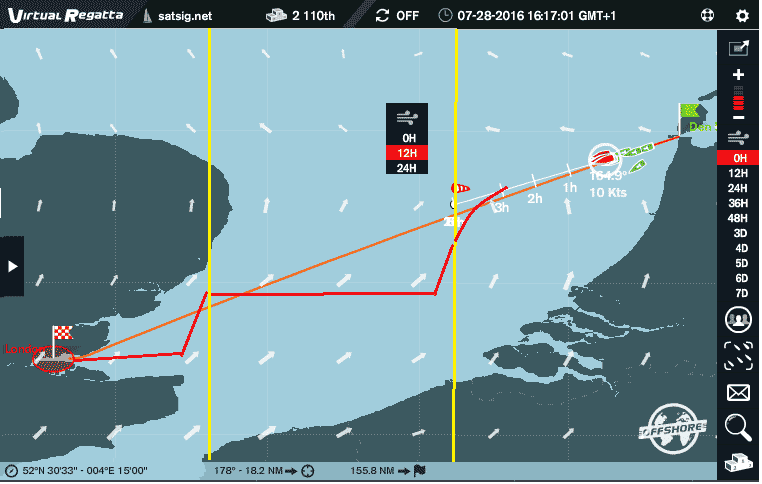 It is 3:17pm Thursday, just over 2 hours from the start. Started with spinnaker at 1pm, and 125 deg wind angle and heading of 245.
Till about 6pm I expect to stay on heading of about 244, with spinnaker till the wind angle drops to about 93 deg when it ceases to work well. Then I will change to jib and progressively turn left as shown above. The picture above shows the wind on the left half for after 7pm, though this may be a bit different in a couple of hours when the new forecast is available.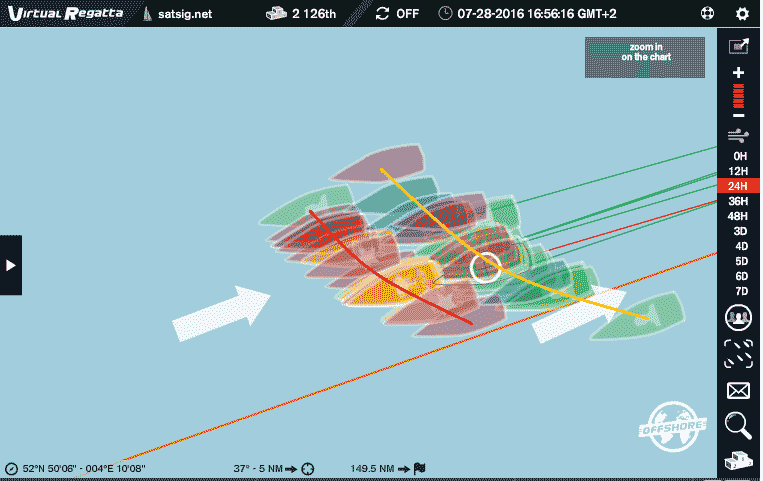 Thurs 4pm: This picture shows, along the red line, all the leading boats with PRO sails. We are all in the free Sans Options (SO) class, see the yellow line. There are about 5100 competitors in this race. Approx 283 have the PRO sails.
I'm trying to keep as far south as possible since the wind is stronger now and in the future.
Basically it is into wind for the rest of the race and by 7am tomorrow might be getting close to the Suffolk coast.
Tomorrow, from 7am, we (virtual boats) might even arrive Southend in the daylight, which would be nice. If so I guess we will have time for private party in Queensborough before doing the parade up to London all day Saturday. I'm not so sure about the real boats. Their weather changes all the time whereas ours only changes at 12 hour intervals. They left Den Helder same time as us but have already hit the headwinds which we will only see after 7pm tonight.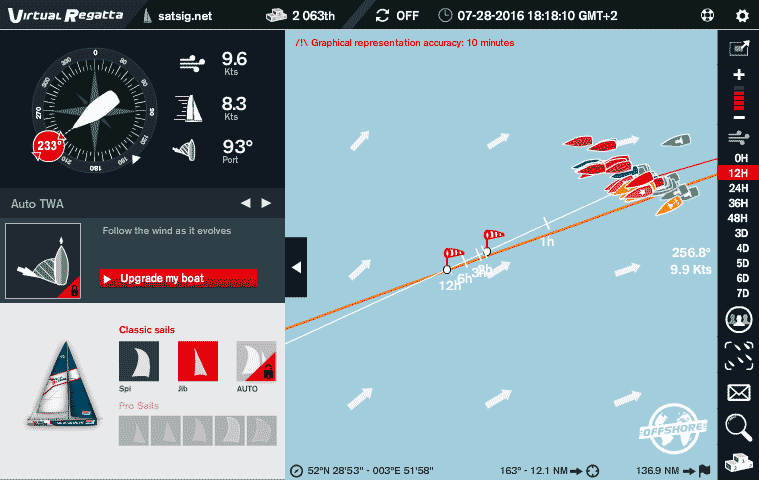 5:20pm. I've just tuned 10 deg left and changed to jib at 93 wind angle, which will decrease till 7pm. The chart shows the wind after 7pm and what I am trying to do for next 1hr 40 min, is go directly into the future wind. It may not help positions for the moment by it should give an advantage once the wind has changed. Then it will be sharp left down in SSW direction till I about about level with Rendlesham Forest, Suffolk, where a UFO was supposedly seen and the remote coastal Orford Ness site where radar experiments and developments were made between 1930 and 1973.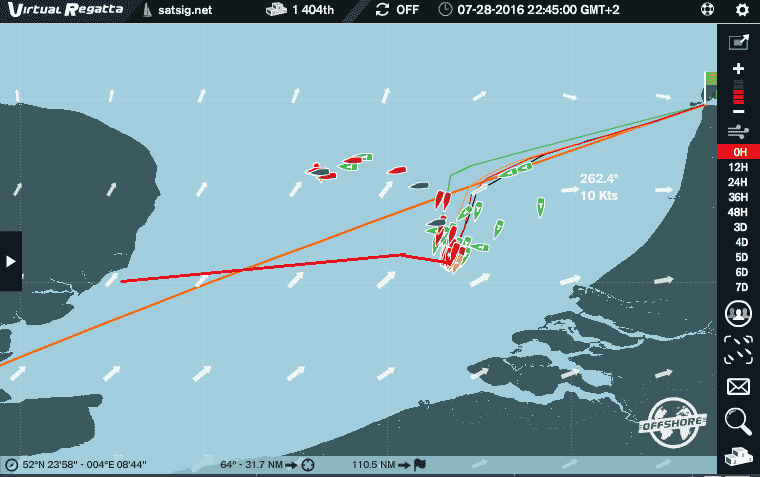 28 July. 9:45 pm: Turned south at 7pm and now about to turn west at nearly 10pm. I have the feeling that I am going sideways from the objective and that it is best turn soon.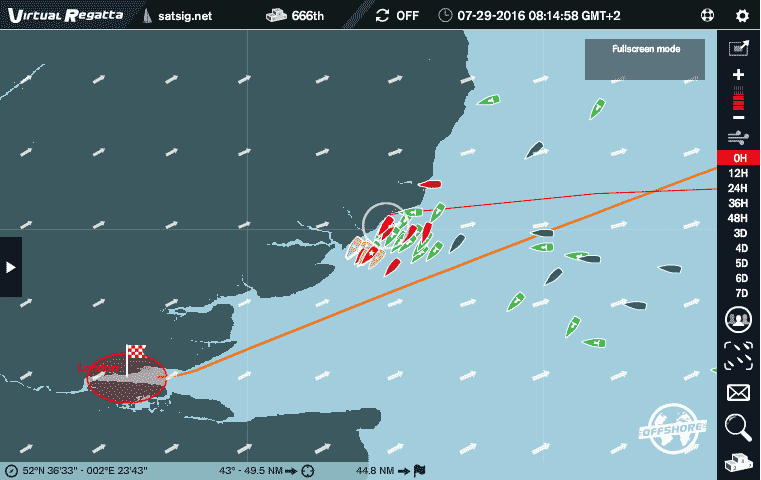 29th July. 07:14am Off the Suffolk coast.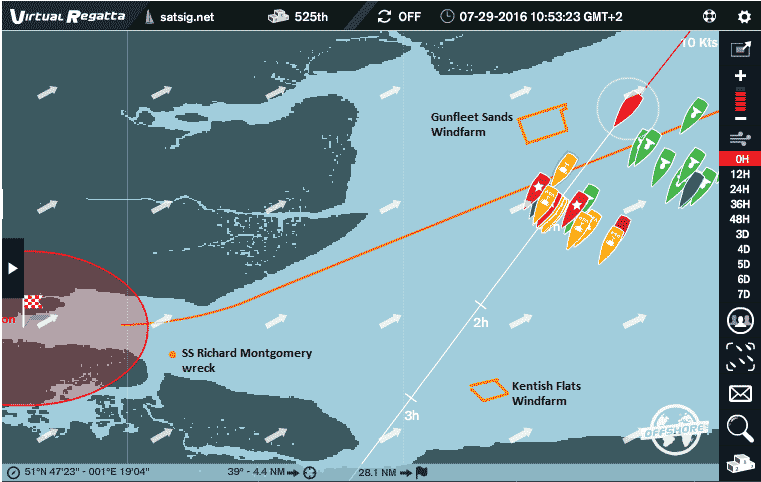 29th July. 9:53am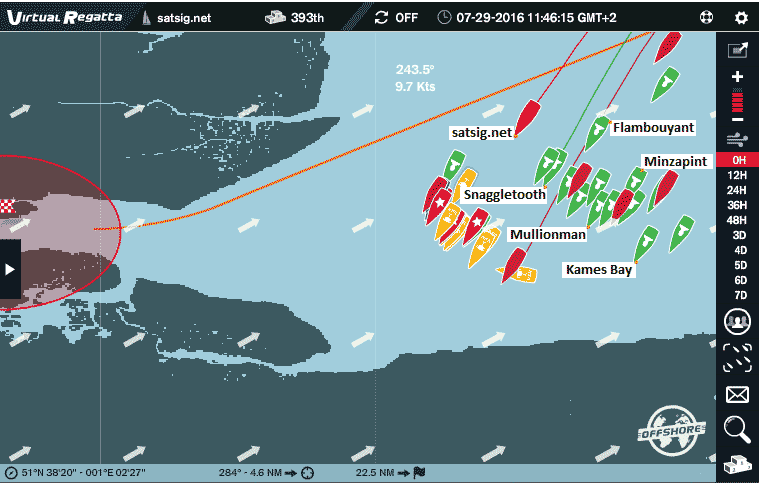 29th July. 10:45am. Keeping to 42 deg wind angle as far as possible. I'm intending to continue on this tack until I can reach the top of the finish line on the other tack at 42 deg. As it turned out due to the 10 min increments I overshot by about half a mile and ended up with 46 deg wind angle to the finish, only trimming down to 42 past Thorpe Bay yacht club. (Route not recommended for real boats, as very shallow. Stay off the end of the pier !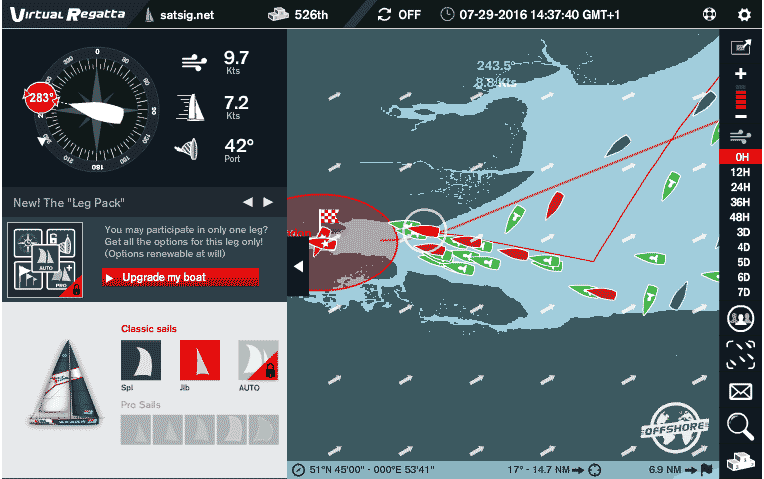 29th July. 1337pm. Just coming up to the finish. First of the SO boats about to arrive, RIC49 at position 409. I'm at 526th, so there must be 117 boats within that last 1/4 inch on the screen!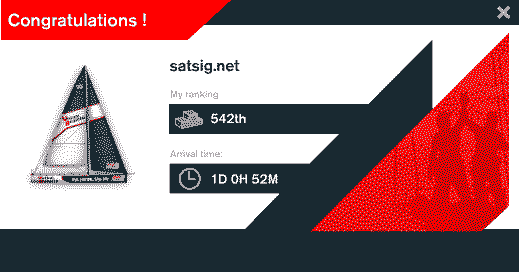 Just 25 hours to complete the race.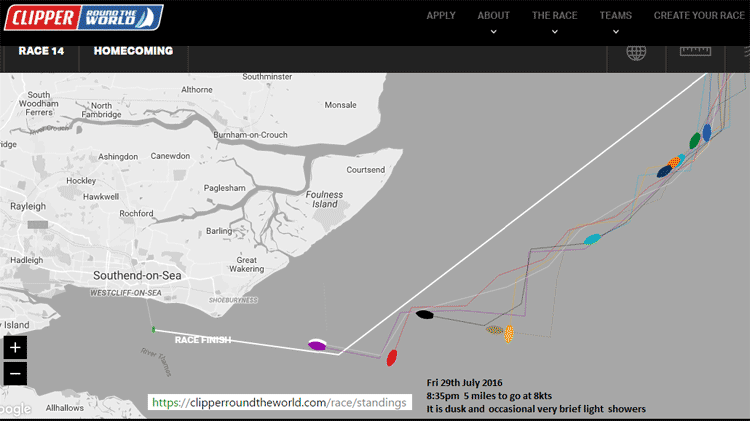 Friday 29th July 2015. 8:35pm. This image, from the Clipper Round The World race viewer, shows the boats approaching the finish. Visit Seattle and Londonderry Doire are in the lead.
---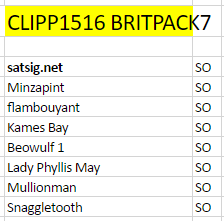 Our team fro this race. Note that Aberlady participated in the first races and Kames Bay substituted in later races. (9 boats in total, only 8 in each race)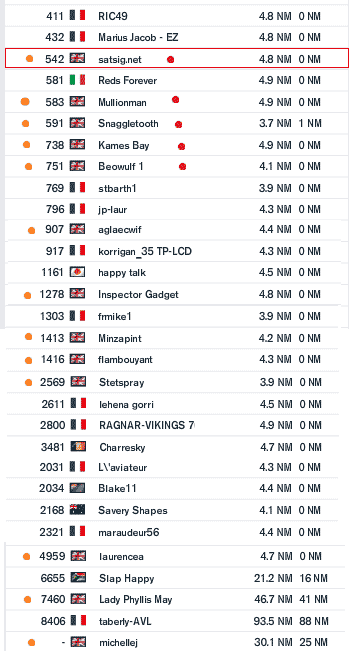 Britpack boats results for this race. In each race the best 5 boats count (red).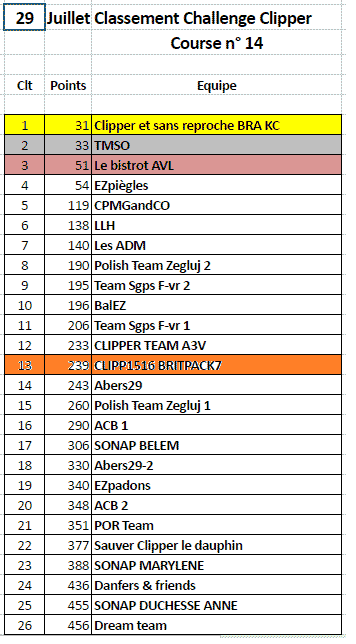 We came 13th in this final race ! Well done everyone.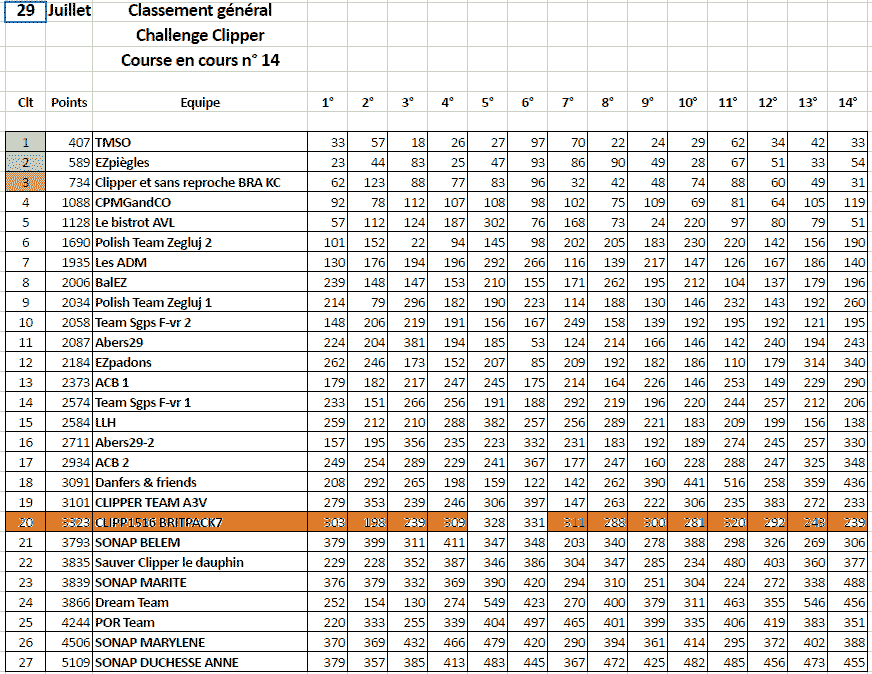 Our CLIPP1516 BRITPACK7 team came 20th overall for all the races combined, less the two worst results. In the overall results the two worst leg results are discarded.

Individual boat positions in all races. Note that high scores appearing multiple times in a column correspond to boats which did not start or did not finish. One digit difference.
---
For the real race, see the Clipper web site: https://www.clipperroundtheworld.com/events-calendar
The real race finished late on the Friday evening at Southend pier. I suspect that immediately after the finish the boats went to Queenborough Harbour which is situated in North Kent where the rivers Swale, Medway & Thames meet, about 4 nautical miles directly south of the finish line. I think they spent time there till all boats departed in parade formation for the 16 nautical miles distance to the QE2 bridge where they are due this morning at 07:19am (see below). The weather is fine. It is mild and slight overcast, with little wind so ideal for the welcome celebrations near London Bridge at St Katharine Dock.
Program for end of race events:
SATURDAY 30 JULY, 1100-1800
LONDON, ST KATHARINE DOCKS
FREE FAMILY EVENT
0719 - Fleet arrives at the QE2 Bridge at Dartford
0848 - Thames Barrier
0901 - Fleet passes the Millennium Dome
0912 - Fleet passes Greenwich Observatory
0930 - Fleet passes Canary Wharf Pier
0945 - Fleet Arrives at Tower Bridge
1000 - Tower Bridge lifts for fleet to pass in Parade of Sail
1030 - Fleet enters St Katharine Docks after second parade of sail under Tower Bridge
1300 - Prizegiving begins on stage in St Katharine Docks Marina
---
If you want to add comment or images here please send to me by email: eric@satsig.net
Page created 26 July 2016, amended 19 Oct 2022 ECJ (c) 2016 Copyright, All rights reserved.